Want to plan an epic Fortnite themed birthday party, but not sure where to start?
We hear you and have you covered!
With up to 3.5 million players playing at the same time (and an estimated 125 million players total), just about everyone either plays the game or knows someone who does, making this one of the most popular party themes of the year!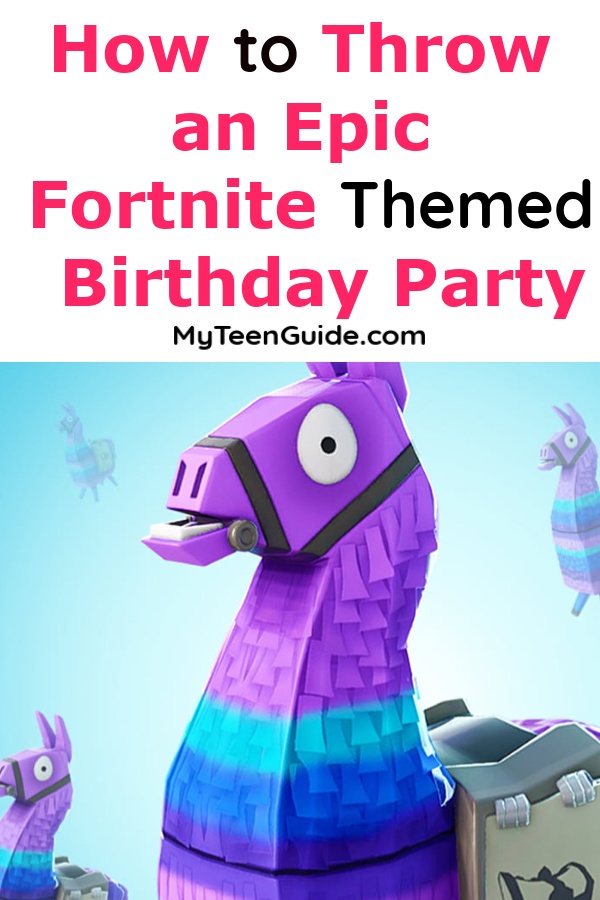 Don't worry, unlike the real game, you don't have to spend a fortune to throw an epic Fortnite party!
We'll give you plenty of budget-friendly tips!
Read on for some of the best ideas to throw the most incredible bash of the year!
Related:Amazing Neon Themed Birthday Party Ideas (Your Definitive Guide)
Fortnite Themed Birthday Party Ideas
This post contains affiliate links. If you make a purchase through these links, we earn a small commission at no extra charge to you.
For those of you who don't know what Fortnite is, let me just briefly tell you what it is.
Fortnite is an apocalyptic survival game from Epic Games.
There are 2 game modes, with the most popular one being Fortnite Battle Royale, which was released on September 26, 2017.
(If you need more information on the game, I have included some resource links at the end of this post for you).
If you want to throw a  Fortnite themed birthday party, here are some awesome ideas!
THINGS YOU'LL NEED TO KNOW
Okay, so before I send you off into the Fortnite themed birthday party world, there may be a couple things you'll need to know first!
For individual items you should know about, I included a description with the product!
https://www.instagram.com/p/Bk_RtaZDHmg/?tagged=fortniteparty
Colors– When I mention solid colors, I am referring to Item Rarity Colors within the game:
Common- Gray
Uncommon- Green
Rare- Blue
Epic- Purple
Legendary- Orange
Mythic- Gold
Chests– Chests are common loot objects that are dispersed throughout the map.
Invitations
[amazon fields="B07HYQVZ9T" value="thumb" image_size="large" image_alt="Fortnite birthday party invitations"]
The first step you need to take to plan and organize your Fortnite party is to send out invitations so that people will know about your party.
You can either buy invites or just make your own. If you're planning to buy, I recommend:
This set of Fortnite Birthday Invitations. from Amazon. The set comes with 12 white envelopes.
Epic Party Ideas– Set of 2 Fortnite Birthday Party Invitations. These are digital downloads in JPEG format.
Birthday in a Boxhas a great set of Battle Game Personalized Invites. Just add the personalization before buying!
Fornite Party Decorations
https://www.instagram.com/p/BnizKEdBikw/?tagged=fortniteparty
Okay, so now that your invitations have been sent, it is time to think about how you want to decorate your party area. Here we have balloons, poster, Boogie Bombs and door signs.
Balloons are an inexpensive way to set the mood for a party.
Amazon has a couple of different Fortnite balloon sets, as well as a gamer set that also fits the theme.
12-Piece Fortnite Foil Birthday Balloons. Each balloon measures 18" in diameter.
 12-Piece Fortnite Latex Birthday Balloons. Each 4-sided balloon measures 12-inch in diameter. Comes in 4 colors: blue, green, purple and yellow.
11-Piece Gamers Birthday Balloon Set. Features 2- 18" foil balloons, 2- 11" blue latex balloons, 2- 11" green latex balloons, 2- 11" red latex balloons, 2- 11" yellow latex balloons and 1- 36" video game controller mylar balloon.
https://www.instagram.com/p/Bnguw9qHnFp/?tagged=fortniteparty
If you don't want to spend money on a bunch of themed balloons, you can also go with solid colors that match the game's colors, like the picture above.
I really love how they used inexpensive balloons and a few other elements to create a unified look.
Then, you can add in one of these other Fortnite party decorations to really tie it all together.
Grab a Fortnite Game Poster (there are a bunch of different styles) to hang in the main party area. Bonus: you can also use it to decorate your room after the party!
If you want to go all out, you definitely want this Fortnite Light-Up Boogie Bomb with Sound! This Boogie Bomb lights up in different colors and plays funky music. Each one measures 4.5" high, 3.75" wide and 3" diameter. Spread some of these on the tables in your party area. In the game, a Boogie Bomb is a rare consumable grenade. Any player who is in the radius of the Any player who is in the radius of the grenade blast must dance for 5 seconds.
Discount Party Supplies has a neat Fortress Door Sign. Sign measures 18" by 12". Welcome your party guests with one of these signs on your front door.
TABLEWARE
https://www.instagram.com/p/Bmqucwhlc3J/?tagged=fortnitepartydecor
Next up on your Fortnite birthday party planning list is tableware. So, I've included a few different options- Camouflage-themed, Fortress-themed, Solid Colors and Video Game-themed.
This Camouflage Tableware Party Kit for 24 Guests. Comes with dessert and lunch plates, beverage and lunch napkins, cups, cutlery, table covers, table decorations and letter banner.
Grab this inexpensive Tableware Party Kits in Solid Colors. Use just one color or mismatch several colors. These party kits are available in guest counts of 16, 20, 50 and 100.
I also love this Video Game Party Tableware for 16 Guests. Includes controller-themed dessert plates, "Game Over" lunch napkins and controller-themed paper cups.
Honestly, I'd just go with the solid colors set, and maybe throw in some Fortnite napkins or something. I am not a big fan of spending a fortune on things that will be covered with food and thrown in the garbage.
Fornite Food & Drink Ideas
https://www.instagram.com/p/BnCUfS0HIX5/?tagged=forniteparty
Well, no birthday party is complete with some food and drinks, right?
Burger Bar- A burger bar? Fortnite? Huh? In the game, the Durr Burger Restaurant, a fast-food joint, is located in the Greasy Grove. Not sure how to build a burger bar? Here are 2 articles to help you out. Completely Delicious– Build Your Own Burger Bar. Sobeys– How to Organize a Burger Bar Party.
Taco Bar– Why tacos, you ask? During the Season 3, Week 9 Battle Pass Challenges, one of the tasks is to visit 3 taco shops in one match. Need some help building a taco bar? McCormick– How to Make Homemade Tacos: DIY Taco Bar Guide. Style Blueprint– A Taco Bar: The Easiest Way to Feed a Crowd.
Rice Krispies Medic Bandages– These are super easy to make. In the game, bandages are common consumable healing items. To make these, just make Rice Krispies Treats like you normally would. Then, cut-up red Fruit Roll-Ups to make a red cross and place on top of the treats.
https://www.instagram.com/p/Bk8SlaHhge4/?tagged=forniteparty
Game Controller Cookies– Can't play Fortnite without a game controller, right? Angelica Made Me– Recipe for Xbox Game Controller Sugar Cookies. For those who aren't skillful at baking, not to worry because Amazon has 12 Xbox Decorated Cookies, already made and decorated for you.
Cakes- What's a birthday without a cake, huh? Here are recipes for 3 different types of cakes. How to Cook That– Treasure Chest Fortnite Cake. Yener's Way– Fortnite Themed Cake Tutorial. Surviving a Teacher's Salary– How to Make a Campfire Birthday Cake Tutorial. I know- you're wondering how a campfire fits into the Fortnite game, aren't you? In the game, a cozy campfire is a rare utility trap that can heal a player and their teammates.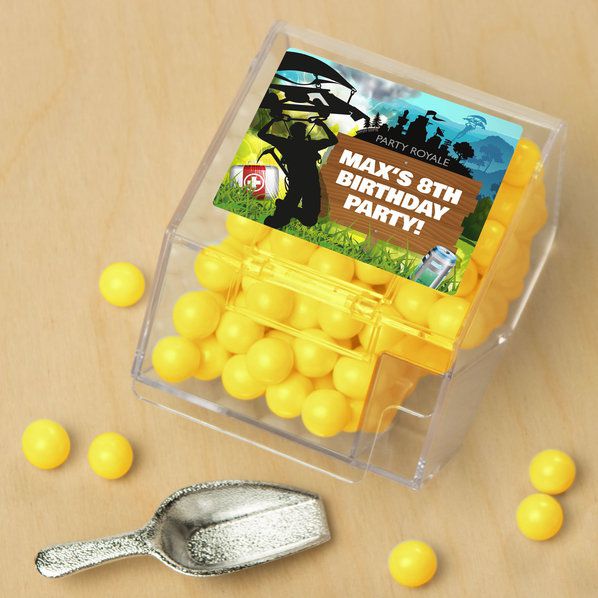 Candy Bar- Set up a candy buffet using the colors from the game! Grab a few Battle Game Personalized Candy Bins in different colors. Bonus: it also makes a great party favor!
Slurp Juice– Slurp what? Slurp juice is an epic consumable healing item that is found in chests, supply drops and supply llamas. Baking Beauty– Blue Raspberry Slushie Recipe.
Fornite Party Games & Activities
Of course, you won't need many games at your party, because you'll likely be playing Fortnite, right? However, here are a couple of ideas in case you need them!
Amazon– Fort Battle Drop Royale Target. Includes 3 large (13" by 19") target posters- brushes, ice cream truck and target. These targets can be used with dart, laser, Nerf or squirt guns.
Hello, My Sweet– Nerf Party Obstacle Course. Features complete instructions on how to put one together in your backyard.
Party Favors
After a day of Fortnite fun, you'll want to send your guests home with something they'll, of course, remember the fun they had and also something that is Fortnite-related. First, I added some cool ideas you could use for party favor containers and then I added favor ideas that you could put in the containers.
https://www.instagram.com/p/BmcNUb2l2aZ/?tagged=forniteparty
Favor Container Ideas
What to put in the treat bags
Fortnite Game Resources:
If you want to learn more about the game, check out these resources:
Fortnite Game Website– Pretty much everything you need to know about the game itself.
Consumer Reports– What Parents Need to Know About Fortnite
Tech Age Kids– A Realistic Parents Guide to Fortnite: Battle Royale
Today's Parent– What Parents Need to Know About the Video Game Fortnite
Have you thrown a Fortnite themed birthday party? Share your tips below!