Summer gets all the credit for being the best party season, but winter is also a great time for birthday parties!
Yes, winter!
Here are some of the best winter birthday party themes!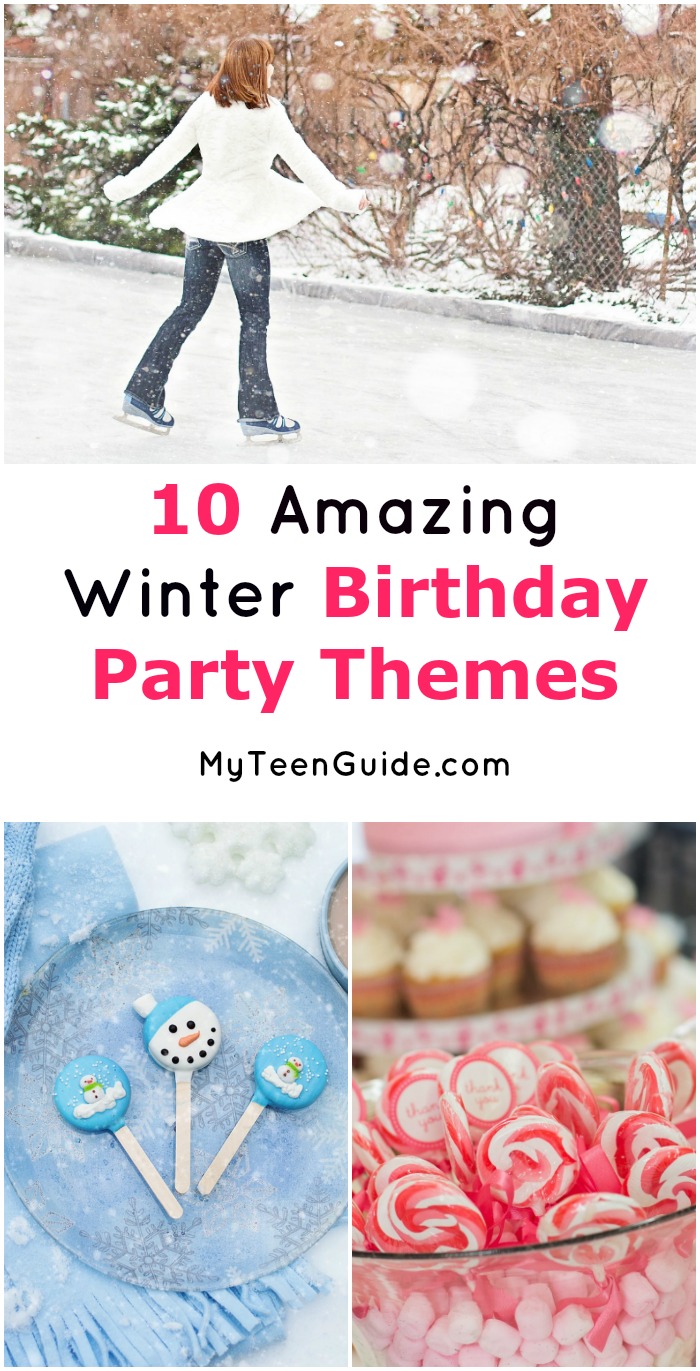 You may think that there are lots of options when it comes to summer birthday parties and you're right!
From pool and beach parties to luau and ice cream parties, summer is a great time for birthday parties!
If you were born in winter, though, you have just as many fun options!
Check out some of our favorites.
We've included a mix of holiday-centric parties as well as ideas that you can do any time throughout the season.
Best Winter Birthday Party Themes
Affiliate links included below. If you make a purchase through these links, we earn a small commission at no extra charge to you.
1. Black Light Party
A black light party is a fun way to have a glowing time with your friends. For decoration ideas, think glow-in-the-dark stuff.
You can find tons of ideas for this theme party here. My favorite idea: including a glow stick with your invitations!
You'll also want to stock up on glow in the dark body paint, and maybe hire an artist to paint your faces.
Check out this video for more ideas.
https://www.youtube.com/watch?v=FZbGxFjmso4
2. Candy Party
Who doesn't love candy?
It can brighten up a drab winter day in a hurry!
While you can take this party in many directions, you'll definitely want a candy buffet front and center!
You could choose your favorite candy, then theme the decor around that.
For example, a chocolate-centric party would focus on rich browns and creamy whites (for white chocolate).
If you're going for more of a Smarties type theme, stick with bright and colorful decorations. If you want to tie this theme into the holidays, make it a candy cane party!
3. Gingerbread House Decorating Party
What do you get when you combine your birthday and winter with gingerbread houses?
Messy but fun time with your friends, of course!
You'll need to provide the basics: the gingerbread housing materials, icing, and decorations.
Either bake the materials yourself or just buy Gingerbread House kits
.
Set everything out in the middle of a long table, or create "stations" by setting up different elements throughout the kitchen or dining room.
4. Holiday Shopping Party
A Holiday Shopping Party may not exactly be your "typical" birthday party!
However, what better way to spend your birthday than shopping with your closest friends.
You can end a long day of shopping with a birthday celebration dinner too!
Find out what you need to know about this theme party here.
5. Ice Skating Party
Ice skating and winter go together like peanut butter and jelly.
You can choose to have your birthday party at the local skating rink or right in your own backyard!
Find some great ice skating birthday party ideas here.
Check out this video for how to build your own backyard rink without spending a fortune (or needing to hire a contractor).
6. Karaoke Party
A karaoke party is a great way to get the blood pumping, thus keeping everyone warm on those cold winter nights.
This party theme will have everyone singing, laughing and having a great time.
You can find awesome ideas for planning this theme party here.
Rent a karaoke machine or check out this video on how to create your own:
7. Penguin Rescue Party
No, penguin-themed parties aren't just for kids, especially when you combine your birthday bash with a good cause!
If you're passionate about helping wildlife, throw a penguin themed party with a mission.
Ask your friends to bring a donation for your favorite animal conservation group, or to donate in your name.
World Wildlife Fund has an Adopt a Penguin gift that you can get with all of the donations.
Find out how to throw this great theme party here.
8. Polar Bear Party
Another fun "kiddie" winter birthday party idea that can easily be upgraded into something a little more sophisticated.
Again, you can turn it into a party to help raise funds and awareness for polar bear conservation, or just have a blast spending the day in the snow!
Find some great ideas for this party theme here.
https://www.youtube.com/watch?v=Nr5VXwFCpLg
9. Slumber Party
Why end the fun when the party is over?
You can keep it going by having your BFF's spend the night. Stay up late binging on scary movies, set up spa stations for makeovers and relaxation, or just enjoy a little extra "us" time with your squad.
You'll find awesome theme party ideas here.
10. Hot Cocoa Station Party
A hot chocolate station theme party is easy & inexpensive to pull off, yet still elegant and fun!
Plus, you can combine it with other themes on this list to make it your own.
For example, a hot cocoa and gingerbread house decorating party, or an ice skating party followed by hot cocoa!
See, there are plenty of awesome winter birthday party themes to try! Pick one, or mix and match a few for the ultimate birthday bash!
Do you have any favorite winter birthday party themes? Share below!