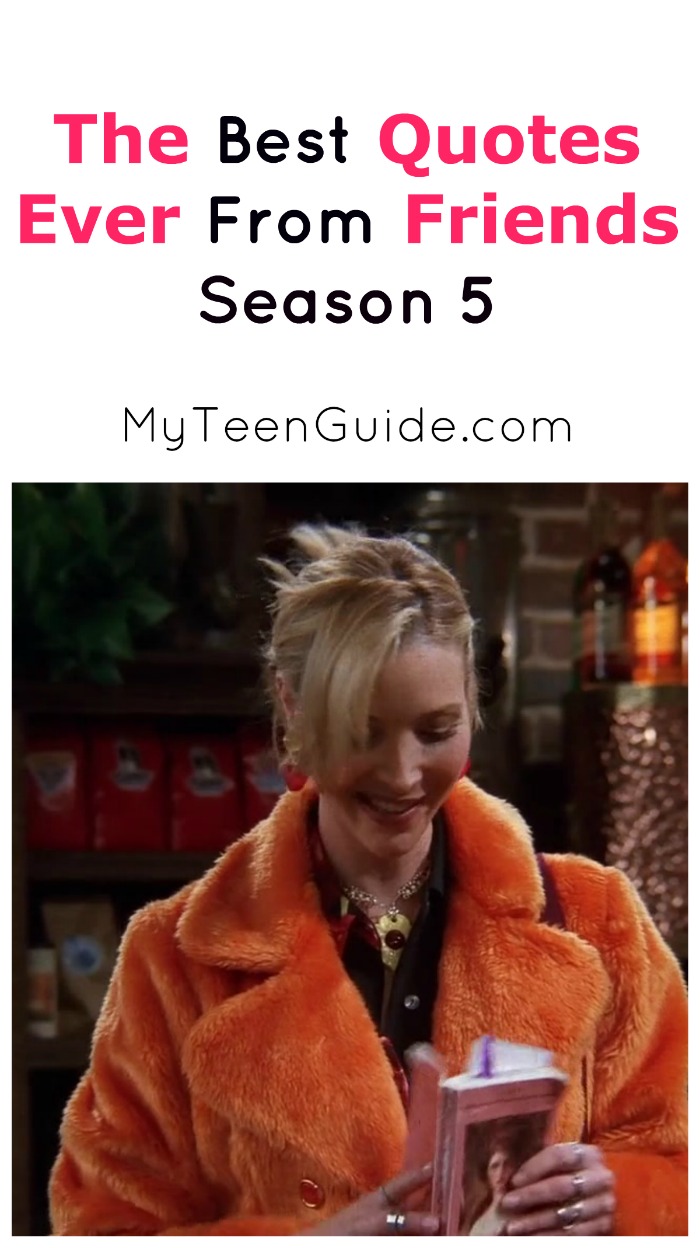 Looking for awesome Friends season 5 quotes? We have you covered! We're sharing some of our favorite lines and convos from one of the best seasons during the 10-year run. During the course of this epic year, we got to see Monica and Chandler get together, Phoebe give birth to triplets and Ross stand up for his friendship with Rachel. Then there was that season finale! If you're new to binging on Friends, you're going to LOVE season 5! Let's check out some of the best quotes and see why it was so epic!
Our Favorite Friends Season 5 Quotes
Friends is a television sitcom that aired for 10 seasons on NBC, beginning on September 22, 1994 and ending May 6, 2004. The show focused on six main characters who were friends living in Manhattan. The cast included Jennifer Aniston as Rachel Green, Courtney Cox as Monica Geller, Lisa Kudrow as Phoebe Buffay, Matt LeBlanc as Joey Tribbiani, Matthew Perry as Chandler Bing and David Schwimmer as Ross Geller. Here are some of the greatest quotes from season 5.
Episode 2- The One with all the Kissing
Conversation between Rachel Green, Phoebe Buffay and Monica Geller:
Rachel- "Phoebe, you were right. I should've never gone to London, and from now on you make all of my decisions for me."
Phoebe- "Oh, no. I did that for someone once. I'm not comfortable having that kind of power and control over someone's life."
Monica- "I'll do it!"
Rachel decides she needs someone in charge of her love life since she seems to make some bad decisions in that area of her life.
Episode 6- The One with the Yeti
Conversation between Rachel Green, Ross Geller and Gunther:
Rachel- "So basically, this is a getting-rid-of-everything-Rachel-ever-used sale."
Ross- "Touched, used, sat on, slept on."
Gunther- "I'll take it all."
Ross is forced to sell everything that Rachel ever touched. This was a demand from Emily, who was jealous of Rachel. Gunther is the manager of the Central Perk Coffee House, who has a crush on Rachel.
Episode 18- The One Where Rachel Smokes
Conversation between Chandler Bing and Rachel Green:
Chandler- "You smoked."
Rachel- "I did not."
Chandler- "Yes you did. You look happy and sick– you smoked!"
Rachel- "All right, fine, but I had to. I had to do it for my career."
Chandler- "I wish I had to smoke for my career."
Rachel starts smoking because she wants to feel more included at work.
Episode 21- The One with the Ball
Conversation between Joey Tribbiani and Ross Geller:
Joey- "So is Staten Island really an island?"
Ross- "Hence the name: Staten Island."
Joey- "Oh, I thought it was like Long Island."
Ross- "Also an island!"
Episode 22- The One with Joey's Big Break
Conversation between Phoebe Buffay and Joey Tribbiani, about the correct route to Las Vegas:
Phoebe- "Oh, if you take the northern route, there's a man in Illinois with a beard of bees."
Joey- "Great! Problem solved!"
Phoebe- "But on the southern route, there's a chicken that plays tic-tac-toe."
Joey- "Well, back to square one."
Joey is headed to Las Vegas to the production set of an upcoming movie and he borrows Phoebe's taxicab so he can arrive on time.
Do you have any favorite Friends season 5 quotes? Share them in the comments!