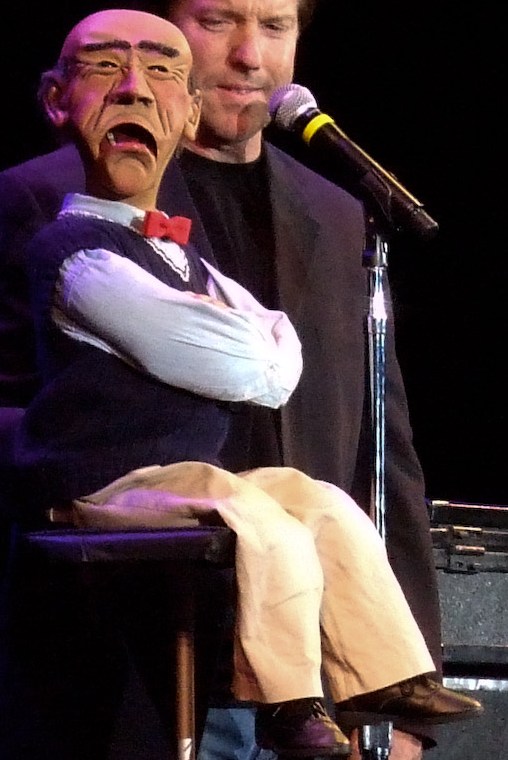 You probably already know that Jeff Dunham is one of the funniest comedians/ventriloquists right? But, did you know that he has a library book from 1972 that he still hasn't returned? Or that he builds all his puppets? Here are some fun and interesting facts about Jeff Dunham.
Facts About Jeff Dunham
Jeff Dunham currently has 161,195,297 views on his YouTube page.
Jeff Dunham's Facebook page currently has 9,021,725 likes.
Jeff Dunham's Instagram page currently has 153,900 followers.
Jeff Dunham currently has 500,498 followers on Twitter.
Forbes.com listed Jeff Dunham as #4 on their list of The World's Highest-Paid Comedians, with an average salary of $19 million.
Jeff's most popular video on YouTube is a clip from his Controlled Chaos special titled Achmed the Dead Terrorist Has A Son, with 27,222,333 views.
He has a Bachelor of Arts and Science from Baylor University.
Dunham was the first person to win the Ventriloquist of the Year Award twice.
In January of 2008, Jeff was voted by fans as the Top Comic on Comedy Central's Stand-Up Showdown.
Jeff Dunham was voted the Comedian of the Year at the TNN Music City News Country Awards.
In 2009 and 2010, Dunham was voted by Pollstar (a trade magazine for the concert industry) as the Top Grossing Live Comedy Act in the World.
In 2007, Jeff Dunham's DVD, Spark of Insanity, was rated the Best DVD of the Year by Amazon consumers.
Dunham's Christmas special, A Very Special Christmas Special, which premiered in 2008, was Comedy Central's most-watched telecast in their history.
Jeff was close to being Jimmy Kimmel's replacement on FOX NFL Sunday. Jimmy Kimmel was part of the comedy part of the broadcast and Dunham was set to be his replacement, but Terry Bradshaw and Howie Long were thrilled about the puppets.
Jeff Dunham is the owner of a Batmobile replica. It is a replica of the Batmobile used in the original Batman movie.
In Arguing with Myself, the puppet for Bubba J was made at the very last minute. In fact, during part of his performance, Bubba J's paint was still wet.
In Spark of Insanity, during the act, Walter mentions something about YouTube. The funny thing is that this was the first time that Dunham introduced a new character: Achmed the Dead Terrorist, who would later become one of YouTube's most viewed videos.
Jeff makes all his puppets. He makes the head from clay and also uses a mold made of silicone or plaster, constructing the shell. He uses a 3D printer to make his characters in a type of plastic.
Dunham took out a library book in 1972, Fun with Ventriloquism, that he has never returned to the library.
Jeff Dunham was voted Most Likely To Succeed when he was in high school.
Looking for more facts? Check out our Jeff Dunham bio! Did you know any of these facts about Jeff Dunham? Which surprised you the most?