Want to host an epic party game for teens? We've got you covered!
Check out fun things to do at a party for 13 year olds all the way to the best party games for teenagers 17+!
We'll even tell you which board games for teenagers you need to keep on hand!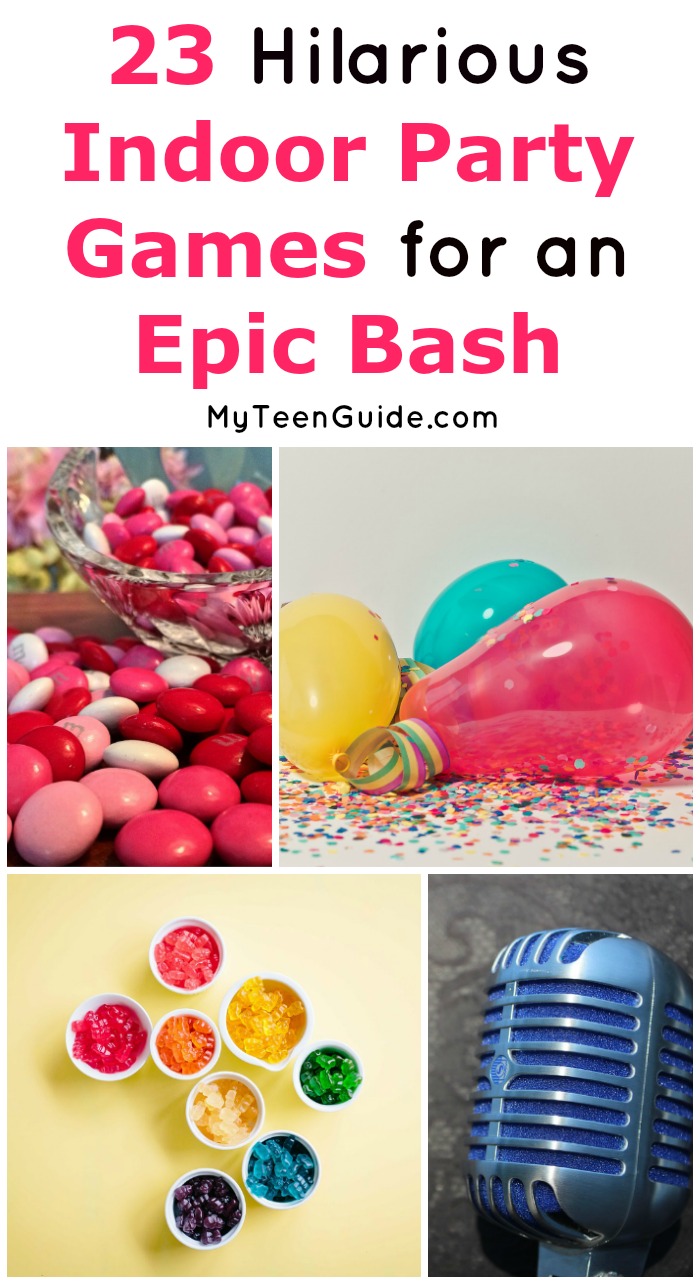 Playing hilarious party games with my friends is one of my fav memories, they make for such great photo ops and are fun to play indoors or outdoors!
If you need some inspiration for some fun games to play, I have you covered. I rounded up a few of my favorites.
These games are so easy to put together, just remember to have your camera ready!
All of these party games for teens can be played outdoors, but even better most of these party games can be played indoors!

Best Indoor Party Games for Teenagers
This post contains affiliate links. If you make a purchase through these links we will earn a small commission at no extra charge to you.
Party Games for 12 Year Olds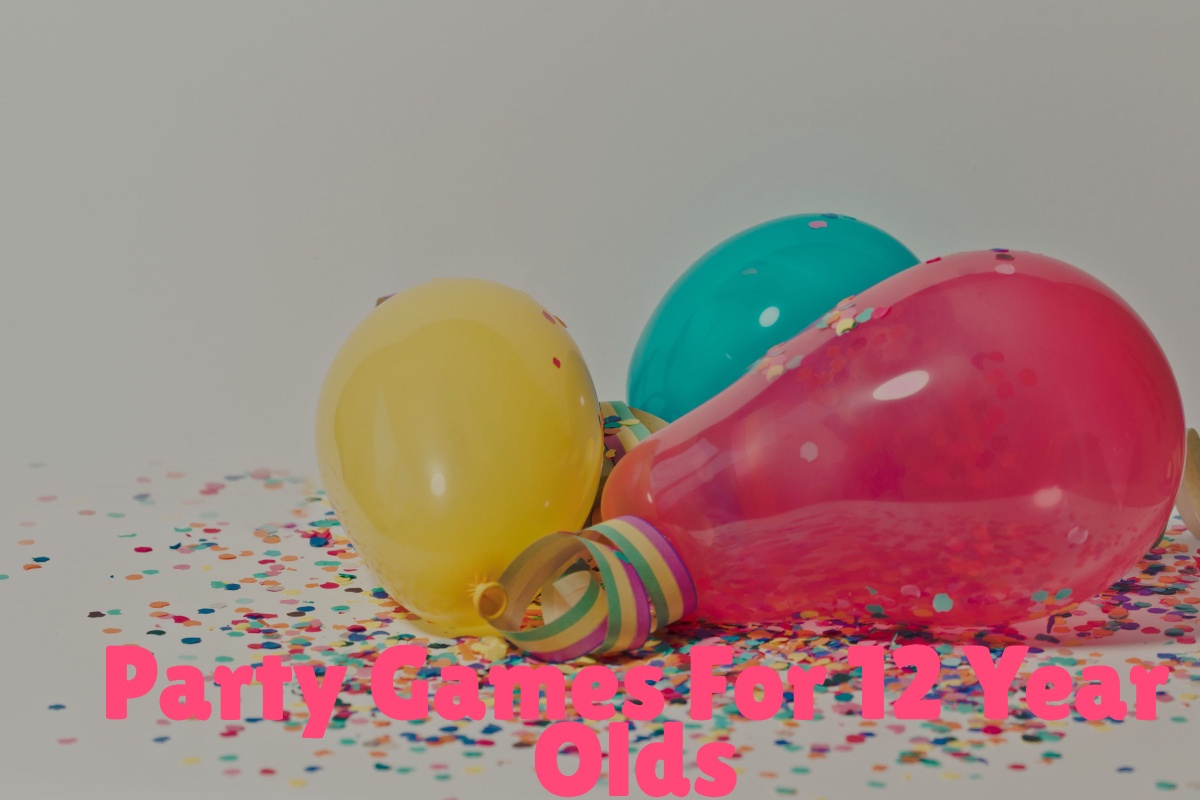 1. Catch the Candy
Place a large bowl of brightly colored candy-coated candy in the center of the group. You could use M&M's, Skittles or whatever your group likes.
Each person has a straw and a cup.
When the game starts, each person must transfer as many candies as they can to their cup.
The catch is they MUST use only the straw. They cannot touch the candy with their hands.
Once all the candy is gone, the person with the most candies in their cup is the winner.
2. Flying Like a Kite
Having a party happening outside?
Try one of my fav hilarious party games, this one is too funny!
Attach kites to the back of baseball caps.
Participants must put on the baseball caps and try to keep their kite in the air.
For every time your kite hits the ground, you get a point.
The person with the least amount of points at the end of the game wins!
Set a timer for this game and play for a minute or two at a time!
3. Wear That
For this game, fill a black garbage bag with silly clothing items and accessories, like bikinis, large boxers, feather boas and high heels.
Then, have players take turns rolling a dice.
If a player rolls a 1 or a 6, they must take an item from the bag and put it on over their clothing.
Continue playing until all the items are removed from the bag.
The winner is the player wearing the least number of items.
4. Commercial Birthday Game
One player starts the game by choosing an item in the room, such as a pillow or remote control.
Then, they must perform a 30-second commercial on that item.
The game continues until everyone has had a turn.
5. Two Truths and One Lie
As each guest arrives to the party, give them a 3-by-5 inch-index card and have them write down 3 facts about themselves, two true facts and one lie.
After everyone has arrived, read aloud each guest's facts and the other party guests need to figure out the lie.
---
Party Games for 13 Year Olds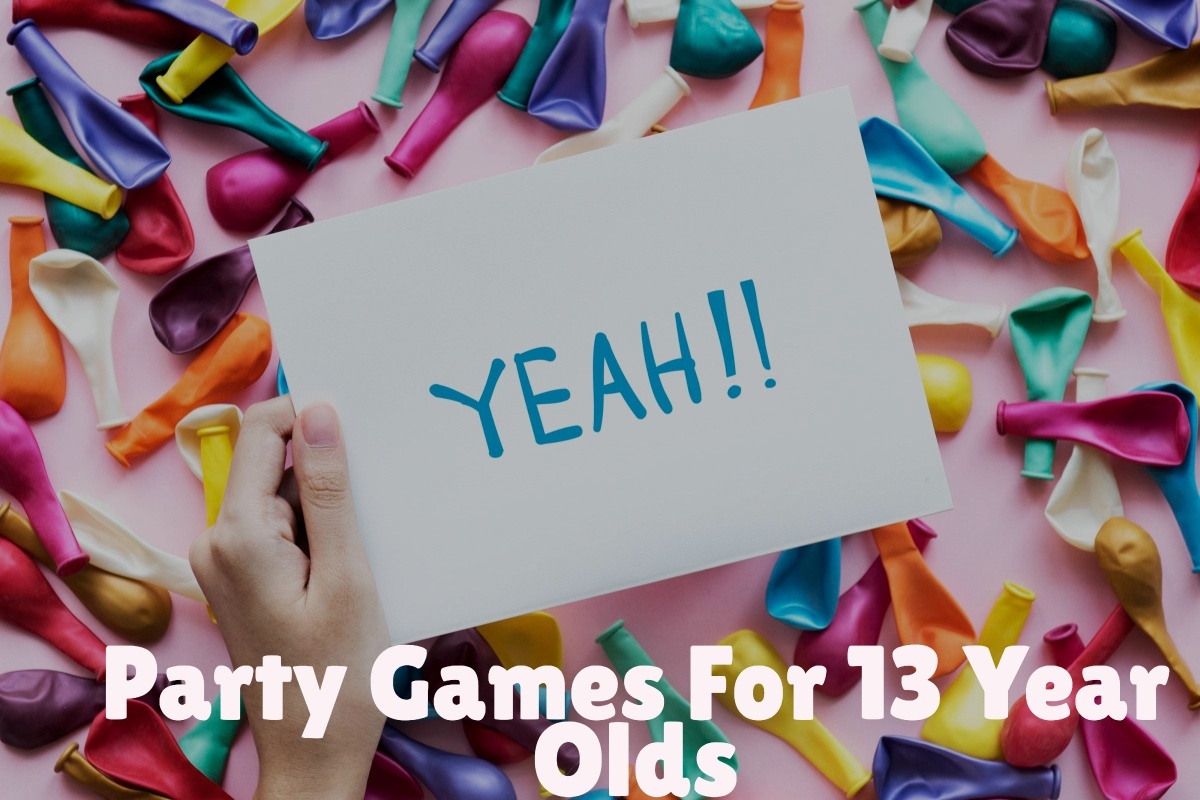 6. Balloon Pop
This one you need a nice large space to play in.
Blow up a balloon for each person.
Using a piece of string, tie a balloon to the foot of each player keeping the string length short.
When the game begins, participants must try to pop the other balloons without getting their balloons popped.
The last person left with a balloon is the winner! Turn on some music for more of a dance party game vibe.
This is definitely one of my favorite fun things to do at a birthday party for 13 year olds!
7. Giant Tape Ball
This game takes a bit of prep work but is well worth the effort to prep before the party. This has got to be one of my fav indoor party games for teens.
Gather a bunch of little prizes such as glow sticks, candy, nail polish or other small presents. Anything that is made of paper roll in a piece of clear saran wrap first to keep the tape from sticking to it.
Now use a roll of packing tape and start making a giant ball of tape, adding your goodies and presents to them as you go. I find it's better to use clear tape, so you can see all the treats, but if all you have is colored tape, it will work.
To start the game, you need a pair of dice and your tape ball.
Take turns going around the circle and rolling the dice.
The first person to roll doubles (both dice are the same number) gets a chance to start ripping into the tape ball.
While they try to rip out prizes, the other players keep taking turns rolling the dice until someone else rolls doubles.
Once a new double has been rolled, the new person now has a chance to rip the prizes out of the tape ball.
The game ends when all of the prizes are ripped out of the ball!
This game can get hilarious, especially for a large group of teens. I can't wait to get some more prizes to play again! You can also play this game with Saran Wrap, like in this video:
8. Would You Rather
This party game is hilarious to hear everyone's responses. You never know what your friends will pick!
Create a jar full of questions with each paper including a choice.
The only rule is that participants must choose one of the options on their question.
Here are some examples of questions:
Would you rather hang with Taylor Swift or Selena Gomez for 24 hours straight?
Would you rather be able to change the past or see the future?
Would you rather go without the internet or without a car for a month?
9. Gummy Bear Contest
For this game, you will need to have one pie tin for each player.
Place 10 gummy bears in the bottom of each pie tin and then cover with whipped cream.
Then, have everyone place their hands behind their backs and on the word "Go," players need to dive in and retrieve the gummy bears.
The 1st person to get all 10 of their gummy bears is the winner.
---
Party Games for 14th Birthday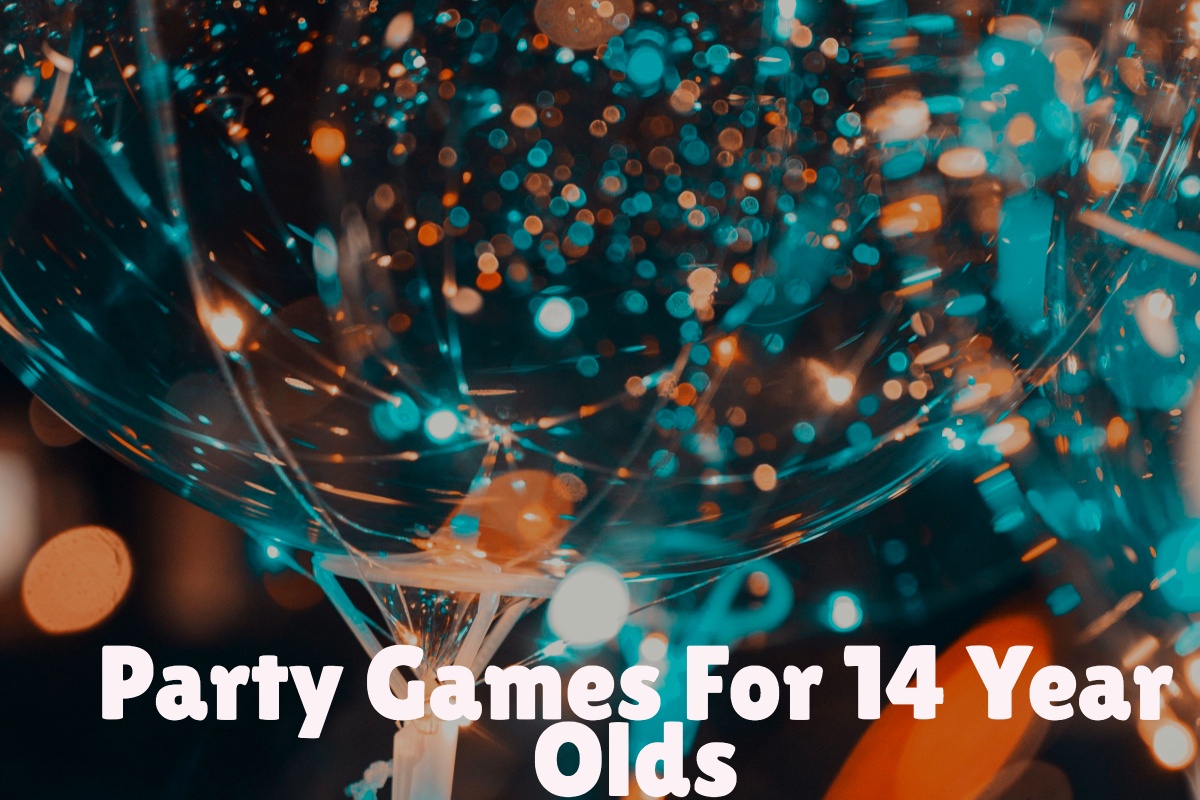 10. Truth or Dare
Truth or Dare has always been a huge hit at teen birthday parties. However, coming up with truth questions and dare ideas isn't always easy.
Here are 50 truth questions and 50 dare ideas to help get you started!
11. Cup Knockdown
Line up fifteen 16-ounce plastic cups along the edge of a table.
One at a time, the players need to blow on the cups to try and knock them down.
Each player needs to be timed and the player that knocks all 15 cups down the fastest is the game winner.
12. Wrap the Mummy
Split up the party guests into groups of 3. One person from each group will be the mummy.
Each group gets one full roll of toilet paper.
Each of the group members must wrap their mummy, using all the toilet paper.
The group who wraps their mummy the fastest, wins the game.
---
Party Games for 15th Birthday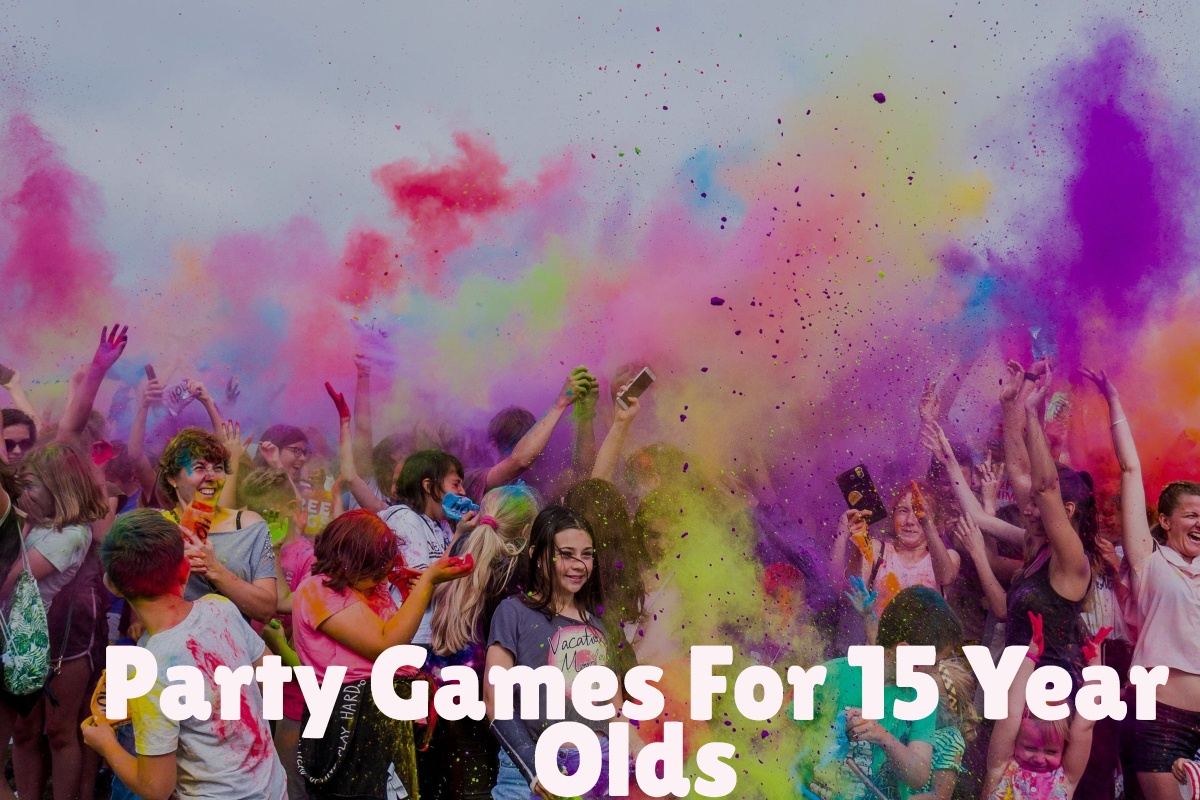 13. Face the Oreo Cookie
This is a fun and hilarious game for teens to play.
All you need for this game is some Oreo cookies.
Each player places an Oreo cookie on their forehead.
Then, they need to get the cookie into their mouth, using only facial expressions.
14. Charades
Charades will keep party guests entertained for a while. If you don't know how to play charades, here are the rules.
Here are some Charades Topics for Teenagers and some Charades Ideas for Teenagers.
15. Museum Hunter
For this game, you'll need a very dark room.
All of the players enter the dark room, except for one player, who stands outside the room.
Those in the room stand still, like statutes, while the person outside the room counts to 20.
The person then enters the room and tries to find the players.
---
Party Games for 16th Birthday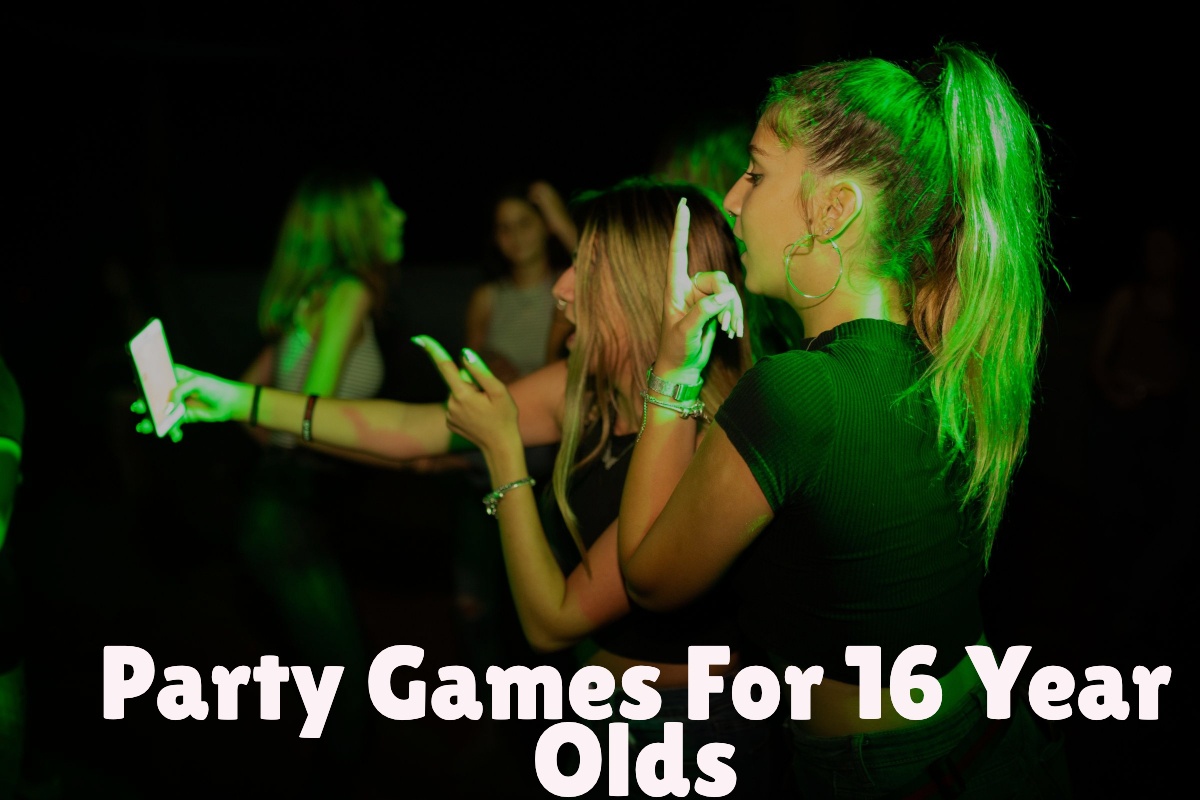 16. 16 Questions
Before the party, the birthday girl (or boy) makes a list of 16 questions about themselves, like what their favorite color is or what their favorite animal is. After the guests arrive, see who can get the most correct answers.
17. Sweet 16 Karaoke
Teens love to sing and they love karaoke even more.
Choose a list of Sweet 16 songs, like Sweet Sixteen by Beyonce, Always Sixteen by Billy Ray Cyrus or Christine Sixteen by Kiss.
Using a karaoke machine, have party guests sing the lyrics to the songs.
---
Party Games for Teenagers 17+
18. Have You Ever Game
This game is a great way for guests to get to know each other. Here is a huge list of Have You Ever Questions.
19. Spin the Bottle
Spin the Bottle is a popular coming-of-age party game that has been around since the 1920's.
Here are the guidelines on How to Play Spin the Bottle. Just make sure that everyone is comfortable playing.
Best Board Games for Teenagers
20. Taboo
Taboo
is a fast-paced game, where you need to have your team guess the secret word, but you can't give any obvious clues to help them out.
Taboo Board Game
Get teammates to say the Guess word without saying the forbidden words
Oops! Say a forbidden word and get the squeaker
Includes 260 cards; over 1000 Guess words
Game-changer die lets players change up the game
Players race against the timer in this fun and fast-paced party game
21. Time's Up
Time's Up is a fun, competitive game, where players show how savvy they are in pop culture.
Players race against the clock to name books, movies and other pop culture categories.
Sale
R and R Games Time's Up
The hottest party game just got hotter!
Minutes to learn, Easy to Play in Groups. For 3+
Winner of over 20 awards including Mensa select and game of the year
Huge number of names included to ensure constant variety in play
New expansion packs coming soon!
22. Moods
In the game Moods
, players need to say phrases on the cards, while the other players have to try and guess the mood.
Hasbro Moods Board Game
It's not WHAT you say -- it's HOW you say it!
Have fun while getting teammates to guess your mood by acting Crazy, Romantic, Angry or whatever mood is called for by the roll of the die.
Give a great performance!
Party game for 3-8 players; recommended for adults
Includes 120 amusing phrases to be acted out while in a particular mood and 60 mood cards
23. Cranium
Cranium
is a game played in teams, featuring 4 categories- Creative Cat, Data Head, Star Performer and Word Worm. Players can showcase their talents, including acting, sketching, sleuthing and word play.
Cranium 3-in-1 Game Board (2014) 600 Cards
Object of the game: To circle the board victoriously - sketching, sculpting, acting, humming, and puzzle-solving as you go.
3-in-1 Foldout Game Board: Quick Game - A 30-minute experience Mid-Sized - A full hour of fun Full-Sized - The classic Cranium game
You might even try to play escape room games at home if you don't like any of these options.  Wow, after all those hilarious party games, you're definitely going to be hungry! I think it's safe to say that it's time for cake, right?
Do you play any hilarious indoor party games with your friends? Share below!