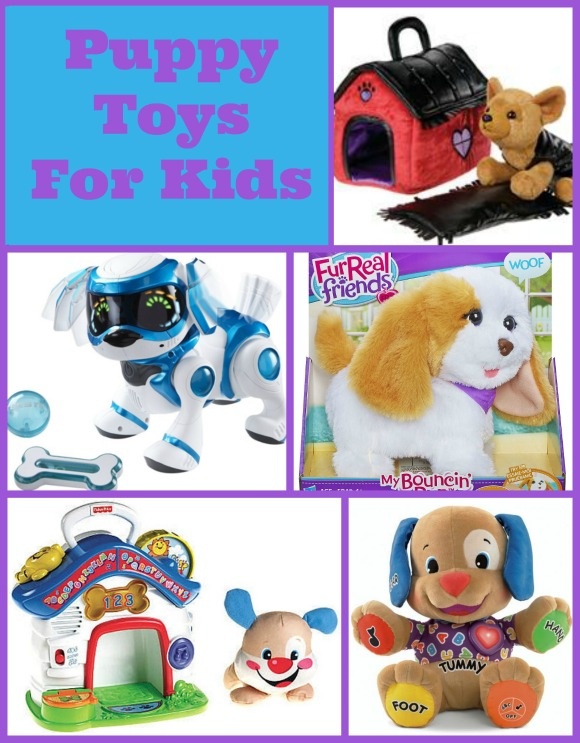 When my son was little, he went through a phase where he was all about puppies. Stuffed puppy, talking puppies, dancing puppies, walking puppies…you get the idea. Okay, so maybe I was the one who started the phase. I loved all the great puppy toys for kids out there so much that I started buying them like crazy for him. Maybe he thought those were the only types of toys? In any case, he loved them, I loved them and we were both happy. Hey, since he is an only child and I'm a single mom, I figure I should like the toys we play with together too, right?
Puppy Toys for Kids
Fisher-Price Laugh and Learn Puppy's Playhouse
We used to have a ginormous version of this cute playhouse. We picked it up at a yard sale and Jacob played with it for years. It took up a ton of space in our small house though. This one is more compact and easier to take on the go. It helps teach ABCs, 123s, colors, opposites, animal sounds and more. It even includes Spanish words! Plus it comes with a cute little version of the Laugh and Learn puppy that kids love to snuggle.
Oh my goodness, this is one of the coolest puppy toys for kids! I want him! Tekno responds to your voice, touch and hand gestures. He can walk, talk and even do tricks. If you ignore him too long, he cries. Basically, he's like a real dog without the mess in the backyard. You can program him with your iPad! The on;y thing that would make this little guy cooler is if batteries were included. Alas, they are not.

FurReal Friends My Bouncin' Pup
This little cutie is excited to be your child's new puppy friend! Put her on the ground and pet her, she'll spin around all excited. She'll even bark when she's happy! While she's not as high-tech an Tekno, she's definitely easier on the budget. She's also a lot softer too, perfect for cuddling!

Fisher Price Love to Play Puppy
This was one of the first puppy toys for kids that I bought my son. I loved him! Jacob learned so many things from the Love to Play puppy. Songs, the alphabet, even different body parts. He has different modes, including one where he just sings with you and another where he teaches. Just squeeze his paws, ears or tummy to get him started.
Mary Meyer Paco's Puppy Chateau
Paco the Chihuahua sure does come with some stylin' clothes and digs, don't you think? This is the perfect puppy toy for traveling. Take Paco out to play, then pop him back in his little house to lay on his bed when you're done! By the way, in our house, we call them Chee-hoo-wa-hoo-was! My son started calling them that once when he asked if he could watch Beverly Hills Chihuahua.
These puppy toys for kids are not only fun for your little ones, they'll keep YOU entertained while you play together too! If your child still wants more, check out our fun Dog games for kids.
Do you have any favorite puppy toys?