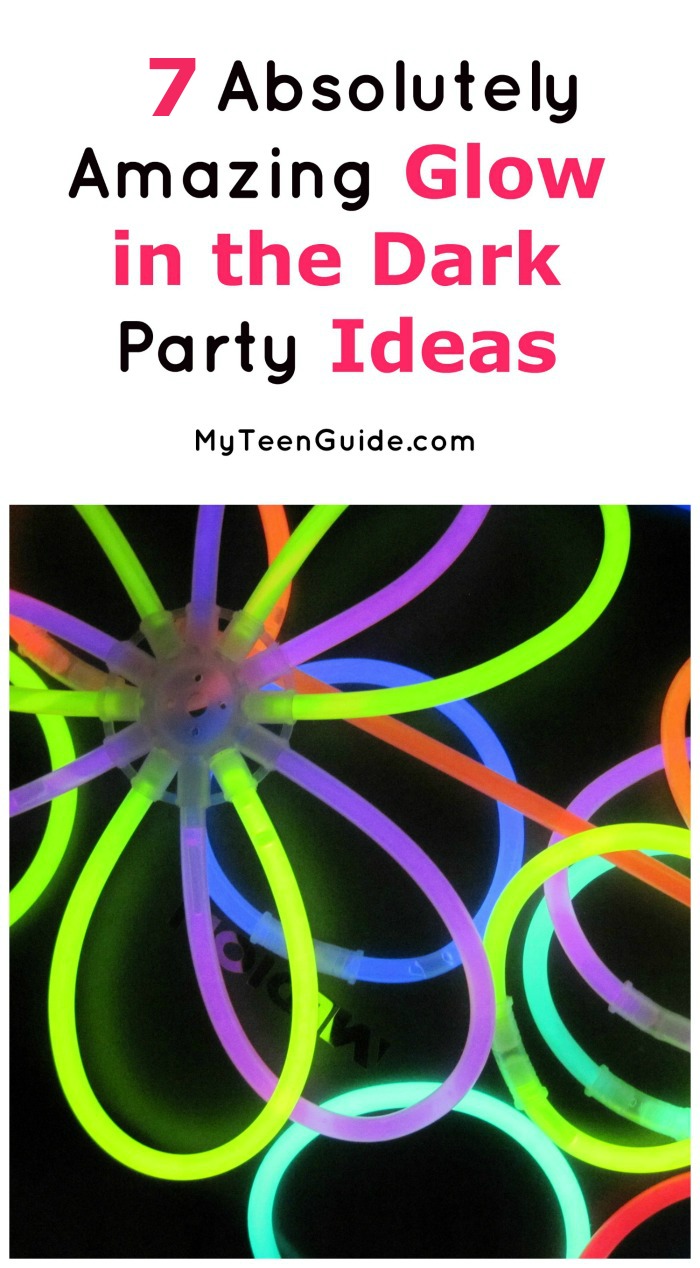 Glow in the dark parties are incredibly popular right now, and we have a few great ideas to make yours even more spectacular! There is nothing more exciting than playing games, eating food and celebrating the night surrounded by bright neon colors and black lights that make everything glow. Gather your friends, turn out the lights and get the party started with these glow in the dark party ideas!
Glow in the Dark Party Ideas
Affiliate links included below.
1. Bright eye-catching invitations. Nothing sets the tone for a glow in the dark party like invitations that are bright and full of neon colors! Teenagers are sure to be super excited to come to the party. You can either DIY the invitations or find dozens of options online.
2. Glow in the dark bubbles. Glow in the dark bubbles are a fun DIY project at home. To make the bubbles, break a glow stick, pour the contents into a container of bubbles, shake and viola, you have glow in the dark bubbles! These bubbles are perfect for a party.
3. Glow in the dark cotton candy. Another glow in the dark party item that is easily made at home is glow in the dark cotton candy. To make this sweet treat, purchase or make cotton candy at home and then put a glow stick in the middle of it. Turn off the lights and you have glowing clouds of sweetness!
4. Party favors that glow! Glow in the dark necklaces and sunglasses make for a fun time and even better pictures. These items can be purchased in bulk at affordable prices.
https://www.instagram.com/p/BRhjuh3By1T/?tagged=glowinthedarkparty
5. Glowing decorations. For a glow in the dark party, you will want to have decorations that glow! This will set an amazing ambience that is fun and exciting for everyone who attends. Don't forget to purchase a few black lights!
6. Glow in the dark games. What good is a party if there are no games? There are tons of glow in the dark games that can be played at the party including glow stick toss, glowing cornhole, glowstick tic tac toe and so many others! Glow in the dark entertainment is sure to wow all of your guests.
7. Glow in the dark cake. Go with an entire glowing cake or just make a few fun cake pops! Tonic water is the secret to making food glow. Check out this post with tips to make glowing frosting!
https://www.instagram.com/p/BRzEzDAjs2l/?tagged=glowinthedarkparty
If you are planning a party considering a glow in the dark theme, be sure to keep these ideas in mind! Party planning can be frustrating and time-consuming but we hope that our ideas can be used for your party.
Do you have any favorite glow in the dark party ideas? Let us know below if you've ever hosted a party with this theme!