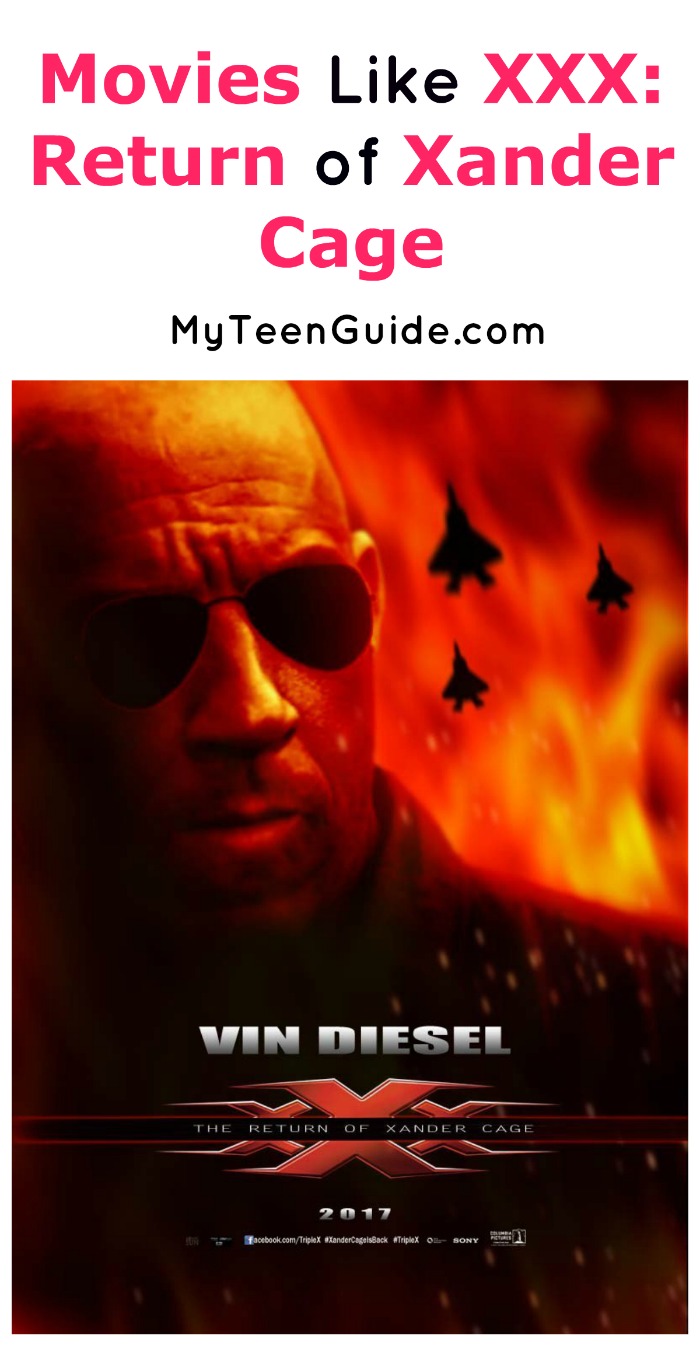 Looking for more non-stop action movies like XXX: Return of Xander Cage? Check out these five flicks that will get your heart pumping! IMHO, a good action movie can be a lot like riding a rollercoaster (at least I imagine it is, I'm actually terrified of them!). They give you all the adrenaline ups and downs without actually having to, you know, actually engage in a high-speed chase, escape from law enforcement or plummet to your death. Hey, some things just need be to experienced vicariously, right? Check out 5 movies that will get your adrenaline pumping!
Movies Like XXX: Return of Xander Cage
The latest installment in the XXX action adventure movie franchise, XXX: Return of Xander Cage will be in theaters on January 20, 2017. Vin Diesel is back once again for his role as Xander Cage/XXX. Here are some other awesome movies like XXX: Return of Xander Cage and the movie trailer for each movie.
A Man Apart
 A Man Apart is a 2003 vigilante action movie about Sean Vetter, who is on a mission to take down Diablo, a drug lord who is responsible for the murder of Vetter's wife, Stacy. A Man Apart stars Vin Diesel as DEA Agent Sean Vetter, Jacqueline Obradors as Stacy Vetter and Geno Silva as Memo Lucero, AKA Diablo.
Doom
 Doom is a 2005 sci-fi action movie that is loosely based on the first-person shooter video game series of the same name. The movie follows a group of space marines who are sent on a mission to Mars to investigate mysterious events occurring at a research facility. Doom stars Dwayne Johnson as Gunnery Sergeant Asher "Sarge" Mahonin, Karl Urban as Staff Sergeant John "Reaper" Grimm and Rosamund Pike as Dr. Samantha Grimm.
Babylon A. D.
Babylon A.D. is a 2008 sci-fi action movie that is based on the 1999 book titled Babylon Babies by Maurice G. Dantec. The movie showcases the life of Hugo Toorop, a professional smuggler/mercenary, who is tasked with transporting a woman named Aurora to the United States from Russia. Little does he know that this woman has supernatural knowledge. Babylon A.D. stars Vin Diesel as Hugo Toorop and Melanie Thierry as Aurora.
Riddick
Riddick is a 2013 sci-fi thriller movie and is the 3rd movie in the Riddick movie series, followed by Pitch Black in 2000 and The Chronicles of Riddick in 2004. The movie follows the title character, Riddick, who was buried alive by Krone, the aide to Commander Vaako. He survives only to find himself faced against an alien race of predators. Riddick stars Vin Diesel as Riddick, Andreas Apergis as Krone and Karl Urban as Commander Siberius Vaako.
Need for Speed
Need for Speed is a 2014 action movie that is based on the racing video game series of the same name. The movie focuses on Tobey Marshall, a street racer who is determined to avenge the death of his friend, Pete Coleman, at the hands of Dino Brewster, a rival racer. Need for Speed stars Aaron Paul as Tobey Marshall, Dominic Cooper as Dino Brewster and Harrison Gilbertson as Pete Coleman.
What do you think? Will these five movies like XXX: Return of Xander Cage get your adrenaline pumping? Do you have any other favorite action movies? Share in the comments!