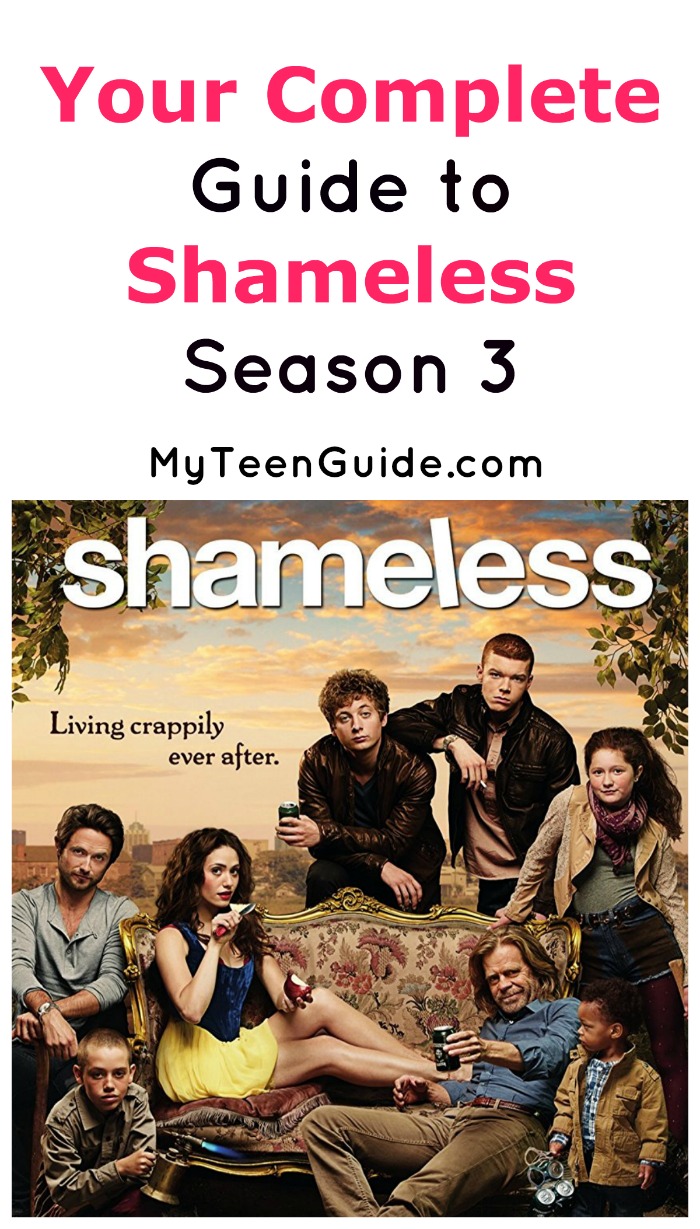 Now that you know what happened in the 1st and 2nd season of Shameless, we're continuing our Gallagher-centric week with your complete guide to Shameless season 3! In this family, the crazy just keeps getting crazier! In season 3 we find Jimmy moving into the home, Kevin's estranged wife coming back to town and more. Read on for the highlights of the 3rd season!
Guide to Shameless Season 3
Affiliate links included below.
In Shameless season 3, Jimmy has moved into the Gallagher home and Fiona is trying her best to adjust to the situation. Jimmy discovers that his father Lloyd is not only gay but in a relationship with Ian. Cheryl, Kevin's estranged wife, comes to town with the intent of getting back together with him. However, Veronica has other plans for her and eventually, Cheryl signs her divorce papers. Also in this season, the Gallagher kids are removed from their home by the Department of Family Services, as Frank and Fiona fight to get them back home.
Season 3 of Shameless aired from January 13, 2013 to April 7, 2013. The 3 most watched episodes from season 3 were episode 1, El Gran Canon, which received 2.00 million viewers in the United States; episode 3, May I Trim Your Hedges, which received 1.99 million viewers and episode 12, Survival of the Fittest, which garnered 1.82 million viewers.
The main characters from season 3 include:
Carl Gallagher- played by Ethan Cutkosky.
Debbie Gallagher- played by Emma Kenney.
Fiona Gallagher- played by Emmy Rossum.
Frank Gallagher- played by William H. Macy.
Ian Gallagher- played by Cameron Monaghan.
Jimmy Lishman- played by Justin Chatwin.
Jody Silverman- played by Zach McGowan.
Kevin Ball- played by Steve Howey.
Lip Gallagher- played by Jeremy Allen White.
Mandy Milkovich- played by Emma Greenwell.
Mickey Milkovich- played by Noel Fisher.
Shelia Jackson- played by Joan Cusack.
Veronica Fisher- played by Shanola Hampton.
The recurring characters/guest stars from season 3 include:
Carol Fisher- played by Vanessa Bell Calloway.
Karen Jackson- played by Laura Slade Wiggins.
Kate- played by Kerry O'Malley.
Kermit- played by Jim Hoffmaster.
Mike Pratt- played by Jake McDorman. Mike starts off as Fiona's boss but later becomes her boyfriend. Mike's character is recurring in season 3 and moved to a main character for season 4.
Nando- played by Pepe Rapazote. Nando is the father of Estefania and is also a Brazillian drug lord. The character is recurring for season 3.
Svetlana Fisher- played by Isidora Goreshter. Svetlana's character is recurring in seasons 3 and 4. She is a Russian prostitute, hired by Terry to have sex with Mickey to "cure" his homosexuality.
Terry Milkovich- played by Dennis Cockrum.
Tommy- played by Michael Patrick McGill.
Tony Milkovich- played by Tyler Jacob Moore.
Did you already watch Shameless season 3? What were your favorite highlights and moments?