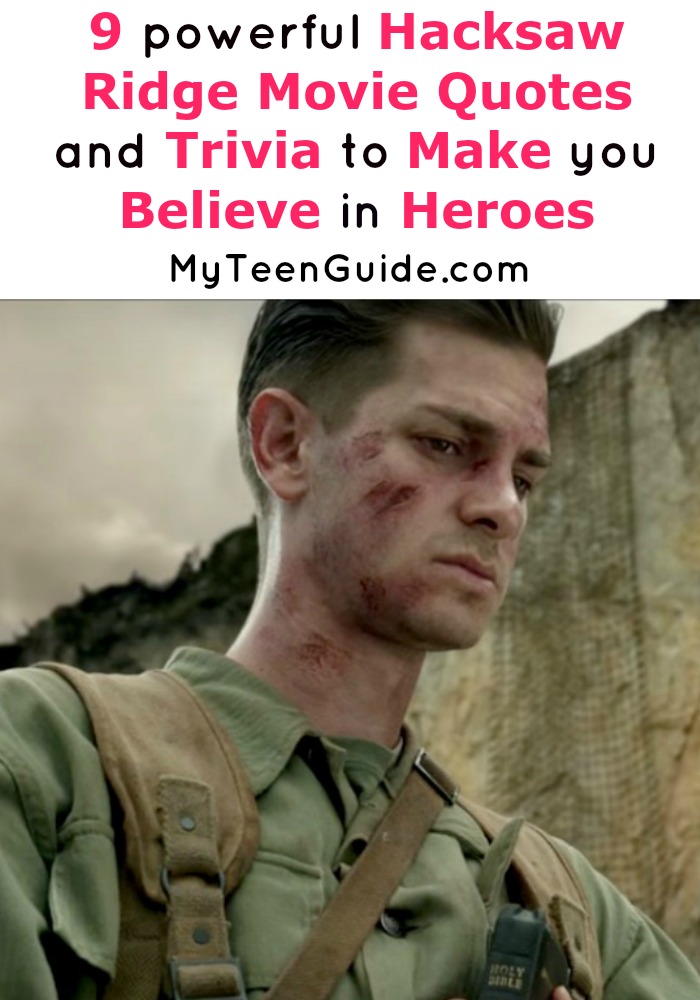 Critics are already predicting that Hacksaw Ridge will be winning awards this year, which is why you should check out these movie quotes and trivia! This inspirational movie is set in WWII and is a true war hero story. If you've ever felt like war causes more destruction than good, then you should totally see this movie. OMG, I need to have a box of tissues handy for this movie because I know I will be crying. Here are all the insider Hacksaw Ridge movie quotes and trivia to give you a sneak peek at this movie.
Related: 5 Crazy Criminal Movies Like War Dogs That Have Hustle
9 Powerful Hacksaw Ridge Movie Quotes And Trivia To Make You Believe In Heroes
Hacksaw Ridge is a 2016 biographical war movie that will be in theaters on November 4, 2016. It showcases the story of Desmond Doss, an Army Medic who served in the Battle of Okinawa, refuses to kill anyone and is ultimately given the Medal of Honor for saving the lives of dozens of his comrades. Here is some trivia and quotes from the upcoming movie.
Hacksaw Ridge Movie Trivia
The movie features Teresa Palmer as Dorothy Schutte and Luke Bracey as Smitty. They also starred together in the 2015 movie Point Break where Schutte played the role of Samsara Dietz and Bracey played the role of Johnny Utah.
Most of the filming for the movie took place in New South Wales, Australia. This was actually the first time that Vince Vaughn, who plays the role of Sergeant Howell, visited Australia.
The real-life Desmond Doss was born in Lynchburg, Virginia on February 7, 1919 and died in Piedmont, Alabama on March 23, 2006, at the age of 87.
He received the Medal of Honor on November 1, 1945 from President Harry Truman. At the time, he was a Private First Class in the United States Army, assigned to the Medical Detachment, 307th Infantry, 77th Infantry Division.
Related: All The Shows like Shameless and Weeds That Are A Hot Mess
Hacksaw Ridge Movie Quotes
Desmond Doss, talking to Dorothy Schutte:
Desmond- "I always dreamed of being a doctor, but I'm getting out of school. I can't stay here while all of them go fight for me."
Conversation between Tom Doss and Desmond Doss:
Tom- "Did you figure this war is just going to fit in with your ideas?"
Desmond- "While everybody is taking life I'm going to be saving it, and that's going to be my way to serve."
Conversation between Captain Glover and Desmond Doss:
Captain Glover- "You don't kill?"
Desmond- "No, sir."
Captain Glover- "You know, quite a bit of killing does occur in war."
Conversation between Dorothy Schutte and Desmond Doss:
Dorothy- "They're saying you could go to prison."
Desmond- "I don't know how I'm going to live with myself if I don't stay true to what I believe."
Conversation between Desmond Doss and the Army Judge:
Desmond- "With the world so set on tearing itself apart, it don't seem like such a bad thing to me to want to put a little bit of it back together."
Army Judge- "Private Doss, you are free to run into the hellfire of battle without a single weapon to protect yourself."
So are you excited to see Hacksaw Ridge now that youv'e seen the movie quotes and trivia? Did you have a favorite quote so far? Tell me your thoughts in the comments.