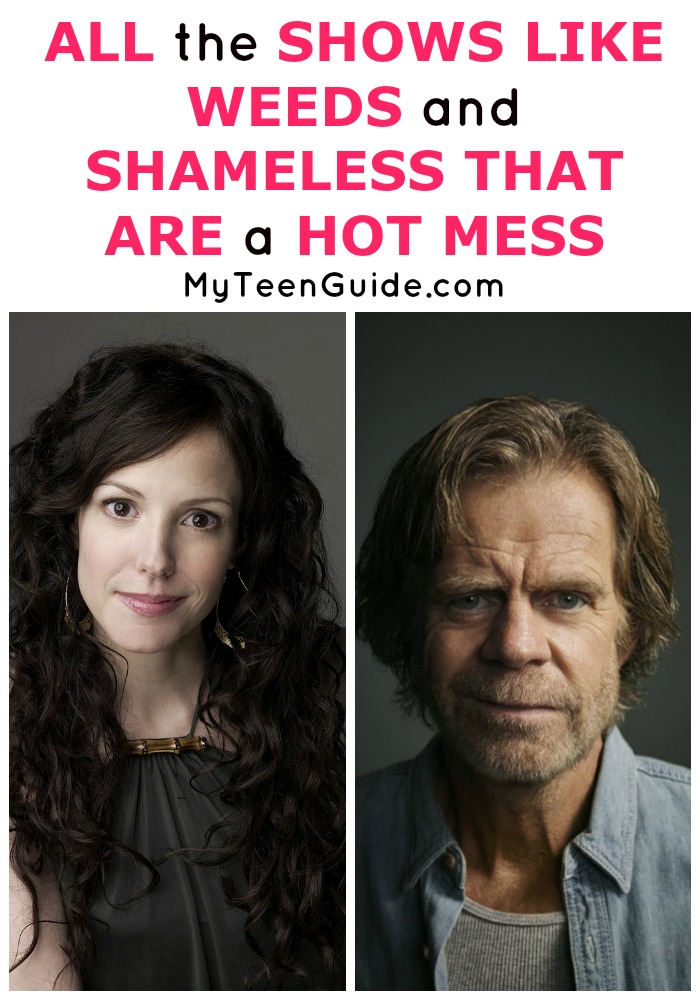 If you love drama with a side of snarky comedy, then you need to see some of these shows that are similar to the Showtimes smash hit Shameless and HBO's hit Weeds.  These TV shows are bringing the dysfunctional with a twist of comedy and drama too! We've seen this kind of dysfunction done before in sitcoms, but these shows is bringing it to a new level. You may just find you feel better about your own life choices after watching this show! Luckily I'm here for you. I have rounded up some of my favorite picks for you to check out!
Shameless
Shameless is a comedy-drama series shown on American television but is a remake of the British series set in Chicago. The show was actually filmed in Los Angeles with some exterior scenes shot in Chicago. Shameless is the comedy-drama TV series which was premiered on Showtime last January 9, 2011. Its story is centered on the life of Gallagher Family, whereas the head of the family is Daddy Frank, a role portrayed by William H. Macy.
Weeds
Weeds, on the other hand, is another comedy-drama series on television that is focused on a widowed suburban mother of two boys name Nancy Botwin. She is quickly running our of money and so starts selling of marijuana to support her family after her husband's heart attack. All throughout the show, the entire family became more involved in selling weed and other illegal activities first in suburbia, but later they fall even deeper into the fold and crime!
Related: 5 Badass TV Shows Like Breaking Bad That You Can't Stop Watching
 All The Shows like Shameless and Weeds That Are A Hot Mess
Californication
This show reminds me a lot of Shameless because the main characterHank is more than a bit of an addict. Hank finds almost everything a struggle and that often leads him into the arms of many different women. The show gets interesting when  we start watching Hank struggle making an effort to save his family.
Nurse Jackie
https://www.youtube.com/watch?v=8zZ7Uj834vc
This is a comedy-drama series that is premiered on the 8th day of June, 2009 and is on Netflix. The show starred Edie Falco who played the main character role of Jackie Peyton. Jackie is a nurse at the emergency department in New York City. Just like in Shameless, this series also presents the ups and downs of life and showcases someone who is really spiraling downward. Jackie also struggles with an addiction to drugs and is constantly battling it in her personal and work life.
Related: 5 Brilliant TV Shows Like Psych That Are Criminally Underrated
United States of Tara
This is another famous series that has a character battling with being thrown a few extra knocks in life just like in Shameless and Weeds. In this series, the main character Toni Collette suffers from dissociative identity disorder that has taken its toll on her family. Each personality is completely different, with any of them being pretty hilarious and Tara really can't control who she is on any day. There are bittersweet and comedy moments as well as she takes on each of the personalities. Even though the storyline of the series is a bit far fetched, the show somehow manages to pull it all together in a hilarious way for most of the show.
Desperate Housewives
This is a mystery and comedy-drama series that is focused on a group of suburban housewives who experience lots of in their lives. They may seem picture perfect on the outside but they are actually battling adultery, divorce, health scares and a whole lot more. All of the sudden turns, twists and dark humor have the same essence as Weeds and Shameless. The housewives in this series hide their secrets and put on a happy and smiling face.
So do you watch any of these shows like Weeds and Shameless? Let me know, along with any other similar favorite tv shows down in the comments!