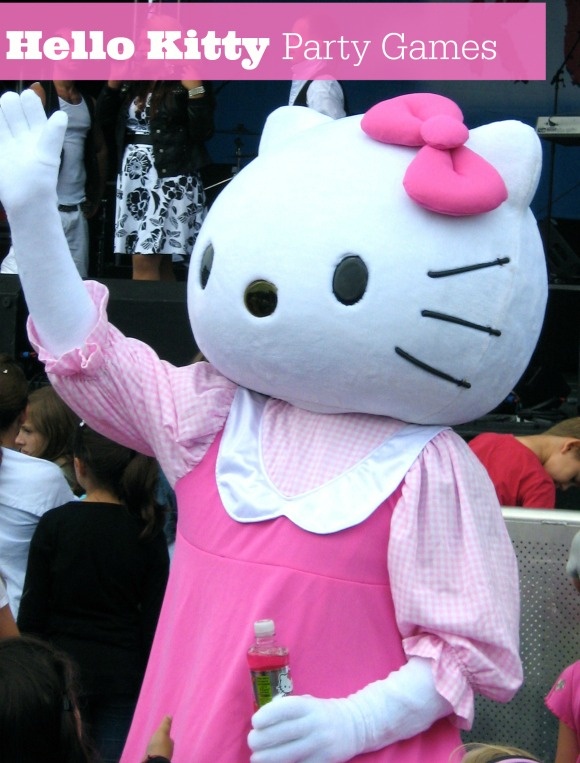 Looking for Hello Kitty Party games for kids? We got you covered.  Hello Kitty is everywhere these days, and planning a Hello Kitty party can be loads of fun with bright colors and many different themes added in. From finger foods to frilly décor, making a Hello Kitty party perfect can be pretty simple, and Hello Kitty party games are just as fun and easy to do.
Fun Hello Kitty Party Games for Kids
Affiliate links included below.
Hello Kitty Masks
You can find a sample Hello Kitty mask online or even draw your own. You will need as many masks as kids attending and you will need to have them already cut out of card stock, poster board, or construction paper so that you can help eliminate confusion and mess during this Hello Kitty party game. Supply the kids with fabric, markers, glue, ribbons, buttons, bows, and anything other craft supplies they will need to make their mask special. Attach string to it and help each child tie on the masks to wear throughout the party.
Pin the Bow on Hello Kitty
Very much like the Pin the Tail on the Donkey game, this is one of the easiest Hello Kitty party games to accomplish. Simply hang a large Hello Kitty face on the wall and give each child a bow cut out from paper, with tape on the back. Blindfold each child and have them on the bow on the cut out face. Mark an "X" somewhere on the head and the closest to that "X" is the winner.
Hello Kitty Tails
This is a very simple and inexpensive Hello Kitty party game to accomplish. You will need five cotton balls, two bowls, and kids with noses! Give them each one minute to move five cotton balls from one bowl to another only using their noses. Make sure the bowls are big enough and have each child take turns. If you have younger kids, occupy them until their turn by giving them Hello Kitty coloring sheets to complete.
Cookie Decorating Contest
This may not be a Hello Kitty party games like what you were thinking, but it can be used as an activity, a snack, and a take-home treat! Buy some Hello Kitty cookie cutters and use them to make plain sugar cookies. Then, provide icing, sprinkles, and candies so that kids can decorate their very own Hello Kitty cookie. You will want to make sure you do this in a space where messes are okay, and ask all the parents attending for help with this project. You can then have each kid vote on their favorite, or make it a family competition and assign three judges to vote on their favorite child/parent Hello Kitty cookie.
Hello Kitty BINGO
BINGO is a classic party game that people of all ages will love. You can find the BINGO packs online, or create your own with photoshop and a little knowledge of Hello Kitty. Instead of BINGO markers, use regular markers and have kids play a fun game of BINGO to unwind from the party festivities before heading home.
These fun Hello Kitty party games are sure to be a hit with your guests! Need more ideas? Check out all our party games for kids!
What are your favorite Hello Kitty party games? Tell us in the comments!