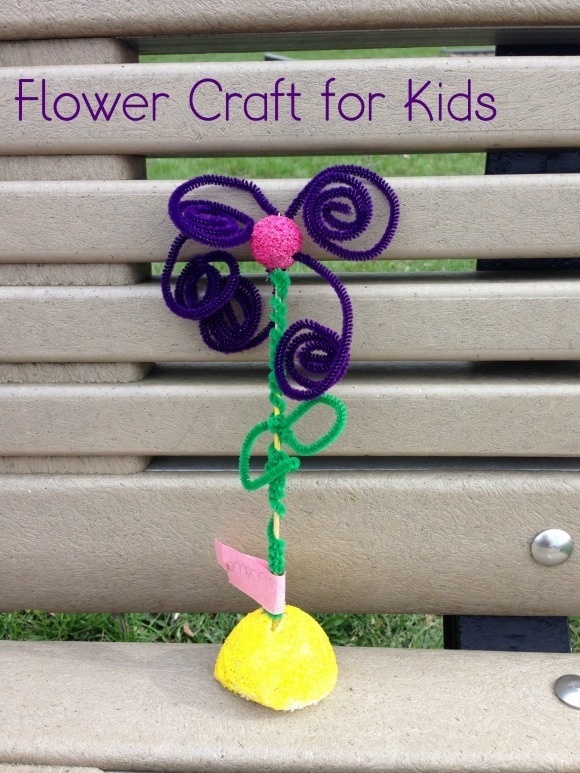 Isn't this flower craft for kids just beautiful? My kids love creating crafts with pipe cleaners.  They are so fun, colorful, and can be used to create just about anything.  They are also very budget friendly.  At around $1 per pack, the kids can create as much as they want.  You can purchase them at any craft store, department store, or even at most dollar stores. My daughter made the cutest pipe cleaner flower craft for kids that I thought I'd share with you!
This pipe cleaner daisy is so cute, and it's a lot of fun to make.  It's great for all ages, but works particularly well with children ages 4-8.  My daughter is six and hers came out fantastic, don't you think?
Flower Craft for Kids How-To
Affiliate links included in the supplies list.

 
To make this flower craft for kids, you will need:
1" Styrofoam Ball
5 Pipe Cleaners (any color, for flower)
2 Green Pipe Cleaners
Paint
Knife
Directions: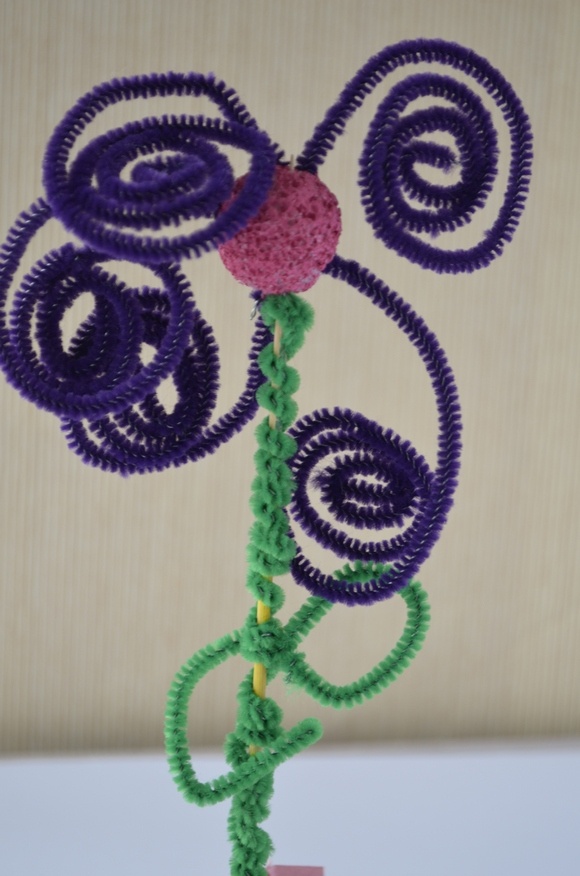 Cut the large Styrofoam ball in half with the knife.  This will be the base for your flower. Adult supervision may be necessary.
Paint the base and remaining Styrofoam ball.  You may choose to paint these the same or different colors.  The small ball will be the center for your flower.  Allow the paint to dry and apply a second coat.  Once that has dried, check for any light spots and touch up.
Once the Styrofoam is completely dry, place the bamboo skewer in the center of the base (press into the rounded side).
Twist one of the green pipe cleaners around the skewer to create a stem.
Bend the remaining green pipe cleaner into a leaf shape.  Tightly twist onto the skewer.
Press the small Styrofoam ball onto the top of the skewer.
Coil the remaining pipe cleaners.   You will want to keep these as tight as possible, because they loosen quite a bit once you release them.
Press these into the smaller ball to create your flower. Keep an equal distance between them.
That's it! Your flower craft for kids is done! Make several of them and put them in a vase for flowers that live forever. This could potentially keep your little one busy all afternoon! With the remaining pipe cleaner you can make this Pipe Cleaner Spider craft for kids  or this Madgascar Craft for kids.
Check our Pinterest board for amazing crafts for kids.
Follow MyKidsGuide's board Crafts for kids on Pinterest.
Do you have any pipe cleaners crafts for kids? Share with us in the comment section or via the Submit Form.