The only thing better than a steaming hot cup of cocoa on a cold winter's day is sharing that cup with good friends! A hot chocolate station theme party is easy & inexpensive to pull off, yet still elegant and fun! Check out our ideas to make your party a smashing success!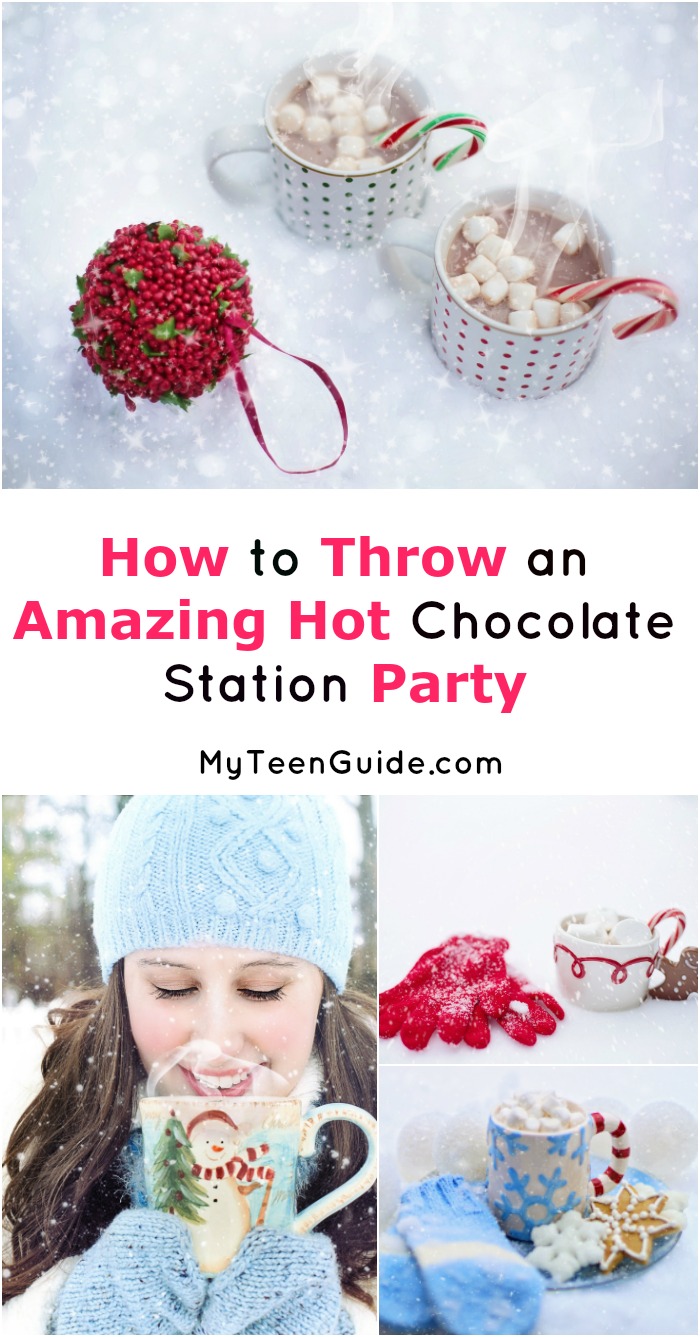 Wanna know what I love most about a hot chocolate station theme party…aside from the chocolate, of course? It's not specifically a Christmas party, so you can throw it any time during the winter. If your social calendar is already booked solid with holiday events, plan your bash for after the holidays, when life settles down a bit. It'll give everyone something to look forward to after the big "holiday let down." You know what I mean, right? That feeling you get when the holidays are over and there's no more Christmas cheer to look forward to? Whether you're planning it as a Christmas party or a post-holiday bash, these tips will help make sure everyone has a blast! Let's check them out!
Hot Chocolate Station Theme Party Ideas
Affiliate links included below. If you make a purchase through these links, we earn a small commission at no extra charge to you. Thank you for your support!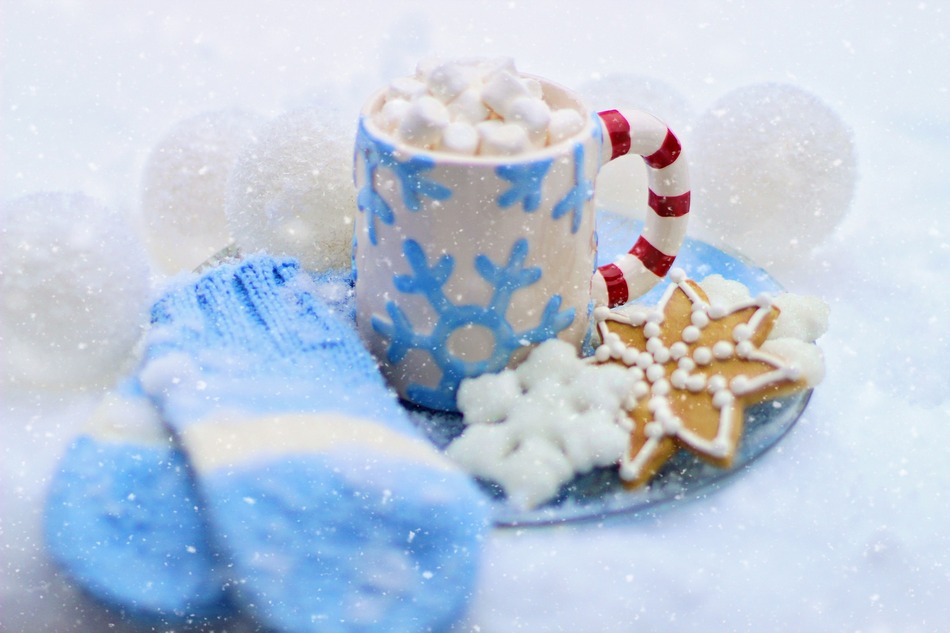 1. Invitations
To get your Hot Chocolate Station Theme Party going, you're going to need to send out some invitations. If you want to go old-school and send out paper invites, Frolic Parties has Hot Chocolate Bar Invitations that you can download and print out. Minted has Hot Chocolate Bliss Party Invitations, with a modern design. Also, Etsy features Hot Chocolate Party Invitations that can be personalized.
2. Decorations
For a hot chocolate station party, you really don't need lots of decorations! Amazon has 18-feet Holly Tinsel Garland
that you can hang from the ceiling in the party area. This Hot Cocoa Metal Sign
will stand out and draw attention to your hot chocolate station.
3. Table Settings
The first thing your party table needs is a tablecloth. This Nordic Christmas Print Tablecloth
from Amazon is festive and easy to clean- no worrying about hot chocolate spills. You'll need something to keep water, milk or homemade hot chocolate HOT, so this Stainless Steel Insulated Beverage Dispenser
from Amazon is perfect.
When it comes to cups and mugs, you have several options available. While not exactly festive and fancy, Amazon's White Foam Cups
, can be tossed in the trash when you're done! For a tad more festivity, check out these 12-ounce Red Paper Cups
. And if you want to go all out with festivity, Amazon's 6-ounce Winter Wonderland Snowflake Mugs are the perfect choice.
For hot chocolate spoons and stirrers, there are lots of choices. For spoon options, these Mini Silver Plastic Spoons from Party City, are perfect for stirring hot cocoa. Also, these Candy Cane Spoons
from Amazon will dissolve and flavor hot chocolate. When it comes to stirrers, Amazon's Mini Marshmallows Chocolate Stirrers will definitely impress your guests. Also available on Amazon are Flavored Cocoa Candy Stirrers
. You're also going to need plates for desserts, so check out Oriental Trading's Candy Cane Dessert Plates.
4. Hot Chocolate
Of course, hot chocolate is going to be the heart of your party. You can choose to make your own hot cocoa or purchase store bought canisters or packets. Sugar Rushed has a great recipe for Homemade Slow Cooker Hot Chocolate. Also, Wisconsin Homemaker features a recipe for Homemade Hot Chocolate Mix. For flavored homemade recipes, Yellow Bliss Road features Caramel Coconut Hot Chocolate and OurFamilyWorld features a delicious Cherry Almond Hot Chocolate!
Store Bought Hot Chocolate- For tasty store bought hot cocoa, Swiss Miss has Milk Chocolate Canisters
that range in size from 19 ounces to 58.4 ounces. If it's packets that you're looking for, Swiss Miss has several amazing flavors, including Candy Cane, Caramel Delight, Dark Chocolate Sensation, Milk Chocolate and Rich Chocolate.
Hot Chocolate Toppings and Mix-ins- You can seriously go crazy with your hot chocolate toppings and mix-ins. Here are tons of ideas:
5. Other Tasty Treats
While your hot chocolate station is likely decadent enough, you do want to add a few desserts to your station. Need some ideas? Here are some awesome recipes to try!
These hot chocolate station theme party ideas should definitely get you started. All you need now is your friends!
Have you ever thrown a hot chocolate station theme party? Tell us your favorite tips!