This Hot Holiday Toys for Infants post contains affiliate links. We only share products we think you'll love!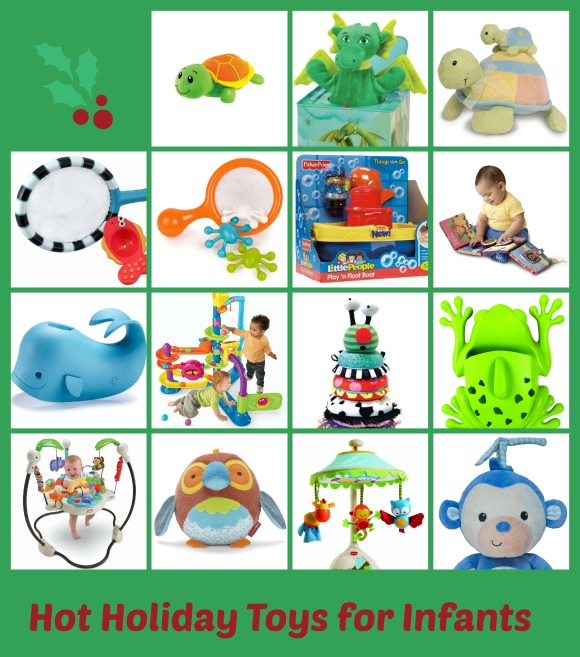 Baby's first big holiday season is a huge milestone! If your baby is old enough to participate in opening presents, it's one of the most exciting events in your infant's life. I remember my son's first Christmas! He was 6 months old and I had to help him open his gifts. The look on his face was pure delight! When your child is still too young to make a holiday wish list, it can be a little challenging to figure out what to buy them! Check out some of the hot holiday toys for infants for 2013 and plan your shopping list early.
Hot Holiday Toys for Infants
Hot Holiday Toys for Infants: Bath Toys
Bath toys are a great way to keep your infant engaged while you get them squeaky clean! As long as your baby can sit up in the tub, he can play with a few fun toys during bath time. Just remember to always supervise your baby in the tub! I know you don't need reminding, but it's always worth mentioning.

Whale Skip Hop Bath Spout Cover
This cute little guy isn't only visually appealing for infants, he also helps keep little ones safer. The spout cover-obviously-goes over the spout. It provides a cushioned surface to help prevent bumps and bruises. It also helps prevent little hands from touching hot spouts! This spout cover is my favorite because it has an opening on the top for the shower diverting thingamajig, so you can leave it on all the time. It also comes in a yellow ducky, but I think the whale is cuter!
Sassy Catch and Count Net
While your infant may be a little young to grasp the concept of counting, this cute set will help introduce numbers to her at an early age. The black and white net provides high-contrast visual stimulation while the textures on the fish offering an exciting tactile experience. Plus it's just fun for baby to catch the fishies!

Boon Water Bugs Floating Bath Toys with Net
This is one of my favorites of the hot holiday toys for infants in the bath fun category! I love the vivid colors of the orange net and the three bugs. Well, two of them anyway. One is white, not exactly a color. Plus, they're just super cute! Like the fishing net, this net helps develop hand-eye coordination. It's ideal for babies 9 months and up.

Fisher-Price Little People Play 'n Float Bath Boat
This Fisher Price boat may not be a new toy, but it's still one of the hot holiday toys for infants for a good reason! Every baby I've known, including my son, has had this classic bath toy. In fact, even though my son is now 8, he still plays with it occasionally. Sure, now it carries action figures instead of little people, but  it's held up over the years!
Boon Frog Pod Bath Toy Scoop
If you have bath toys for infants, you need an organizer! Trust me, you'll want one. Now, maybe you're thinking "I'll just keep them in a bucket next to the tub!" Uh, no. Bad idea. They get grimy that way really fast. Plus, you end up with a bucket filled with an inch of water that gets stagnant. Been there, done that, learned my lesson. The Boon Frog Pod is one of the most popular bath toy organizers around for a good reason. It's cute, easy to use and sticks right to your shower wall. That makes cleanup time a lot easier!
Hot Holiday Toys for Infants: Musical Toys
They say music soothes the savage beast. Well, it also works pretty well for "savage" babies! Musical toys are always a big hit with infants. Check out a few of our favorites for your holiday shopping list!

Tiny Love Magical Night Musical Mobile
This is really like three crib toys in one! It features an adorable musical mobile, a projector that casts a serene scene on the canopy and a starry night light on the unit itself. It plays 30 minutes of music at a time, with a total of 9 different tunes. Love that! There is only so much you can take of the same tune over and over, right? If you head over to OurFamily World (our sister site), you can read a full review of the Tiny Love Magical Night Musical Mobile.
Skip Hop Parrot Chime Ball Toy
Oh the cuteness of the Skip Hop Safari collection! This little guy doesn't sing or get all flashy with his music, but he does emit a pleasant chime that will delight babies when they shake him. He's made of soft multi-textured fabric to add a great tactile experience as well.
Fisher-Price Musical Pull Toy
This cute little guy attaches to the crib (or stroller, swing or anywhere else your baby hangs out). Give him a tug and he sings a gently lullaby. Babies will love his soft body, perfect for snuggling!
Puff, The Magic Dragon: Jack in The Box
I really wish all the cute Puff the Magic Dragon toys were around when I was little! That was my favorite show! I used to anxiously await it every year (back then, we didn't have DVDs, so I only got to see it once a year). All babies should be introduced to the lovable dragon at an early age. I used to sing the song to my son during nap time. This adorable "Puff in the Box" is a lot less frightening than the typical clown jumping out at you!
Kids Preferred Mama-Baby Turtle Musical
Is there anything sweeter than a mama with her baby? Perhaps a mama turtle with her baby taking a ride on her shell! This is just too cute for words! Turn on the baby turtle to start the music and your little one will hear a sweet rendition of "You Are my Sunshine."
Hot Holiday Toys for Infants: Activity Toys
Activity toys are those that encourage some sort of active engagement. These include toys that can be pushed or pulled, stacking toys and other toys that require input from your baby to fully play with. They're great for helping develop all sorts of skills.

Fisher-Price Luv U Zoo Jumperoo
My son had a Jumperoo when he was a baby. It was one of his favorites! His was a lot more basic back then. This one features music, sounds and lights! It grows with your baby with the adjustable base. Baby can swivel around in all directions to keep an eye on the action.
Lamaze High-Contrast Discovery Shapes Activity Puzzle & Crib Gallery
This one starts out as a cute padded gallery that your infant can stare at in the crib. As your baby grows, it transforms into a fun activity puzzle. The different puzzle shapes, textures and sounds will help develop hand-eye coordination as well as an understanding of cause and effect.

Kushies Zolo Boa
Every baby needs a stacking and nesting toy, right? Why not go with one of the cutest versions out there? Don't you just love his little alien buggy eyes? Each of the four rings has a different texture. When your baby completes the stacking, he'll be rewarded with a sweet little giggling sound!
Winfun Catch Me Tortise
Help develop your baby's crawling skills with this super cute turtle. When my son was a baby, we had this really loud and flashy crawling toy. While I loved it, apparently it drove everyone else nuts, including my dog. This little guy isn't flashy or loud. He simply crawls away when activated, encouraging your little one to catch up with him. I love that he's made of plush fabric!
Fisher-Price Cruise and Groove Ballapalooza
Okay, where was this when I was little? I can't wait for my brother to have his baby so I can play with this one! The Ballapalooza grows with your baby from a sitting to standing position. Balls zoom down the ramp while music plays and light flash. It's a complete engagement experience!
Your babies comfort is always most important, especially during playtime. Always check out different baby cribs to ensure your baby is comfortable and smiling!
We hope this hot holiday toys for infants guide helps you get started on that holiday shopping! Let us know if we forgot any of your favorite infant toys! Come back next week for hot holiday toys for toddlers!