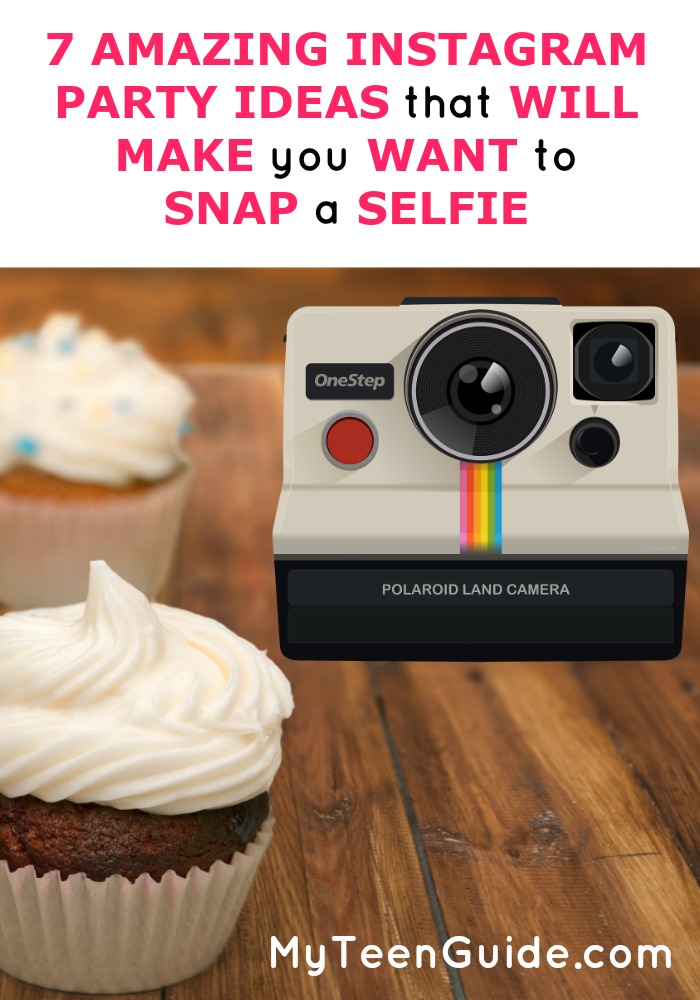 I was so excited when I came up with my next cool party idea, an Instagram party! You will make epic history and your friends are going to give you tons of hearts! From photo scavenger hunts to Emojis and Insta- party crafts, I've found a great lineup of ideas. This party feels extra special and is perfect for a birthday or even just a backyard summer party where you fire up the grill and have a blast. Check out these Instagram party ideas below. You're going to srsly love this party!
7 Amazing Instagram Party Ideas That Will Make You Want To Snap A Selfie
Photo Stop
https://www.instagram.com/p/BD8LiKfnP5Y/
You better believe during the party we will be taking pictures! I <3 this photo frame idea that makes it look like you're right in an Instagram photo. This idea you have to recreate for an awesome party. Don't forget to add a party hashtag that your friends can add to photos! Then everyone can see the best party selfies!
Instagram Pinata
https://www.instagram.com/p/BE1SFdKzYXp
Yeah sure, Pinatas are usually for kids parties but not this one! Fill this giant Instagram camera full of candy and hoist it up on a tree branch.  Since the shape of this is pretty simple, you could use a thing cardboard box and decorate it with tissue paper to look like a camera. I can guarantee your friends will start laughing and swinging. OMG, this is literally the best thing ever!
Related: The Glow In The Dark Party You Wish You Were At Right Now
Party Dates
https://www.instagram.com/p/_X6Gg2u6rJ/
Everyone has their fav emoji. With so many to choose from, why not make a bunch of these cute Emoji props as decorations? They can double as table décor and selfie props! Or you could have everyone pick an emoticon with the faces down, and then snap a group shot. I want the laughing emoji!
Instagram Cake
https://www.instagram.com/p/BEB3WAoQTKb
How fantastic is this Instagram cake! While these cakes look like they were made by a pro, I bet you could make your decorations out of cardboard to stand up on the cake if you don't want to go with a pro baker. Yum, save me a piece.
Selfie Scavenger Hunt
https://www.instagram.com/p/BCWXTZ7GegP
Here's a great way to liven up your party! Break your party into groups, and give each group a selfie stick. Make sure at least one person has enough room on their phone for pictures! Then give each group a list of fun photos they have to capture! You can totally get creative. It's almost like you and your friends are on The Amazing Race!
Some scavenger hunt ideas include:
Three items that are green in the same picture
A selfie with 4 or more people
A picture of food
A picture of something close-up
A picture of a flower
Swag Emoticon Shirts
https://www.instagram.com/p/BCUqoOcobzo
Are you considering some serious swag for your party? What about creating emoticon shirts? You could have these shirts printed, or set up a fun craft table and make your shirts at the party!
Related: 3 Epic Mystery Party Games To Amaze Your Friends
Instagram Camera Photo Frames
https://www.instagram.com/p/BCSr-SaGegD/
If you're feeling crafty at your party, why not paint Instagram photo frames? Each person will need a wooden square picture frame, paint in rainbow colors plus brown or black for the top of the camera. This idea is such a fun craft idea for a party!
So lovelies, which of these Instagram party ideas are you going to be snapping up for your party! Tell me now in the comments what you think!
Image via Stockunlimited and Pixabay