Want proof that you're in for a wild ride this summer?
These 15 Incredibles 2 movie quotes are all you need to tell you this is going to be the hit of the season!
Check them out, as well as some fun trivia about the movie!
Don't miss out: Get a free exclusive poster with your 'Incredibles 2' ticket purchase while supplies last.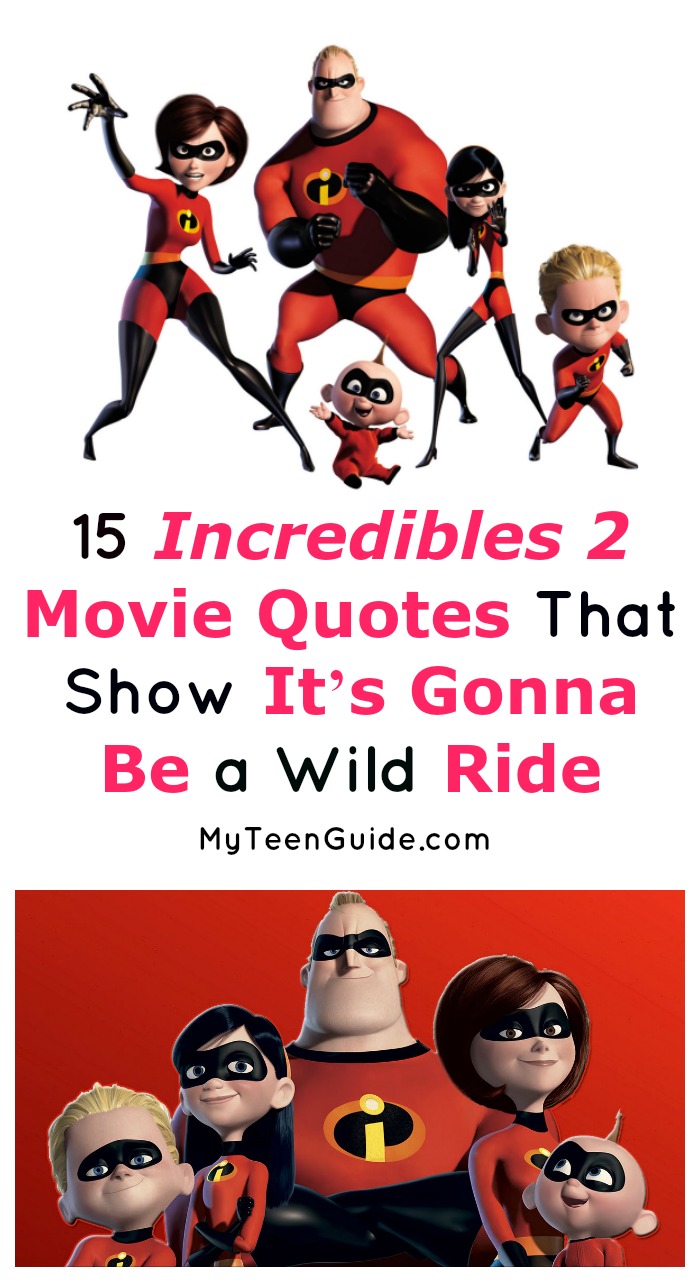 After 14-year long wait and anticipation, the new story of the famous Parr family, better known as The Incredibles, is coming out soon.
With expectations running high due to the standard set by the first, Oscar-winning movie, the sequel will have a tough task in front of it.
However, with Disney and Pixar behind the movie, and with the same director at the helm, we can rest assured that the quality will stay the same.
Check out the trailer, then read on for the best Incredibles 2 movie quotes.
15  Incredibles 2 Movie Quotes That Show It's Gonna Be a Wild Ride
Affiliate links included below. If you make a purchase through these links, we earn a small commission at no extra charge to you.
Superheroes and Parents – The Incredible Combination
Being a parent is hard enough even if you have a regular 9-5 job, but if you have to fight crime as a superhero as well, then parenting becomes much harder.
The family life of Parrs was already depicted to some extent in the first movie, but in the sequel, we see how the family deals with the fact that the youngest child, Jack-Jack, also has superpowers and how they adapt to the matriarch of the family becoming famous as the only active superhero.
Quote 1:
Edna Mode: [to Bob] Done properly, parenting is a heroic act. Done properly.
The sequel picks off right where the first movie ended, with the arrival of the newest villain, The Underminer. And while the family tries to lead a normal life, Helen Parr as Elastigirl gets an offer to become the face of the new campaign for the return of superheroes. That means that Bob (Mr. Incredible) has to become a stay-at-home dad, which is not something he is used to.
Skip the lines and get your Incredibles 2 movie tickets at Fandango!
Quote 2:
Helen Parr: Bye, sweetie.
Bob Parr: I'll watch the kids. No problem.
This new order affects everybody in the family, not just Bob. The kids are growing up and have to adapt to the new situation, while they deal with their own problems. Violet is entering those tricky teenage years and she wants to be involved in the decision-making process. She is also not above expressing her feelings in an unpleasant way.
Quote 3:
[watching in shock as Violet has put her superhero outfit into the garbage dispenser]
Dashiell 'Dash' Parr: Is she having adolescence?
Being in the spotlight, however, is not something that Helen objects to. In fact, she loves the attention, even though she is aware that it affects the rest of the family and she misses her kids and her husband. The fact that superheroes are still illegal and that she has to fight single-handedly to change this isn't making it any easier.
Quote 4:
Helen Parr: I know it's crazy, right? To help my family, I got to leave it, to fix the law, I got it break it.
Bob Parr: You've got to, so our kids can have that choice.
Even though everybody copes with this new deal on their own, there are also some perks to the new job, as Dash puts it eloquently.
Quote 5:
[as they enter their new house]
Dashiell 'Dash' Parr: Woh, I like mom's new job!
However, probably the most important and most interesting storyline in the sequel will be about the youngest family member, the baby Jack-Jack, and his emerging superpowers that threaten to surpass his parents' abilities. We will have to wait and see what Jack-Jack can do, however, even though we have been given a few hints in the trailer.
Quote 6:
Bob Parr: I've got to succeed, so she can succeed! So we can succeed!
Lucius Best: I get it, Bob!
[suddenly Jack-Jack transforms into a devil-like creature]
Lucius Best: What the…! That is freaky.
Never Change the Winning Team
The Incredibles 2 will stick to their well-established and validated team. The director of the first movie, Brad Bird, will stay behind the camera for the sequel, which is a great sign of continuity for the new movie. In addition to him, the rest of the cast will also reprise their roles.
Craig T. Nelson will once again lend his voice to Bob Parr/Mr. Incredible. Best known for his role as Coach Hayden Fox in a TV show Coach, Nelson is great as a once-famous superhero who now has to become an incredible dad.
Even though he showcased his powers again in the first movie, Mr. Incredible now has to lay low and let his wife fight for the recognition of outlawed superheroes, while he helps his kids with their mundane everyday tasks.
Quote 7:
[Bob is helping Dash with his math homework]
Dashiell 'Dash' Parr: That's not the way you're supposed to do it, dad. They want us to do it this way.
[holds up his book]
Bob Parr: I don't know that way. Why would they change math? Math is math!
Dashiell 'Dash' Parr: It's okay, dad.
Bob Parr: Math is math!
Holly Hunter voices Helen Parr/Elastigirl again. You might know Holly from movies The Piano and The Big Sick, among others. With the ability to stretch further than a normal human being and bend her body into any form or shape, she is chosen to represent the superheroes and their case.
She is aware of the sacrifice that her husband makes, however, and she acknowledges it.
Quote 8:
[on the phone to Bob]
Helen Parr: I couldn't have done this if you hadn't taken over so well.
Sarah Vowell, who is known for her radio persona and her voice rather than her career as an actor, once again is voicing Violet Parr, the eldest child in the family. Violet, who can become invisible and project force fields, is in her teenage years and unafraid to voice her opinion on anything.
Quote 9:
[as Dash reaches out to pick up a spring roll]
Violet Parr: Did you wash your hands?
[Dash quickly speeds off, washes his hands and returns in a matter of seconds and reaches for the spring roll again]
Violet Parr: With soap?
[Dash speeds off to wash his hands with soap, returns again to reach out for the spring roll]
Violet Parr: Did you dry them?
[Dash shakes his hands to dry them, picks up and spring roll and stuff it into his mouth, Helen passes him a takeout box]
Dashiell 'Dash' Parr: What?! Is this all vegetables?! Who ordered all vegetables?
Helen Parr: I did.
Violet Parr: So are we going to talk about it?
Bob Parr: What?
Violet Parr: The elephant in the room.
Bob Parr: What elephant?
Violet Parr: Mom's new job.
Huck Milner is the one big change since he was chosen to replace Spencer Fox as the voice actor for Dash Parr, the middle-child of the family. Dash has superhuman speed and he is proud of his superpowers. He doesn't really understand why he has to hide his superpowers and he doesn't like it, either.
Quote 10:
Helen Parr: Superheroes are illegal.
Dashiell 'Dash' Parr: We want to fight bad guys!
[Jack-Jack gurgles in encouragement]
Dashiell 'Dash' Parr: It defines who I am.
Bob Parr: We're not saying you have… What?
Dashiell 'Dash' Parr: Someone on TV said it.
The voice actor behind the last family member, Jack-Jack is not credited, which probably means that he is still some time away from his first words.
However, the fact that he is too young to talk doesn't mean that he is too young to have superpowers, the extent of which we will find out in the movie.
Quote 11:
Bob Parr: But I can't keep giving him cookies!
[Jack-Jack transforms and goes to attack Bob]
Lucius Best: Hey, he's freaky!
Bob Parr: No biting! That's daddy!
In addition to all the family members, the cast includes Samuel L. Jackson as Lucius Best, or Frozone, Bob's best friend who has the power to create ice out of humid air. He is ready to step up at any time and go back to saving the world, even though his wife doesn't approve.
Quote 12:
[on the phone]
Bob Parr: Suit up, it might get weird.
Lucius Best: I'll be there ASAP.
[Lucius hangs up and as he turns to suit up he hears his wife's voice]
Lucius's Wife: Where are you going ASAP? You better be back ASAP!
The director, Brad Bird, has another job in the movie – he voices Edna Mode, the fashion magnate and family friend of the Parrs. She helps them in their fight by creating amazing suits for the Incredibles, always providing her service with a touch of irony and sarcasm in her voice.
Quote 13:
[as they watch Jack-Jack testing his new superhero suit]
Bob Parr: Combustion imminent! What does that mean?
[suddenly Jack-Jack bursts into flames]
Bob Parr: Aah!
Edna Mode: It means fire, Robert.
John Ratzenberger, known for his role as Cliff Clavin in the cult sitcom Cheers, gives voice to The Underminer, a villain who already showed up at the end of The Incredibles. His goal is to bring war to the world and enjoy the destruction, and it is up to the Parrs to stop him in his intentions.
Quote 14:
The Underminer: Behold, The Underminer!
[to Violet and Dash]
Helen Parr: You watch after Jack-Jack.
Violet Parr: But I thought we were going to go…
Bob Parr: You hear your mother! Trampolining!
[he trampolines off of Helen, who's stretched herself out between two vehicles]
Bob Parr: We meet again.
[The Underminer knocks him out]
A well-known dynamic duo from the popular TV show Breaking Bad (and the spinoff Better Call Saul), Johnathan Banks and Bob Odenkirk, voice Rick Dicker and Winston Deavour, respectively.
Rick is the head of the Supers Relocation Program, and Winston runs a big Telecommunications company, along with his sister Evelyn (Catherine Keener). Winston and Evelyn are the driving forces in favor of the return of the superheroes and they chose Elastigirl to help them in this cause.
Quote 15:
Winston Deavor: It's time to make some wrong things right. Help me bring supers back into the sunlight. We need to change people's perceptions about superheroes, and Elastigirl is our best play.
Bob Parr: Better than me?
[Helen looks at him in anger and clears her throat loudly]
The cast is completed with Sophia Bush as Voyd, a huge fan of Elastigirl who aspires to become a superhero as well, and Isabella Rossellini as The Ambassador, a strong ally of the Parrs and other superheroes because she supports their cause.
Have you heard any other fabulous Incredibles 2 movie quotes? Tell us below!