If you can't go to the beach for your special day, bring it to you with these ocean themed birthday party ideas!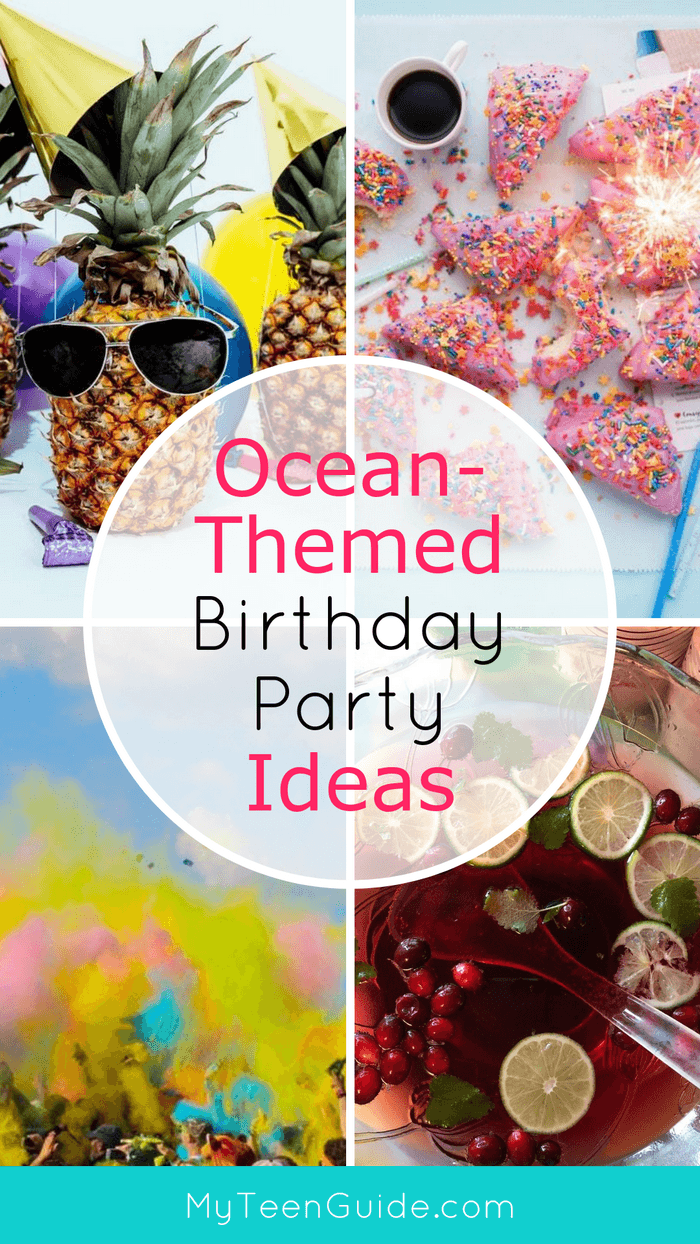 When you think of the ocean, what do you imagine in your mind?
You probably imagine things like sand castles, seashells, sharks and sunshine, right?
Well, for your next birthday party theme, how about incorporating these things into your party!
Do you want to know how?
Keep reading to find out!
Ocean Themed Birthday Party Ideas
Affiliate links included below. If you make a purchase through these links, we earn a small commission at no extra charge to you. Thank you for your support!
1.  INVITATIONS
Okay, so first thing you need to do is make a guest list and invite people to your party! You have a couple of different options for sending out invitations. Which one you choose depends on your budget.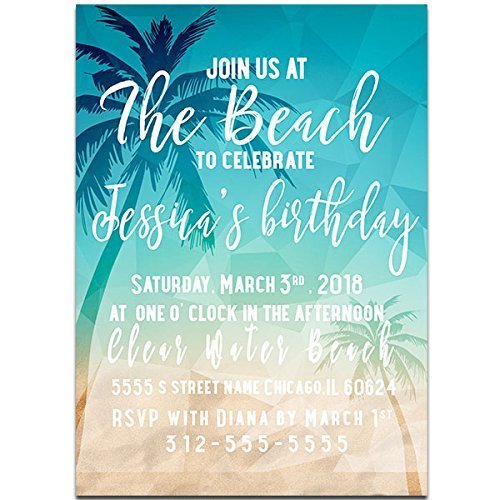 If you have a decent budget, I absolutely love these beach party invitations from Amazon Handmade (pictured above). You can have them personalized with all of your info, so all you need to do is address the envelopes and mail them.
Don't have a big budget? You can still buy traditional beach theme fill-in invitations and just add the info yourself.
If you really want to save money, make your own invitations using something like Canva or PicMonkey. Then you can print them out yourself and mail them. Better yet, email them!
2. DECORATIONS
Whether you have your party indoors or outdoors, the decorations pull the whole theme together. Don't worry, you don't have to spend a boatload of cash to create an ocean vibe! Here are a few ideas to get you started.
Fishing nets– they're relatively inexpensive, yet make the perfect base for other simple decor items. Fill them with blue and white balloons, attach starfish and sand dollars, or just drape them over tables for an "ocean expedition" look.
Flip flop decor– nothing says "beach days" like flip flops! You can buy flip flop garland, or make your own decorations with real flip flops. Stock up at the dollar store, then get creative. I love this tutorial for a flip flop welcome sign. You could easily change it into a Happy Birthday sign!
Jumbo Realistic Sea Life Cutouts– This 13-piece set of brightly colored cutouts feature a dolphin, sea turtle, shark, starfish, stingray, whale and an array of tropical fish.
Shindigz– Beach Sign Cutouts– This set of 4 double-sided beach signs feature Beach, Boardwalk Arcade, Lifeguard on Duty and Snack Shack.
3. TABLEWARE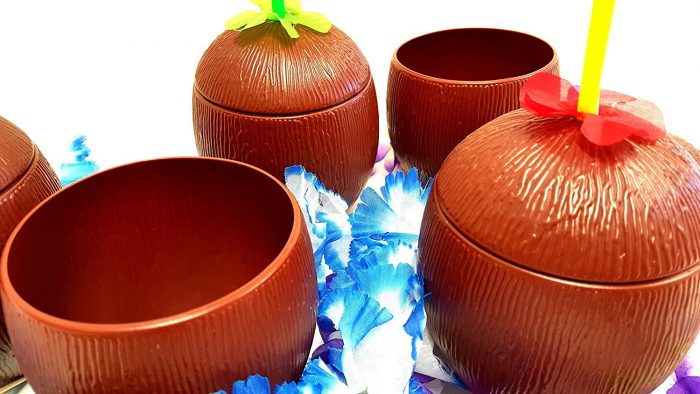 Donning your party tables with ocean-themed tableware
will help spruce up your party! If you don't want to spend a lot on paper plates, napkins, and other stuff that will just get tossed at the end of your party, you can just buy plain blue or sea-foam green tableware. Add special touches with coconut cups
 and starfish chips & dip trays
.
4. FOOD & DRINK
What is a party without some delicious food! Try these fun ocean-themed food ideas!
Sand castle cake: Don't worry, it's not really made from sand! This video shows you how to do it. If you don't love this one, though, just search YouTube. There were a bunch to choose from!
5. ACTIVITIES
Keep the fun going all day long with these fun activities!
Craft Stations
Flip Flop crafts– buy a bunch of cheap flip flops from the dollar store and some craft supplies like yarn (the fuzzy yarn is perfect for this) and other embellishments. Set up a flip flop decorating station for your guests to beautify a pair for themselves!
Sea shell crafts– buy seashells in bulk (you can get 200+ for under $10) and set them out along with some paint, string, little mason jars, and other random craft supplies. Your guests can make necklaces, fill the jars, or create cute little seashell creatures. Check out this video for more ideas:
Beach Games
6. PARTY FAVORS
After your party has concluded, send your guests home with some awesome party favors!
Fill Sand & Sun gift bags
with ocean animal bookmarks
, surfboard lollipops
, shark pens
, and other ocean-themed goodies.
Here is another awesome party favor idea! Fill these Beach Pails
with yummy ocean-inspired treats like Goldfish Crackers
, Swedish Fish Candy
, Gummy Shark Candy
and Ocean Blue Dum Dum Lollipops
.
Just because you can't go to the beach doesn't mean you can't still have a fun day inspired by everything you love about it! These ocean themed birthday party ideas, combined with good friends, are sure to help you make memories that last a lifetime!
Do you have any other ocean themed birthday party ideas? Share below!