As if you're not already looking forward to this movie, we've got 5 Solo: A Star Wars Story movie quotes that will really drive your excitement over the top!
Don't miss out: Get a free exclusive poster with your 'Solo: A Star Wars Story' ticket purchase while supplies last.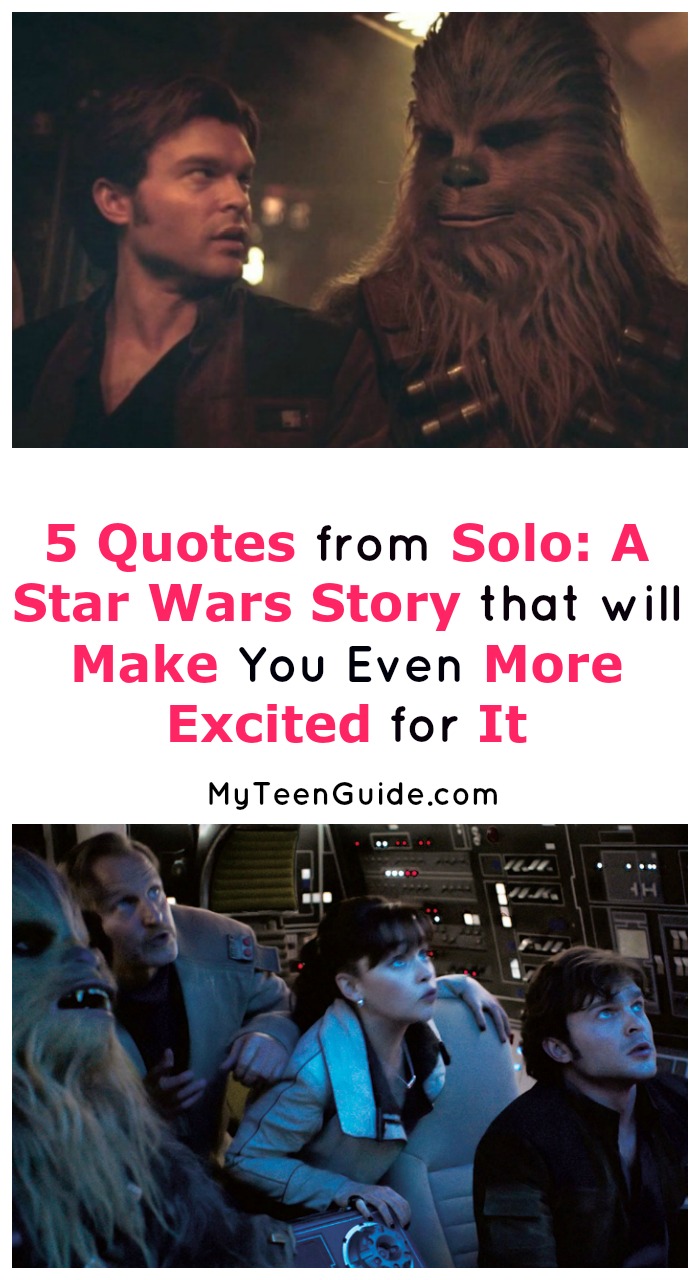 After years of subtle hints from Disney and according to the wishes of the die-hard fans, Han Solo is finally going to get his own movie.
The expectations have been set as high as possible ever since the movie was announced and since the moment of reckoning is getting closer with each passing day, it's time to take a look at Solo: A Star Wars Story and what can we actually expect to see.
5 Solo: A Star Wars Movie Quotes
The Making of a Smuggler
Ever since Disney announced that they will be making standalone movies, or spin-offs, of original Star Wars movies, we kind of expected to see a flick about Han Solo.
This will be the second standalone movie from the Star Wars universe, after a very successful Rogue One. There are also rumors that we can expect a movie about Obi-Wan Kenobi as well, but that has not yet been confirmed.
For now, we will have a chance to see how Solo became "the best pilot in the galaxy".
Quote 1:
Han Solo: I've been running scams on the streets since I was ten. I was kicked out of the flight academy for having a mind of my own. I'm going to be a pilot. The best in the galaxy.
Even though we don't know a lot about the story, we do know that this movie will depict the meeting of Han and Chewbacca, as well as the way in which Solo met Lando Calrissian.
We also know that the story is set 10 years before the events of Star Wars: A New Hope, which is basically right in the middle, between the prequel trilogy and original trilogy.
That means that the Empire does exist, but it is not as strong as it will become by the beginning of the original trilogy.
Quote 2:
Imperial Officer: So, you want to make a difference?
Han Solo: Yeah.
Imperial Officer: Trust me, you're going to love it. And which branch are you interested in joining.
Han Solo: I think I'm going to be a pilot, the best in the galaxy.
Imperial Officer: Your name?
We will probably also see how Solo managed to win the Millennium Falcon from Lando, who is famous for his gambling, which got him into trouble more than once. We will also get to know Solo's mentor, who will teach Han how to become a great smuggler.
Quote 3:
Tobias Beckett: Hey, kid, I'm putting together a crew? Are you in?
[Chewbacca roars]
Han Solo: That's yes.
The Director's Dilemma
There were some rough paths on the road to making Solo: A Star Wars Story, especially in the director's seat.
At first, the movie began shooting under the direction of Phil Lord and Chris Miller, a pair of established directors responsible for 21 Jump Street and The LEGO Movie.
However, after a creative rouse with screenwriter Lawrence Kasdan and his son Jon, allegedly over not sticking to the script and the amount of the improvisation they allowed on the set, both directors were fired and replaced with a seasoned director Ron Howard.
The Young and Promising Cast
Probably the biggest question surrounding the movie when it was announced was about the leading role of Han Solo, played by one of the Hollywood's most popular actors in the previous Star Wars movies, the great Harrison Ford.
The role of young Solo was sought after and ended up in the hands of Alden Ehrenreich, whose biggest role so far was in the Coen Brothers' flick Hail Caesar! Without experience but with plenty of potential, we will see how young Alden will portray the famous character.
Quote 4:
Qi'Ra: I might be the only person who knows what you really are.
Han Solo: [smirks] What's that?
The rest of the cast is full of young actors, even though some of them already have a few of amazing roles behind them. The role of Lando Calrissian was given to Donald Glover, who you probably know from his roles in TV comedy hits Community and Atlanta. You might also know him from Spider-Man: Homecoming and Martian.
We will also see another pretty familiar face since Emilia Clarke will bring to life Qi'Ra, a tough girl growing up on the streets with Han Solo. Emilia became famous due to her portrayal of Daenerys Targaryen, one of the numerous pretenders to the Iron Throne from HBO's massive hit Game of Thrones.
Quote 5:
Han Solo: Get ready. I thought we were in trouble there for a second, but it's fine. We're fine.
Lando and Qi'Ra: No, we're not!
[suddenly a massive tentacle appears before them]
Another big change happened in the Chewbacca's costume. After many years in this role, from the very beginning actually, Peter Mayhew has been replaced with a younger actor, Joonas Soutamo, who served as Peter's body double before getting the chance to play Chewbacca.
We will also see Woody Harrelson as Tobias Becket, Han's mentor. There is also a great number of familiar names, like Thandie Newton as Val, Paul Bettany as Dryden Vos, Jon Favreau as Rio Durant, and Phoebe Waller-Bridge, who will be giving voice to the newest lovable droid of Star Wars, L3-37.
Have you heard any other great Solo: A Star Wars Story movie quotes? Share below!