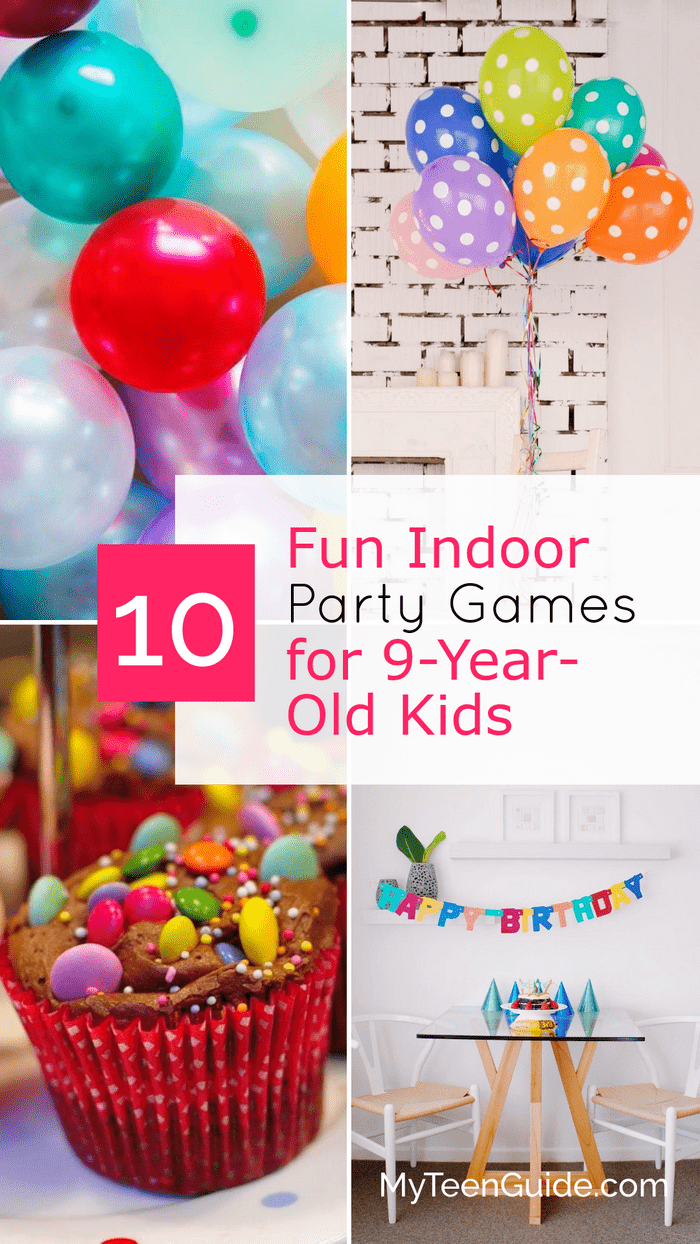 Indoor party games can be the best kind to plan, rather than just letting the kids play outside.
Sometimes it seems like the older they get the harder the games are to plan.
It's really just the opposite!
The older they get the more fun they are to plan!
Here is a list to help you out in planning some great indoor party games for age 9!
DOWNLOAD & PRINT THE FULL LIST OF PARTY GAMES HERE!
RELATED: 6 Awesome Party Game Ideas for Boys
Indoor Party Games for Age 9
watch the video and then read the details below




Affiliate links included below. If you make a purchase, we earn a commission at no extra cost to you.
1. Charades
Write different things on paper for them to act out. Some ideas are, elephant, teacher, dog, police man, skier, you get the idea. They can not talk, just like the game you may have played before. The guests try and guess what they are acting out. The person doing the acting can use hand signals and head nods, but no talking.
You can time them too to make it a tad more difficult! If you are low on inspiration, grab a Charades board game
to help you out!

2. Prize auction
When you send the invitations out, make a request for them to bring a 'white elephant
' item (this is something very inexpensive or something they have they do not want anymore, but is in good shape). Ask them to wrap it in newspaper or other non-birthday paper.
Once everyone is there and the wrapped items are on a table, give each party guest $20 in play money. Start the auction for the wrapped items! The fun is that they don't know what they are bidding on. You can throw them off by adding wrapped things like food.
3. Balloon relay races
This is so fun, and fun to watch too! Break the kids into two teams, blow up a balloon
for each team. They have to keep the balloon between their knees while they get from one side to the other and back without popping it or dropping it.
The only time they can use their hands is to hand the balloon off to the next person. The last team left standing is the winner! Don't forget to take photos, these will be priceless.

4. Spin the bottle (for gift opening)
Relax! It's not the game you are thinking of. When it is time to open presents, have the kids all sit in a circle with the gift they brought. Have the birthday person spin the bottle (or whatever you have) and she opens the present of the person it lands on. Its fun and take away the chaos that can happen when opening gifts!

5. Telephone
A classic game that I am sure none of the party guests have played in a while (if ever!) No need for a tin can or anything, just have them sit in a circle and someone starts by whispering a phrase into the next person's ear. That person passes on to the next what he heard, and so on, until it gets back to the person who started.
You can eliminate any confusion or 'cheating' by writing down phrases on a piece of paper and have them choose one, without anyone else seeing it of course.

Plan an Amazing Party for Kids from Start to Finish
6. Indoor Bowling
This game works best if you have a long carpet-free hallway or other playing surface. Use empty plastic bottles as pins. Just make sure they're all the same size! For a bowling ball, use a small inflated beach ball. You can also make your own ball out of wrapping paper if you play this after opening the gifts!
7. What's Missing?
Test your kids' memories with a fun party game that uses items you have on hand! Put a bunch of random toys on your dining room table and make sure all the kids have full view of them.
Next, give them one minute to look at all the items on the table before making them all turn around. Take something off the table, have the kids turn back around and let them guess what is missing.
The first kid to guess correctly goes to the "winner's circle." Keep playing, taking one item off the table each time, until all the kids win. Once they're all in the winner's circle, it's time for cake and ice-cream!
8. Crazy Cupcake decorating challenge
Before the party, bake a batch of plain cupcakes (vanilla, chocolate, or a mix). For this game, set up a table covered in plenty of plastic, and put plastic underneath the table, too. It's going to get messy!
Set out frosting
, sprinkles
, and other cupcake toppers at each child's station. Now, give them one minute to create their ultimate cupcake! Make it even more crazy fun by not giving them spoons or anything, so they must use their hands. Obviously, make sure they wash their hands before playing (and give each kid their own supplies).
9. Indoor Ring Toss
If you're having a carnival-themed party (and even if you're not), ring toss is one of the cheapest and simplest indoor party games for 9 year olds! Use a paper towel tube to create the dowel, and paper plates with the middle cut out as the rings. Check out this video for directions:
10. Fun with Marshmallows
You can do all sorts of fun things with marshmallows
! For sports fans, make a marshmallow basketball game. Use a small plastic cup to make a hoop, then let kids try to shoot marshmallows into it! This video has some other cute ideas that can be adapted for an indoor party:
Plan an Amazing Party for Kids from Start to Finish
See? Planning fun indoor party games for 9 year olds doesn't have to be the same ole pin the tail on the donkey that they are quickly growing out of! These games will get them talking and interacting and keep them entertained.
Have you planned party games for 9 year olds before? What sort of games did they enjoy? Share your experiences below!