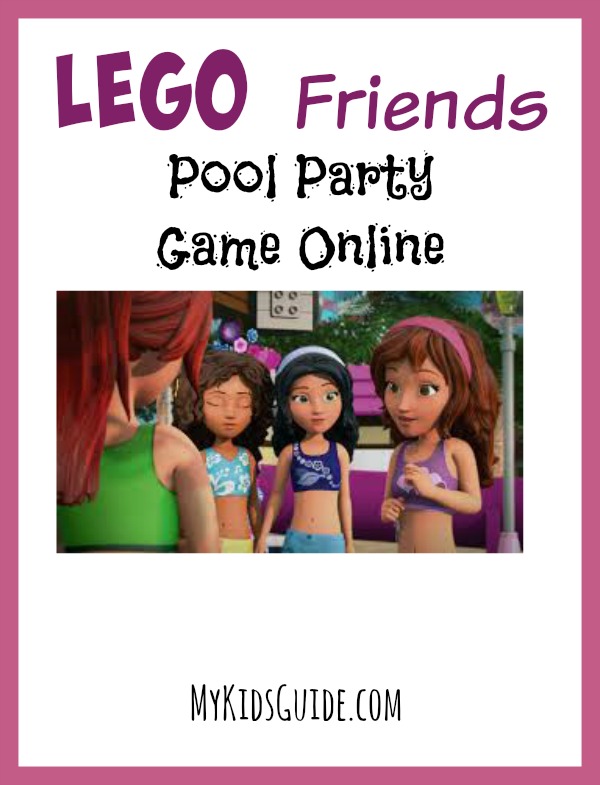 If your kids are into playing Lego Friends games online, then they have likely heard of the Lego Friends Pool Party Game Online.  Since this is available on a few different sites, we thought we would tell you not only our favorite places to find it, but more about the game itself.  When you are concerned about what your kids are doing online, it is best to educate yourself a bit about their favorite things.
Lego Friends Party Games for Girls
Lego Friends Pool Party Game Online: One of the Most Popular LEGO Friends Games
Is this game safe for my kids to play?
In a nutshell, yes it is.  Depending on what site your child chooses to use for this game, it can be very safe and a great way for them to enjoy their favorite LEGO characters outside of the play kits.  The game has fun scenarios for your kids to navigate through with their favorite characters.  Getting them excited about this game will also help to keep them excited about using their imagination in play with their LEGO Friends kits.  The more imagination they use, the better!
Meet the LEGO Friends Characters: Your Daughter's New Best Friends
Where to find Lego Friends Pool Party Game Online:
Flash Girl Games:  This site has dozens of games your kids will love.  However, you will want to monitor sign up and communication on this site.  The Lego Friends Pool Party Game is free to play, but there are various upgrades that kids can make that could result in charges.  Talk to your kids about safety online and make sure that younger kids understand that talking to strangers is not okay or safe.  The game is easy to access and tons of fun to play on this site.
GamezHero:  This site is similar to others in that your child or you have to sign up for an account to use it.  Game play is simple and the Lego Friends Pool Party Game is a popular selection.  Using proper safety protocol can keep them happy and make sure they are safe while playing this awesome game.
You don't have to be afraid to let your kids get online and have fun playing games.  With great choices like this Lego Friends Pool Party game, you are sure to see them having fun safely.  Invest in time to help teach them how to play the game with mouse or keyboard as directed.  Help them set up a profile on their favorite gaming sites, and make sure they understand to let you know if someone begins to question them or makes them feel uncomfortable.  Most of these sites that are geared toward children don't even have the chat features enabled, so you shouldn't have to worry about that usually.  Simply let them have fun enjoying their new favorite game!
Do you kids love playing LEGO Friends games online? Which is their favorite? Have they played LEGO Friends Pool Party?