In the children's movie The Nut Job, Surly the squirrel is banished from the park and forced to survive in the big city instead. The timing is all wrong, as winter is coming and Surly should be gathering and storing nuts at this time. Instead of panicking, Surly stumbles across some luck. Maury's Nut Store is chick full of nuts and could be just what Surly and his gang needs to survive the winter! What happens next is pure adventure and lots of fun. This post contains affiliate links.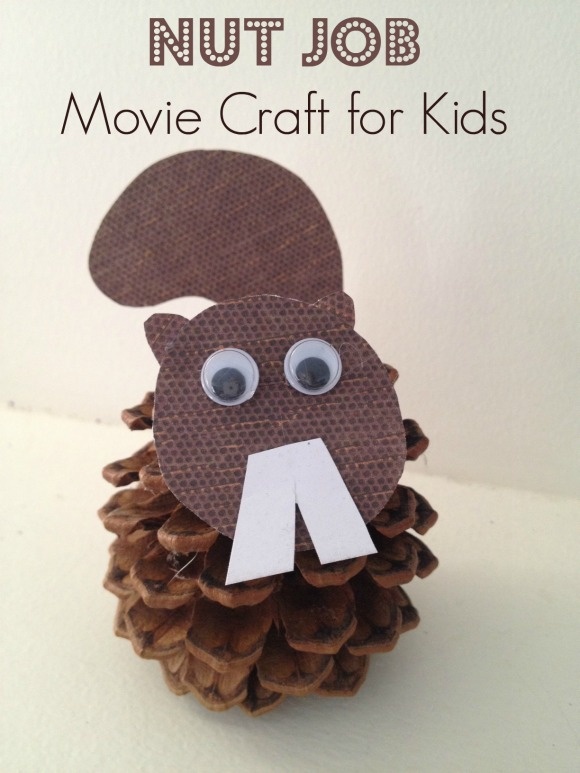 Take your family to see this fun flick, then enjoy this fun and frugal movie inspired craft. This Surly pine cone squirrel is so easy to make, and a great way to enjoy the film Nut Job even further. Take a look below at how you can make your own.
Nut Job Inspired Pine Cone Squirrel Movie Crafts for Kids
Supplies needed:
Small pine cones
Brown or beige pom poms
Small googly eyes
You should be able to find the majority of these supplies at your local dollar store or in your crafting stash. If you don't have pine cones, a simple walk outside should fetch you a few, or you can find them at most craft supply stores.
Directions:
1. Begin by applying some glue to a large, brown or beige pom pom. Press the pom pom to the pine cone. Press it firmly so it adheres well. This will act as the head of your squirrel.
2. You now need to give your squirrel some eyes. Apply some glue to a pair of googly eyes and press them to the pom pom. Again, hold them in place for a few seconds so you know they adhere.
3. Your squirrel now needs some arms and a tail. Simply cut shapes out of brown construction paper to serve this purpose. Simple ovals and strips work just fine. Apply some glue to the paper and press them to the pine cone until they stick.
Your Surly squirrel should now be taking shape. You can always glue on an acorn or two if you are lucky enough to have a few in your yard. Or, if you have enough supplies you can make Surly a friend to hang out with. This movie craft for kids is the perfect way to really get into the spirit of the flick and enjoy some family fun time even after the movie credits have rolled.
So head to the theaters and see this funny new flick. Then, gather your supplies and give this Nut Job inspired pine cone squirrel craft for kids a try. You are sure to create something just as fun. Plus, it is a great way to spend some frugal family time together while using up those crafting scraps. Looking for more cute movie crafts for kids? Check out our FreeBirds craft and Frozen ornament craft!