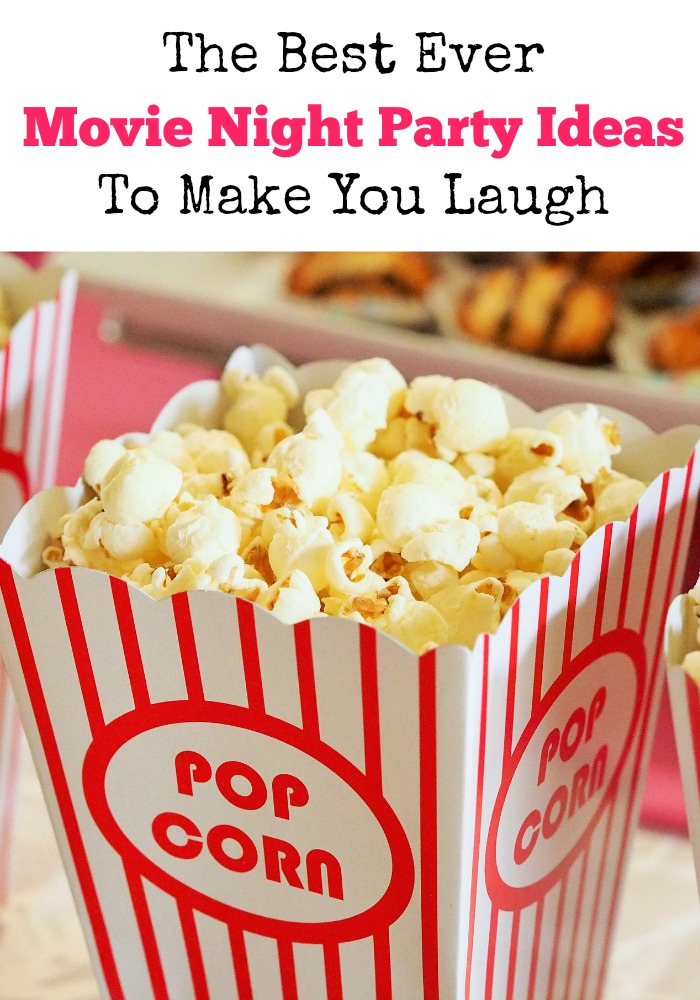 Having a list of movie night party ideas that you can pull from makes it super easy to throw an amazing party for your besties. We have the best ones right here!  Games are fun, and you can make them more fun when you play movie inspired games! Plus we made sure to include a fun way to serve your movie snacks during your movie you're showing. There are so many ideas you can try for your movie night. See our best movie night party ideas below!
The Best Ever Movie Night Party Ideas To Make You Laugh Every Time
Movie Scavenger Hunt
You don't have to go anywhere for this one but right in front of the TV.  Create a list of things to look for in the movies you watch.  You can pick things that are just for each movie, or you can be general and broad and choose things that should be in every and any movie.  Your list can include things like 'a kiss', 'a dog', 'a blue house'.  Don't drink too much soda; you don't want to have to take a bathroom break!  No pausing the movie.
Snack Caddy
https://www.instagram.com/p/BCQEdZQsbeq
Have you seen those shower caddies at the dollar stores?  They work perfectly for holding your snacks during movie night!  They come in fun colors, and you can also get those plastic popcorn 'bags' that look like the ones they give you at the theater only you can reuse these.  You can even pick up a tumbler for each guest to have their drink.  Plus then you have your party favors all set!
Movie Trivia
Everyone loves a good trivia game, right?  You can get index cards or cut some paper all the same size.  You can create teams or just have a free for all.  One person needs to read the cards out loud.  Write trivia questions that everyone should know the answers to (Disney is always a good topic).  'What is the cowboy's name in Toy Story?' 'What kind of fish is Ariel's friend in The Little Mermaid?' 'What happened to Elsa and Ana's parents in Frozen?'  You get the idea right?  Have fun with it!
Pictionary
https://www.instagram.com/p/33JfKGmGHF/?tagged=pictionary
This game is always fun because the artist can't speak!  All you can do is draw.  In a bowl, place the things that are to be drawn on one of those giant pads of paper.  Things like popcorn, movie reel, candy, different actors or actresses (this could get interesting, I can only draw stick figures).  So you will need a marker (maybe a couple of different colors to get your point across) a large pad of paper and a timer (just use your cell phone). If Michael Kors and  Gigi Hadid can play like in the video above, why can't you?
Who am I?
I have yet to play this game, but I am dying to play!  Before your guests arrive, write down the name of different movie actors and actresses on index cards.  Toss them all in a bowl and keep some tape closeby.  As your friends arrive, they get to choose one (eyes closed, no peeking!) from the bowl, and then you tape it on their back.  Throughout the night, you can only ask yes or no questions to try and figure out who you are.  I love rounding out the party with fun games.
Movie night parties are the best!  What can be better than a night in with all your besties, your favorite movies, snacks and fun games?  Stay up all night (drive your parents crazy) and have a lot of laughs.  
What kind of movies would you watch on a night like this? Do you have any other movie night party ideas?  Share with us in the comment section below!