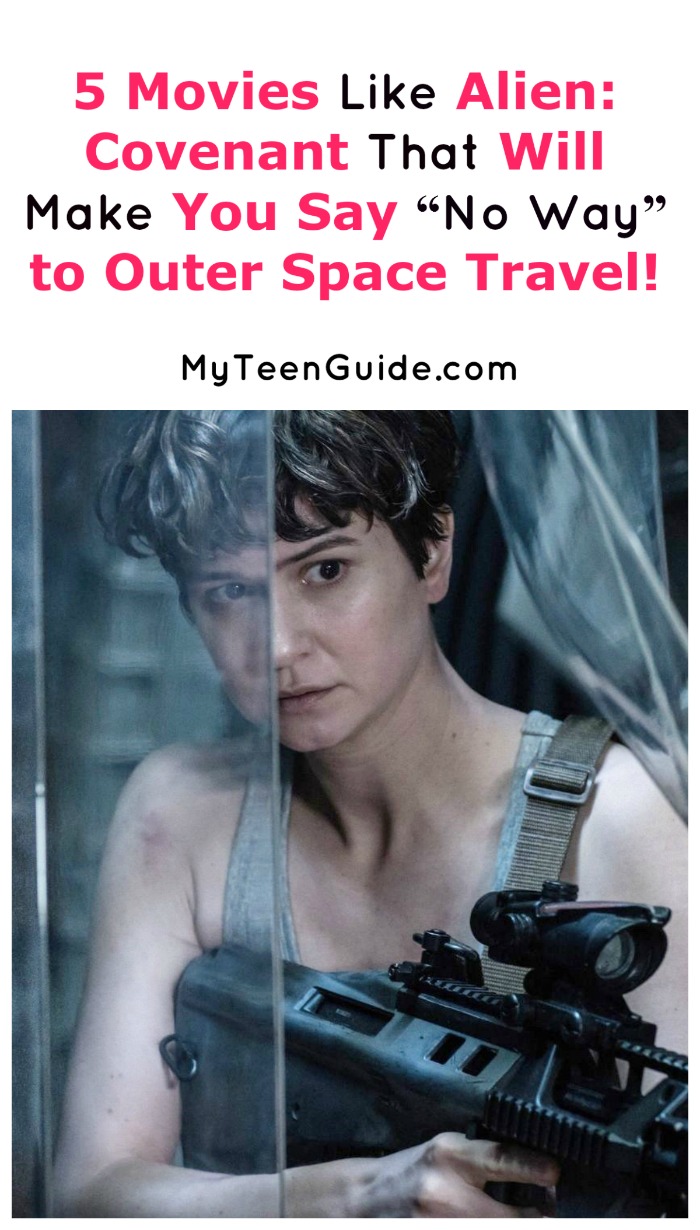 Thinking about becoming an astronaut? These five movies like Alien: Covenant will make you want to stay right here on earth! Of course, sometimes even that isn't safe from creepy space creatures! If you haven't heard, Alien: Covenant is an upcoming movie that will be released in theaters on May 19, 2017. The sci-fi horror movie focuses on the crew of the Covenant, a colony ship ventured out towards a remote planet. Here are some other movies like Alien: Covenant.
Movies Like Alien: Covenant
Affiliate links included below.
Alien
Of course, we can't have a list of movies like without listing the original movie. Alien
is a 1979 sci-fi horror movie that is the 1st in a series of 6: 1986 Aliens, 1992 Alien 3, 1997 Alien: Resurrection, 2012 Prometheus, and 2017 Alien: Covenant. Nostromo, a spacecraft with 7 members on board, is heading back to Earth. The spacecraft crashes on a planetoid after a distress call. On the planetoid, they discover a strange creature, which is only the beginning. Alien stars Tom Skerritt as Dallas, John Hurt as Kane, Sigourney Weaver as Ripley and Ian Holm as Ash.
Pitch Black
Pitch Black is a 2000 sci-fi action horror movie that is the 1st in a series of 3 movies: 2004 The Chronicles of Riddick and 2013 Riddick. The Hunter-Gratzner, a transport ship, crash lands on a planet that is home to creatures that hunt at night. It is a fight for survival for the ship's crew and passengers. Pitch Black
stars Vin Diesel as Richard Riddick, Radha Mitchell as Carolyn Fry and Cole Hauser as William Johns.
Dreamcatcher
Dreamcatcher is a 2003 sci-fi horror movie that is based on the 2001 book of the same name by Stephen King. Four friends- Gary Jones, Joe Clarendon, Pete Moore and Henry Devlin- are on a hunting trip in Maine, when they discover that the area they are in is home to numerous parasitic aliens. Dreamcatcher
stars Damian Lewis as Gary, Jason Lee as Joe, Timothy Olyphant as Pete and Thomas Jane as Henry.
Alien vs. Predator
Alien vs. Predator
is a 2004 sci-fi action horror movie, that is the prequel to the 2007 movie Aliens vs. Predator: Requiem. An expedition team of archaeologists, mercenaries, drillers and guides- Charles Weyland, Alexa Woods, Sebastian De Rosa, Graeme Miller, Maxwell Stafford and Mark Verheiden- are on an expedition in Antarctica, when they discover they are in the midst of a battle between Predators and Aliens. Alien vs. Predator stars Lance Henriksen as Charles, Sanaa Lathan as Alexa, Raoul Bova as Sebastian, Ewen Bremner as Graeme, Colin Salmon as Maxwell and Tommy Flanagan as Mark.
Morgan
Morgan is a 2016 sci-fi horror movie. Lee Weathers, a corporate risk management consultant must choose whether to end or save the life of Morgan
, a human hybrid experiment. Morgan stars Kate Mara as Lee and Anya Taylor-Joy as Morgan.
Have you seen any other creepy alien movies like Alien: Covenant? Share below!