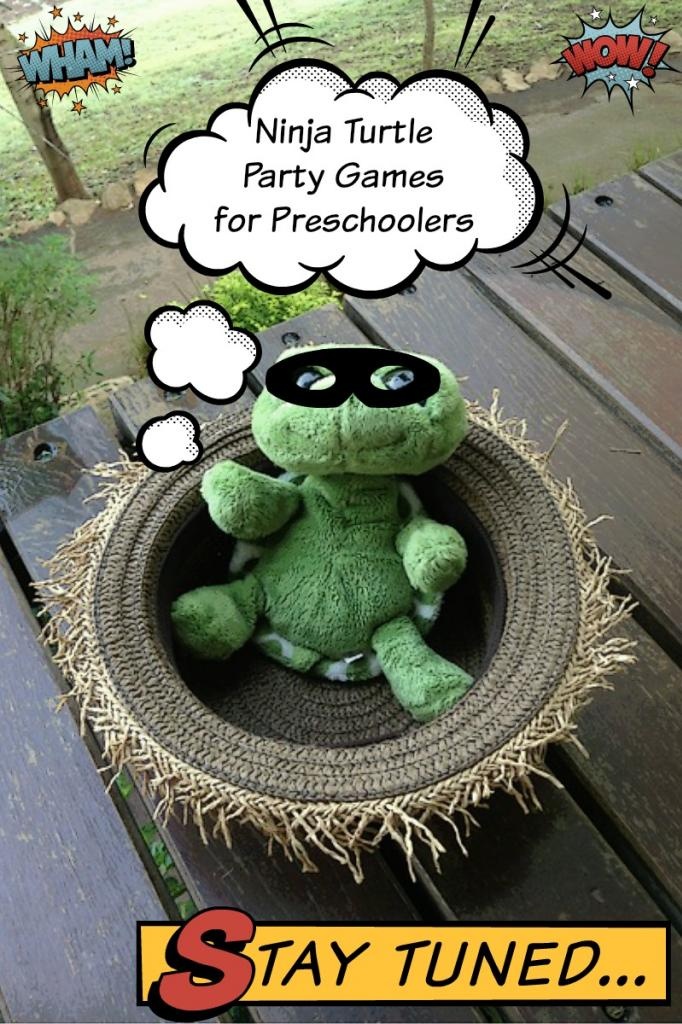 If you are planning a birthday party for preschoolers, Ninja Turtles is always a win!  The Turtles are a huge hit with both boys and girls! Who doesn't love playing pizza games and running around in masks playing Ninja Turtles?  Boys and girls alike will have a great time playing Pin-The-Pepperoni-On-The-Pizza and many more games.  Read below for some Ninja Turtle party games for preshoolers!
Ninja Turtle Party Games For Preschoolers

Affiliate links included below.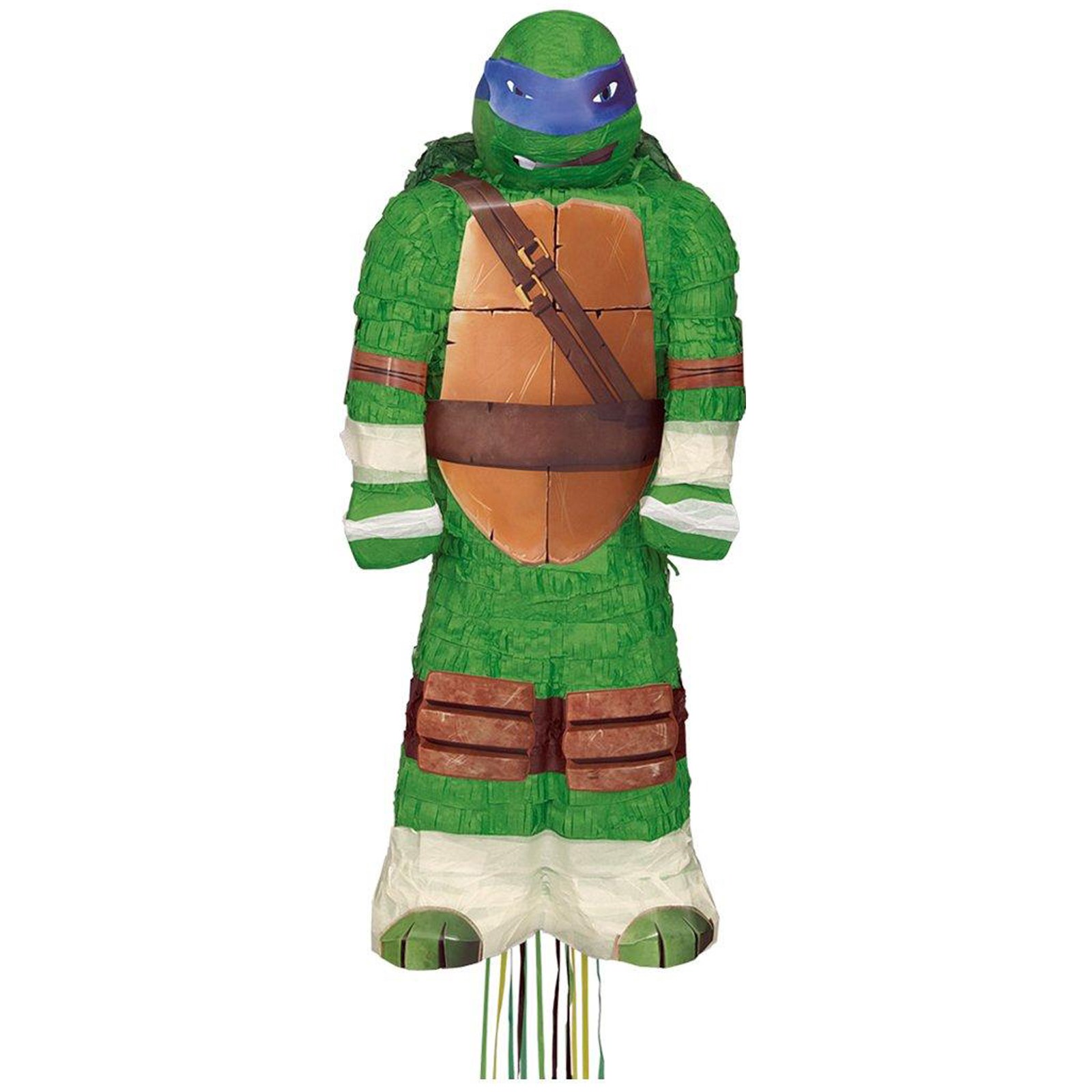 Ninja Turtle Pinata!: A pinata is always a huge hit among preschoolers. When you're going with this option for younger kids, skip the stick and opt for the pull-string pinatas. Give it a fun twist by having every child grab a string and pull at once. That way, no one really knows who the big winner was. Everyone can feel like they used team work to free the prizes. After all, Ninja Turtle party games for preschoolers should be all about working together, just like the turtles themselves!

Ninja bean bag toss: What kids don't love trying to toss a bean bag into box?  You can make these easy with some felt and a little bit of sewing.  Green felt cut into 4 rectangles, small pieces of felt in blue, purple, red and orange for the masks, 2 white eyes for each and 2 black dots for the eyes for each.  Folding the rectangle in half, you can use a hot glue gun or a sewing machine to sew the mask and eyes on.  Sewing 2 of the sides leaves you the top to fill with dry corn or beans, something large enough that won't easily fall through the stitching if you are not using a sewing machine.  Once filled, sew the top closed.  For the boards, you can use sturdy cardboard, and cut holes in it, using a table or chair to prop one side up on.
Ninja surprises: Very simple to make and so fun for the kids!  You will need a piece of cardboard, a bunch of styrofoam or paper cups, some green tissue paper and rubber bands.  You can get little toys at the dollar store to put in the cups as prizes  Using a cup, trace the bottom of it onto the cardboard, this will give you an idea of how large to cut the circles to fit the cups.  You want to cut the circles a little larger, so the cups go through the cardboard a bit and are held in place.  Before placing the cups in the holes, put a small toy or piece of candy in each cup and cover with the green tissue paper, securing it in place with a rubber band.  Fit the cups into the cardboard holes you made and stand it up!  Make sure to make it an appropriate height level for your small guests.  Each child takes a turn until all the cups are punched through!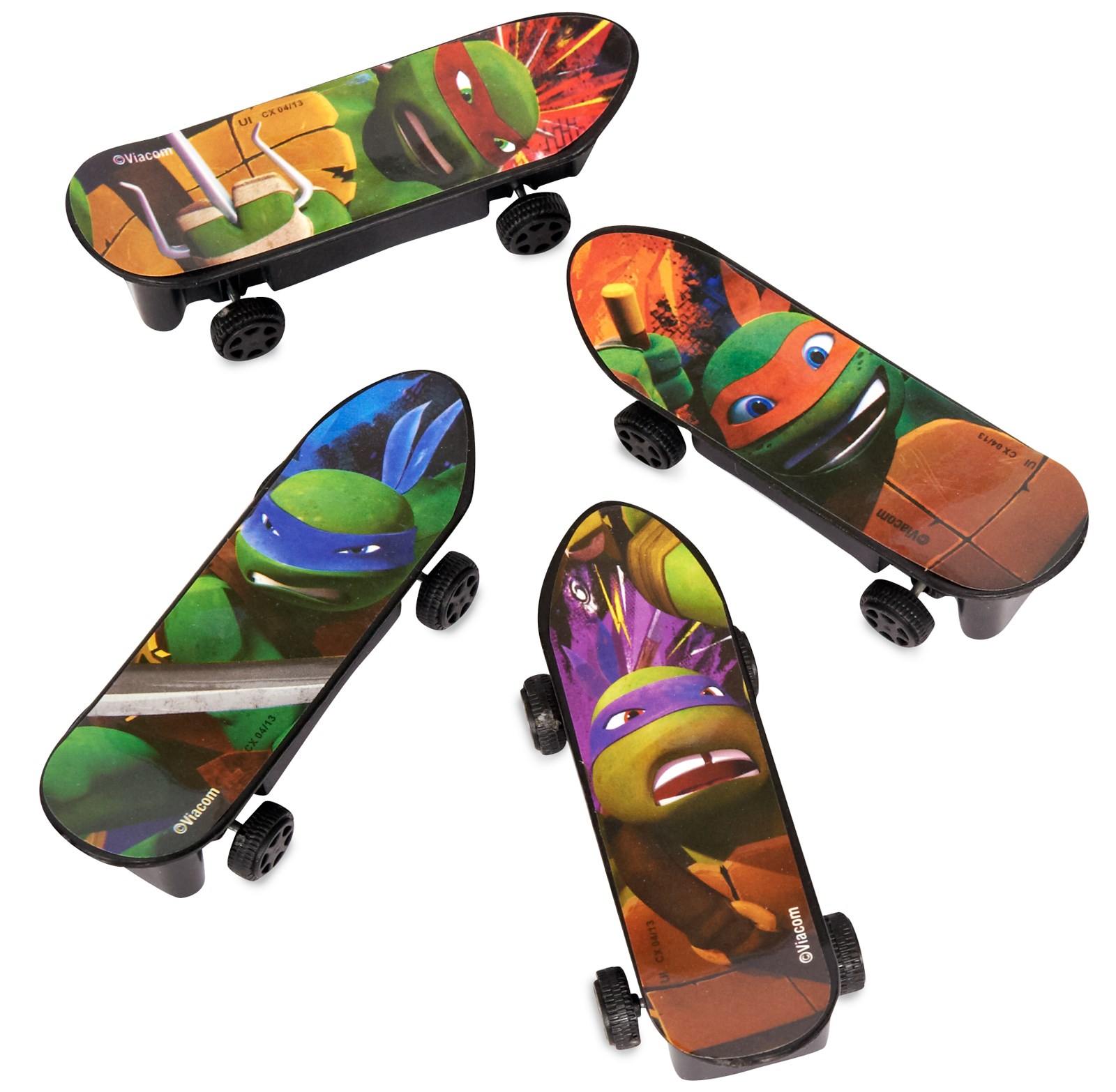 Fingerboard tournament: The Ninja Turtles love riding around on their skateboards. While you may not want to unleash a crowd of preschoolers onto your street with their own full-size skateboards, you can set up a pretty cool fingerboard tournament! Grab some TMNT mini skateboards so every child has one. Set up half pipes and obstacle courses using paper towel rolls, cardboard boxes and other supplies from around the house. Then let the kids show off their fingerboard skating tricks!
Turtle masks: Preschoolers love to create their own art!  Print off images of the Ninja Turtle heads.  At a coloring station, let them color in their turtle heads, when they are done, cut around the heads and cut the eyes out of the mask.  Having each child hold the mask up to his face, take his picture!  Parents will love these when you send out the thank you cards.  Be sure to get one of all of them together!
Pin The Pepperoni On The Pizza: A Ninja Turtle twist on the classic!  Create a pizza using construction paper in brown (for crust) and cream colored (the cheese), cutting them into circles.  Be sure to cut the cream colored paper a little smaller than the brown.  Using red paper, cut smaller circles as pepperoni.  You can write numbers on them before handing them out so the kids know which ones are theirs.  Blind fold the guests, spin them around, and send them in the direction of the pizza!
There are so many fun options when throwing a Ninja Turtle party for kids.  You can use what was listed and take it from there.  From photo ops to games, the options are endless!  Get creative and share your ideas below!
Do you have any great ideas for Ninja Turtle Party games for preschoolers? Share them in the comments!