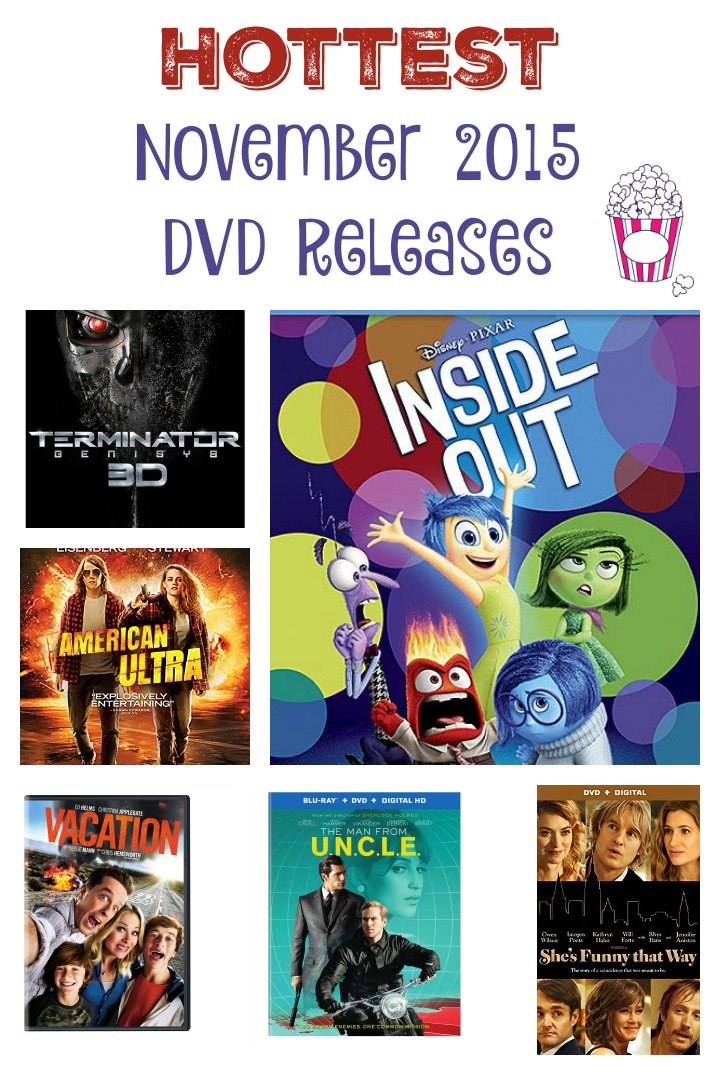 November 2015 has some really great DVD's being released. These movies run the gamut from family to action to comedy. Here are the November 2015 DVD releases. They are organized by release date.
List of DVD Releases for November 2015
Affiliate links included below.
November 3rd
The Final Girls- The Final Girls is a horror slasher comedy starring Taissa Farmiga, Malin Aherman, Adam DeVine, Thomas Middleditch, Alia Shawkat, Alexander Ludwig and Nina Dobrev. The movie is about a woman, grieving the loss of her mother, a popular 80's scream queen. She finds herself pulled into her mother's most popular movie and she and the rest of the cast must fight off the crazed killer.
Inside Out- Inside Out is a 3D computer animated comedy drama adventure starring the voice cast of Amy Poehler, Phyllis Smith, Bill Hader, Lewis Black, Mindy Kaling, Richard Kind, Kaitlyn Dias, Diane Lane and Kyle MacLachlan. The movie stars Riley, a young girl uprooted from a Midwest town to San Francisco. Her emotions Joy, Sadness, Fear, Anger, and Disgust conflict how to deal with a new home and new school. Pre-order Inside Out now!
She's Funny That Way- She's Funny That Way is a screwball comedy starring Owen Wilson, Imogen Poots, Kathryn Hahn, Will Forte and Jennifer Aniston. The movie is about the cast and crew of a Broadway production discovers that their personal lives interconnect in one way or another.
Vacation- Vacation is a comedy starring Ed Helms, Christina Applegate, Leslie Mann, Chris Hemsworth and Chevy Chase. The movie is about Rusty Griswold, who takes his family on a vacation to Wally World, in an attempt to spice up his marriage and reconnect with his boys.
The End of the Tour– The End of the Tour is a drama starring Jason Segel and Jesse Eisenberg. The movie revolves around a 5-day interview between David Lipsky, Rolling Stone reporter and David Foster Wallace, an acclaimed novelist.
The Diabolical- The Diabolical is a science fiction horror starring Ali Larter, Max Rose, Chloe Perrin, Wilmer Calderon and Arjun Gupta. The movie is about a single mother who moves into a house that is haunted. After they are terrorized by ghosts, she seeks help from her boyfriend, who is a scientist.
November 10th
Mr. Holmes- Mr. Holmes is a crime drama mystery starring Ian McKellen, Laura Linney, Hiroyuki Sanada and Milo Parker. The movie showcases Sherlock Holmes, now retired, who takes a look back on his life and grapples with a case involving a beautiful woman that went unsolved.
Self/Less- Self/Less is a science fiction thriller starring Ryan Reynolds, Natalie Martinez, Matthew Goode, Victor Garber, Derek Luke and Ben Kingsley. The movie is about a dying real estate mogul who transfers his unconsciousness into a young body, but he discovers that nothing is quite as it seems.
Terminator Genisys- Terminator Genisys is a science fiction action starring Arnold Schwarzenegger, Jason Clarke, Emilia Clarke, Jai Courtney, J.K. Simmons, Dayo Okeniyi, Matt Smith, Courtney B. Vance and Lee Byung-Hun. The movie is about John Connor, now the human resistance leader, who sends Kyle Reese back to the year 1984, in order to protect Sarah Connor as well as protect the future. However, unexpected turns of events occur.
Trainwreck- Trainwreck is a romantic comedy starring Amy Schumer, Bill Hader, Tilda Swinton, Brie Larson, Colin Quinn, Vanessa Bayer, John Cena and Lebron James. The movie is about Amy, a magazine writer, who has grown up thinking that monogamy isn't possible. However, what happens when she falls in love with a good guy?
Pay the Ghost- Pay the Ghost is a supernatural horror starring Nicholas Cage, Sarah Wayne Callies, Veronica Ferres, Lauren Beatty, Jack Fulton and Elizabeth Jeannette le Roux. The movie is about a professor who is on a frantic search for his son who was abducted at a Halloween parade.
We'll Never Have Paris– We'll Never Have Paris is a romantic comedy starring Simon Helberg, Melanie Lynskey, Zachary Quinto, Maggie Grace, Jason Ritter and Alfred Molina. The movie is based on the real-life engagement of Simon Helberg to Jocelyn Towne.
November 17th
The Man from U.N.C.L.E. – The Man from U.N.C.L.E. is an action comedy starring Henry Cavill, Armie Hammer, Alicia Vikander, Elizabeth Debicki and Hugh Grant. The movie takes place in the 1960's when Napoleon Solo, a CIA agent and Illya Kuryakin, a KGB operative, take part in a mission facing off against a criminal organization.
The Stanford Prison Experiment- The Stanford Prison Experiment is a thriller starring Billy Crudup, Ezra Miller, Olivia Thirlby, Nelson Ellis, Ki Hong Lee, Tye Sheridan, Jack Kilmer and Nicholas Brown. The movie is actually a mock prison experiment that is held in the basement of the psychology building at Stanford. There were 75 male students that applied, but only 24 were selected to take part in the experiment. The students participate in assigned roles of prisoners and prison guards.
We Are Your Friends- We Are Your Friends is a music drama starring Zac Efron, Emily Ratajkowski, and Wes Bentley. The movie is about a young, struggling DJ who forms a bond with an older DJ, James. After James becomes a mentor to Cole, Cole messes the bond up by stealing James' girlfriend, Sophie. Now, Cole must decide between love or his future in the music industry.
Manhattan Romance- Manhattan Romance is a romantic comedy starring Gaby Hoffman, Louis Cancelmi, Katherine Waterston, Zach Grenier and Catlin FitzGerald. The movie focuses on Danny, a music editor who is working on finishing up a film about relationships while at the same time trying to deal with his own real life relationships.
November 24th
American Ultra- American Ultra is an action comedy starring Jesse Eisenberg, Kristen Stewart, Topher Grace, Connie Britton, Tony Hale, Bill Pullman and John Leguizamo. The movie is about a stoner, who is actually a government agent. However, when he is classified as a liability and targeted for extermination, he shows that he is not only too high but too experienced to allow anyone to get near him.
Ricki and the Flash- Ricki and the Flash is a comedy-drama starring Meryl Streep, Mamie Grummer, Kevin Kline, Sebastian Stan, Rick Springfield and Ben Platt. The movie revolves a woman who leaves her family to pursue her dream of being a rock star. She returns home, hoping to make amends with her family.
No Escape- No Escape is an action thriller starring Owen Wilson, Lake Bell, and Pierce Brosnan. The movie is about an American family who moves overseas, only to find themselves caught in the middle of an uprising.
Which of these November 2015 DVD releases are you looking forward to?