After waiting 14 years for the sequel of The Incredibles, waiting a little bit more shouldn't be a big problem.
However, if you want this time to go by faster, then I suggest watching a few movies like The Incredibles 2 that we selected for you.
The Incredibles 2 is high on our "must see in theaters" list for this summer, and that's saying a lot!
This summer is chock full of blockbuster hits, after all!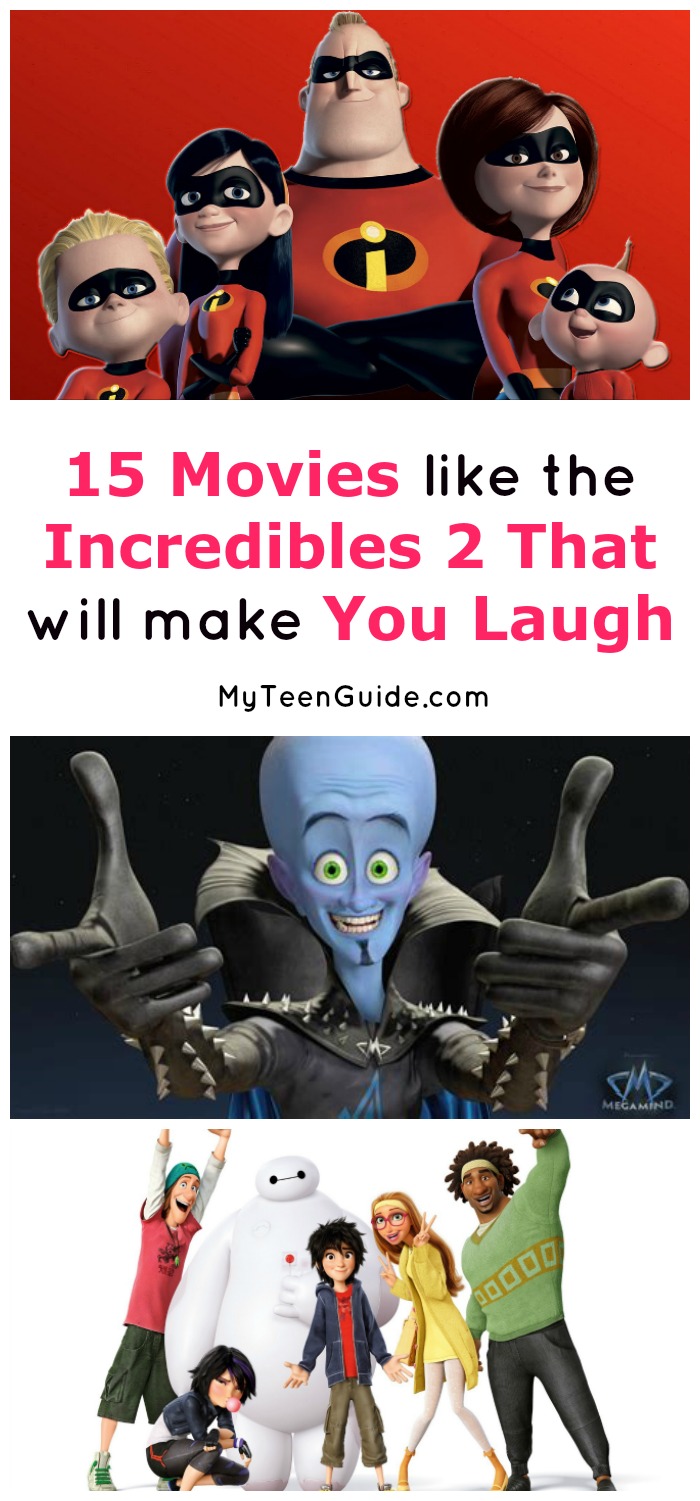 After nearly a decade and a half of waiting, I have to admit that I'm growing impatient!
Check out what I'm watching in the meantime!
Related: 
15 Movies like The Incredibles 2
Affiliate links included below. If you make a purchase through these links, we earn a small commission at no extra charge to you.
1. The Incredibles (2004)
https://www.youtube.com/watch?v=eZbzbC9285I
What better way is there to get in the mood for The Incredibles 2 than watching the first movie.
Since the second movie takes off right where the first movie ended, it is also a good way to remind yourself of the things that happened so you can watch the sequel properly.
You could also watch a short-animated movie Jack-Jack Attack. Even though it lasts only around 3 minutes, it is still as funny as you would expect.

2. Big Hero 6 (2014)
If you somehow missed this Oscar-winning movie, now is the perfect time to correct that mistake.
With the theme of family appearing here like it does in The Incredibles 2, and it being an animated movie, you will certainly enjoy Big Hero Six
if you liked watching the Parrs in action. Not to mention amazing humor and the superhero angle.
And once you meet Baymax, you will not be able to forget him.

3. Megamind (2010)
With such comedic giants like Will Ferrell, Tina Fey and Jonah Hill (with the addition of Brad Pitt), Megamind
was destined to be funny.
Telling the superhero story in a little bit different way, this movie will make you root for the "villain". It also tells a story of being different and how that can have a serious impact on a person, but with a nice point that you can be different and be loved at the same time.

4. Kung Fu Panda (2008)
Combine a panda and kung-fu and you will get hilarious results.
Po (Jack Black) works at his father's noodle shop, but he is also an aspiring kung-fu master and he is a big fan of the Furious Five, a group of kung-fu fighters who keep China safe.
Led by the wise master, a turtle named Oogwey (Randal Duk Kim) and his successor Shifu (Dustin Hoffman), the Furious Five will have to learn to accept the seemingly clumsy and definitely obese Po in order to defeat Tai Lung (Ian McShane), the greatest threat China has ever seen.
Don't forget to check out the sequels as well.

5. Captain Underpants: The First Epic Movie (2017)
As far as the superhero stories go, Captain Underpants
is not your typical movie, as you probably guessed by the name itself.
However, as far as the funny movies go, it will certainly make you laugh. Even the premise alone is hilarious, with two boys who manage to hypnotize their principal and convince him that he is a superhero.
As you can imagine, Captain Underpants is due for a wild ride after that.

6. Meet the Robinsons (2007)
Not really a superhero movie, although one could argue that a 12-year-old genius scientist and inventor is a superhero after all, Meet the Robinsons
is a fun animated flick that will keep you invested from the beginning.
With a story similar to the one from Back to the Future due to the time-traveling part of the movie, Meet the Robinsons is actually a film about family and if you are not careful, it might make you shed a few tears along the way, especially at the beginning when you first meet the young inventor Lewis (Daniel Hansen) and follow his life as an orphan.

7. Despicable Me (2010)
Are you tired of superheroes and want to see the life of a supervillain instead? Despicable Me
is the movie for you then. Not only that, but you will meet a bunch of super-cute minions of evil as well. Well, if you somehow missed the story of Gru (Steve Carrel) and the three orphaned girls he adopted as a part of his evil plan to steal the Moon, now is as good a time as any to make it up. Of course, you shouldn't miss the two sequels and the spinoff about the beforementioned minions as well.

Got Minion Madness? Whip up these Minion-inspired bath salts!
8. Cloudy with a Chance of Meatballs (2009)
In a world where everyone is forced to eat only sardines, a man who can provide people with the limitless amount of any food they can think of truly is a superhero.
Meet Flint Lockwood (Bill Hader), an aspiring and often-failing inventor who becomes a hero when he invents a machine that can turn water into food.
After being the laughingstock of the entire town for a long time, Flint finally got his break. Well, at least for a while, before things start to turn for the worse unexpectedly. You should also check out the sequel, it is worth a watch.

9. The LEGO Batman Movie (2017)
Do you like superhero movies? Of course you do! Do you like LEGO? Of course, you do!
Well, get ready for The LEGO Batman Movie
. After so many ecranisations of the famous comic book superhero, it is actually refreshing to see something that deviates from the norm.
With two stars of the well-known sitcom Arrested Development, Will Arnett and Michael Cera, giving the voices to Batman and Robin, you know you are in for at least few laughs. Add Zack Galifianakis as Joker to the mix, and you know you can expect a riot.
Bonus fun fact: Voldemort appears in the movie, voiced by the stand-up comedian Eddie Izzard and not by Ralph Fiennes, who is also a part of this movie since he gives voice to Alfred.

10. Moana (2016)
There are no superheroes in this animated flick, but there is a demi-god.
Good enough for me, especially when the demi-god is voiced by Dwayne "The Rock" Johnson. And just like The Incredibles 2, this movie is deeply inspired by family motifs. Like the Parr kids who are forbidden from expressing their supernatural abilities, Moana (Auli'i Cravalho) is forbidden from following her own destiny, to roam the ocean in her boat.

11. Teenage Mutant Ninja Turtles (2007)
After the popular TV show, it was only a matter of time when the movies about the famous mutant turtles named after renaissance artists will start pouring in.
Among few of them, my favorite is the flick from 2007, although the 1990 movie is also worth a watch, especially if you are a longtime fan of the bunch. With actors like Patrick Stewart, Lawrence Fishbourne, Sarah Michelle Gellar and other well-known names who lend the voices for the movie, this movie is one of the best adaptations of TMNT for the big screen, at least in my opinion.

12. Astro Boy (2009)
A very futuristic, sci-fi animated movie, with family relations at the center of the story, Astro Boy is one of those movies that will stay with you for days.
Yes, it is funny and entertaining, but it also has an additional quality of being mature and dealing with some ethically controversial topics. If you like artificial intelligence and superhero movies, this animated feature is a good choice for you.

13. X-Men: First Class (2011)
If you are looking for movies about family, X-Men: First Class is just that – a movie about a family…of mutants.
Yes, they are not family in the strictest sense, but mutants only have each other to rely on, which is what family is all about. You don't have to be bound by blood to be family, or as Yondu famously put it in the Guardians of the Galaxy Vol. 2 when he addressed Peter Quill: "He may have been your father, boy. But he wasn't your daddy".
Anyway, if you want to start the X-Man adventure, you should first watch this part because it is chronologically first. Then, when you get hooked, which you most certainly will, you can see all other parts of the story. It is not full of humor as other movies from this list, but it is not above giving you an occasional chuckle as well.

14. Sky High (2005)
A movie about a high school of superheroes, about a relationship between a father and son, and about love, in every form and shape, Sky High doesn't get as much recognition as it should. It is a great family movie to watch with your kids, just like The Incredibles 2, and even though the cast is mostly made of relatively unknown faces, you will at least get to see Kurt Russel as the famous superhero Commander.
It is also an original look at superheroes since it doesn't follow the same pattern where superheroes are either feared or hated. They are loved and accepted, and trying to find a balance in your life as a superhero and lead a normal life is the main theme of the movie.

15. Kick-Ass (2010)
Being mostly a parody of superhero movies, Kick-Ass manages to deliver much more than simple, low-minded humor.
Of course, I wouldn't suggest taking your kids to see this, it is, after all, rated R due to graphic violence and explicit language. But, if you are looking for a movie that will make you laugh hysterically, then don't miss this gem. From hilarious costumes to some well-thought situation comedy, Kick-Ass, and the sequel as well, deserve a spot on the list of funniest superhero movies of all time.

I hope that you will check out at least some of the movies from this list and that you will enjoy them in the days before The Incredibles 2 finally hits the theaters. One thing is for certain – you are about to laugh until you start crying if you watch these movies.
Do you have any other favorite movies like The Incredibles 2? Share below!