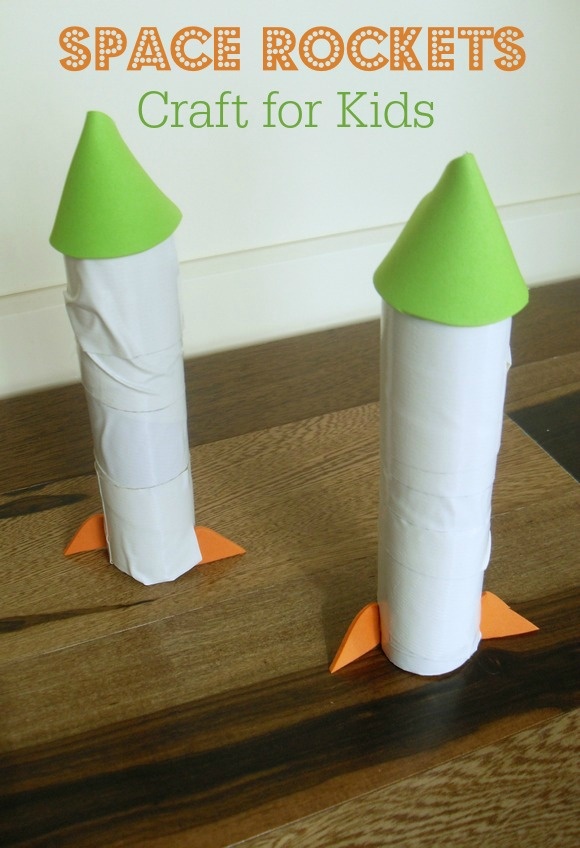 Outer Space is a great theme for a kids party or get together and we have a fun outer space party craft idea for you!  If you're planning an outer space themed birthday, play date, or simply saving ideas for a rainy day then this craft is perfect!  I'm sure you've already read about our game ideas in the post Blast off with Fun Space Party Games for Kids and if you add our craft and the simple decorating tutorial for our Outer Space Party Cake Recipe, you'll have yourself a party!
Girls and boys alike love rocket ships and this simple little Outer space party craft lets each child at your bash or play date create a rocket ship just their style!
Outer Space Party Craft for Kids
Supplies: (affiliate links included)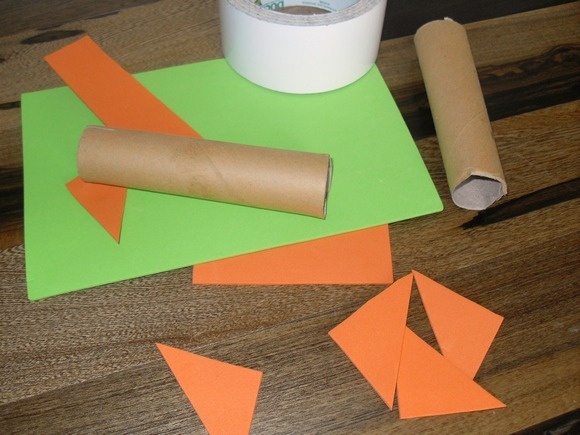 cardboard toilet paper rolls or other cardboard tubes
duck tape – having several colors to choose from will make it more fun for creating unique rockets
scissors
hot glue and hot glue gun
stickers optional
Instructions:
Step 1
Begin by cutting the cardboard tubes into pieces 5″ long or longer depending on the length of the tubes you have and what each child wants to make.  Having a variety of lengths will add more variety to the finished rocket ships.
Step 2
Have each child select a color or colors of duck tape to wrap around their cardboard tube.  The cardboard should be completely covered by the duck tape and any ends tucked into the tube.
Step 3
Have each child select craft foam for the tops and tail winglets of their rockets.  The foam for the top should be cut into a half circle and the winglets will be made from a triangle.  You can cut these pieces ahead for ease of assembly during craft time.  Cut a circle approximately 3″ around and cut it in half to make two rocket tops.  Cut a square approximately 2 1/2″ x 2 1/2″ and cut in have for tail winglets for two rockets.
The half circle should be folded into a cone and carefully hot glued to keep it's new shape.
Step 4
Using scissors, cut a small slit opposite sides of the rocket base.  Slip the foam triangle into the two cuts to create the tail winglet.
Step 5
Carefully add a small amount of hot glue to the top of each rocket and secure the foam rocket top into place.
Step 6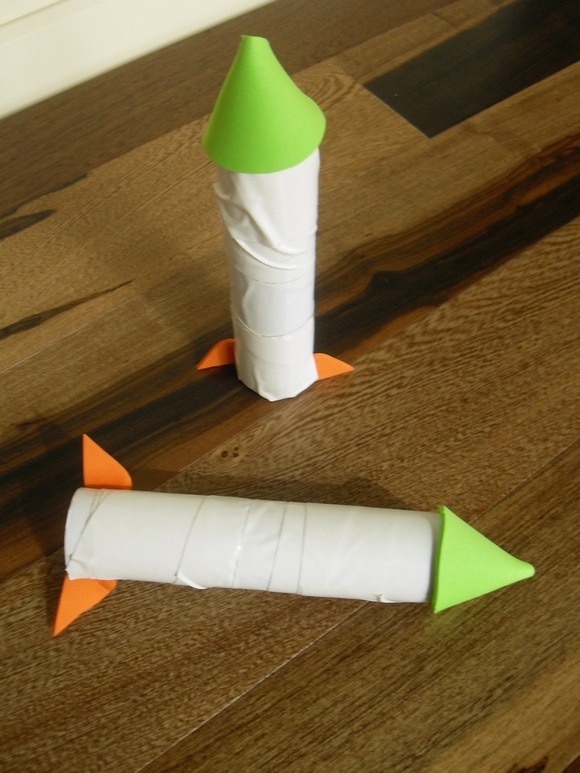 Encourage children to decorate and make their rockets unique!  Stickers and scrapbook supplies are perfect for this! This outer space party craft for kids is so adorable and the kids will have a great time flying them around! Looking for more great party ideas? Check out our party games guide!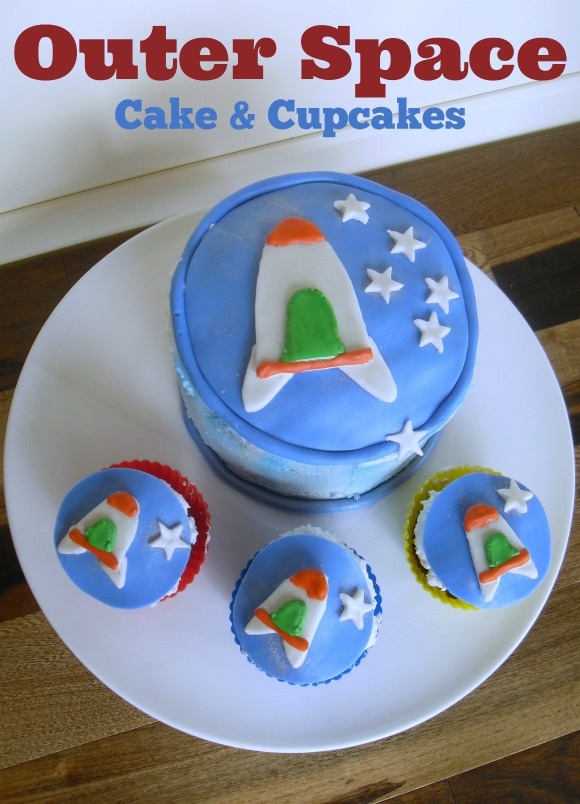 Remember if you are planning a party, cake is always a great idea!  Visit our Outer Space Party Cake Recipe for a simple tutorial that will have your party guests over the moon with excitement!