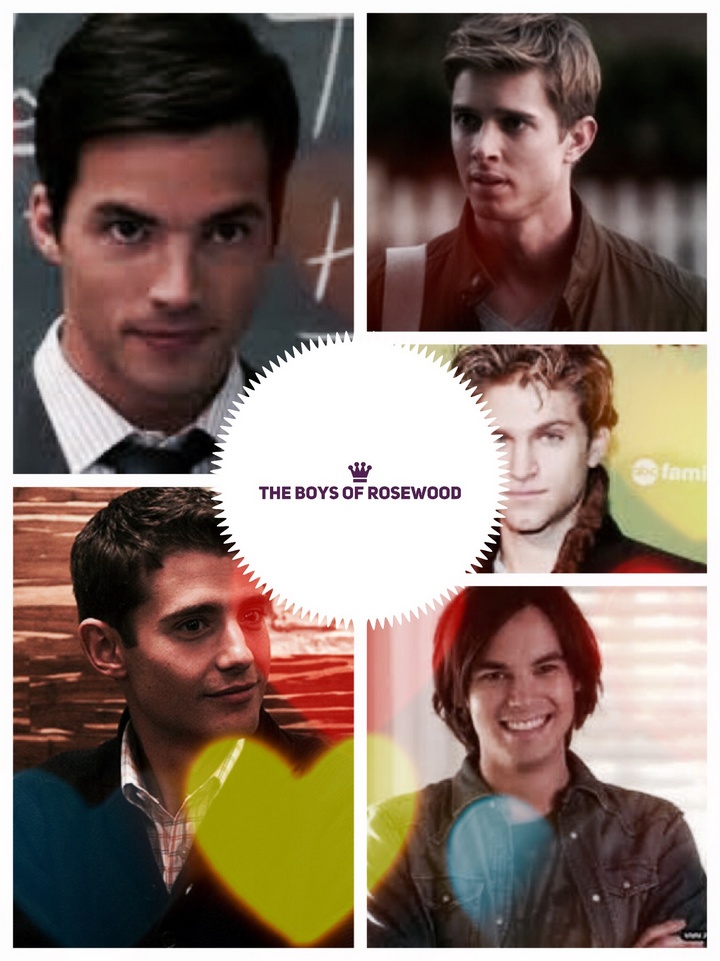 While the girls of Pretty Little Liars are the focus (of both the plot and A's attention), the show wouldn't be the same without the boys of Rosewood! From love interests to BFFs to "is he bad or is he good," these guys all play a major role in helping- or hindering- the girls' progress in taking down A! Let's check out the boys of Rosewood!
Related: The Girls of Rosewood
The Boys of Rosewood
Note: This post contains references to all seasons, including the present one. If you haven't watched them, there are spoilers.
Ezra Fitz (Fitzgerald)– Ezra was previously an English teacher at Rosewood High School but currently is the owner of The Brew. He comes from a very wealthy family who he is estranged from. After graduating from high school, his girlfriend Maggie became pregnant, was paid by his mom to have an abortion but had the baby nonetheless. She stated it was Ezra's baby but a DNA test would later prove otherwise. While teaching at the high school, he was well-liked by both his students and fellow faculty. He left his job as an English teacher but is now substituting at the school. He had an affair with one of his students, Aria but she broke things off when they got too complicated. They briefly reconcile until she discovers he only used her to get information to write his true crime book. They reconcile again, then decide to "just be friends." Ezra was once a "A" suspect.
Caleb Rivers– Caleb is a teenager with street smarts and is also currently dating Hanna. He has a past that is rather mysterious to say the least. In fact, before moving to Rosewood, Caleb illegally upgraded cell phones in exchange for cash. He was placed in foster care at a young age since his birth mom gave him up. His birth mother finds him and wants a relationship with him, which he is open to. He was paid by Jenna at one point to spy on Hanna but realized it was wrong and distanced himself from Jenna.
Toby Cavanagh– Toby is the step-brother of Jenna and the on-again off-again boyfriend of Spencer. Alison lied to the other girls by telling them that Toby was watching them undress from his treehouse. The group tries to get back at Toby by tossing a stink-bomb into the garage of the family home, which caused the garage to go up in flames, blinding Jenna. Toby is the main suspect when Alison first goes missing. He also becomes suspected of being A by the girls. Of course, at some point, EVERYONE is suspected of being A!
Related: How it All Started on Pretty Little Liars
Noel Kahn– Noel is a handsome and wealthy young man who has a wild side. In the first season, he briefly dates Aria but ends things when he finds out she is seeing Ezra. Noel has an older brother named Eric who also walks on the wild side. He also briefly dated Mona until he broke up with her and started seeing Jenna. Noel also has known that Alison was alive and he has been assisting her the whole time.
Jason DiLaurentis– Jason is the brother to Charles, maternal half-brother to Alison and paternal half-brother to Spencer and Melissa. Jason formerly hung around and smoked weed with Garett and Ian. Jason reveals that he has always been jealous of Alison from day one. Jason and CeCe for more than a year until she broke things off with him after Alison's body was discovered.
Lucas Gottesman– Lucas used to be bullied and teased at school until he finds friendship with Caleb and Hanna. Lucas developed feelings for Hanna but she was completely oblivious to this fact. He helped The A-Team for a couple of seasons after being blackmailed by Mona. He was homeschooled for a while but eventually returned to school.
Mike Montgomery– Mike is Aria's younger brother who has been greatly affected by his parent's divorce, as is his sister. Mike was involved in an on-again off-again relationship with Mona until her death, one that she faked in order to find out who A really was.
Wren Kingston– Wren is shady doctor at Rosewood Community Hospital and he also volunteers at the Radley Sanitarium. Wren was formerly engaged to Melissa but is currently just dating her and he has kissed both Hanna and Spencer. He's one of my top choices for the "who is A?" mystery. After tonight, we'll finally know, though!
These are the main boys of Rosewood. Of course, there are other smaller players: fathers who play important roles from time to time, bit parts the advance the plot and so on. Pretty Little Liars and its fictional town of Rosewood is filled with as many characters as it is secrets!
Which of the boys of Rosewood are your favorites? Tell us in the comments!