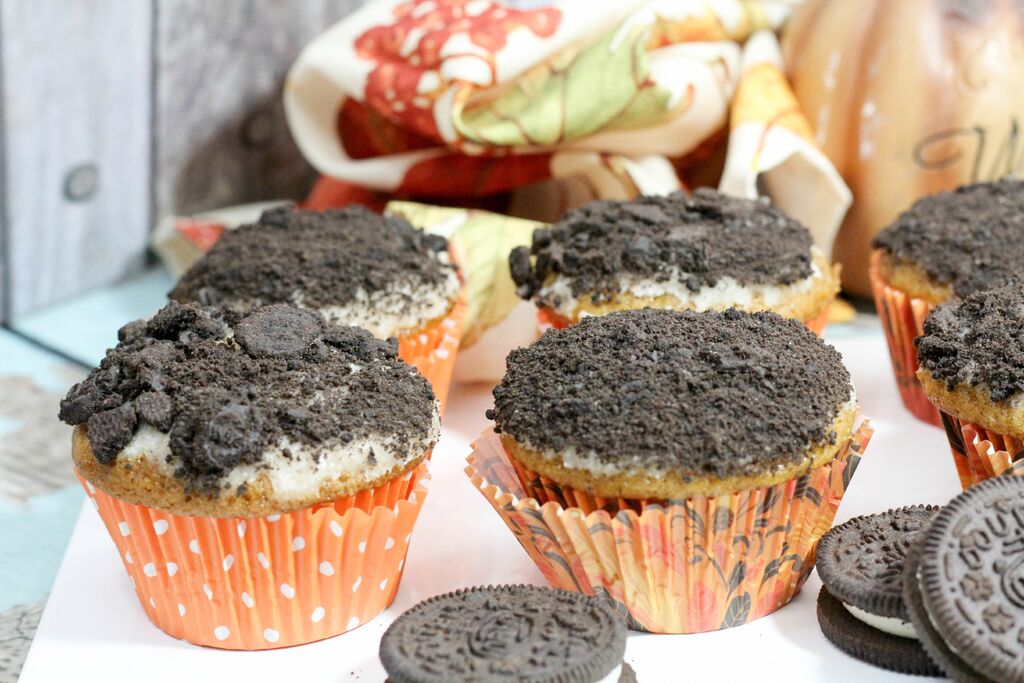 Guess what season it is (aside from Halloween, I mean!)? Pumpkin spice season!! To kick it off, we have a recipe for super yummy pumpkin Halloween muffins with crushed Oreo cooking topping! I don't know about you, but pumpkin season is one of my favorites (along with "chocolate mint everything" season). Funny story, though, I didn't actually like pumpkin until a few years ago. Now, I could eat all day. In my coffee, tea, bread, pies and, obviously, muffins.
The vanilla glaze and crushed Oreo cookies make these muffins more dessert-worthy. If you're feeling health-conscious or want to eat them for breakfast without your parents giving you the "sugar for breakfast?" look, just leave a few naked muffins.
Pumpkin Halloween Muffins with Glaze & Crushed Oreo Cookie Topping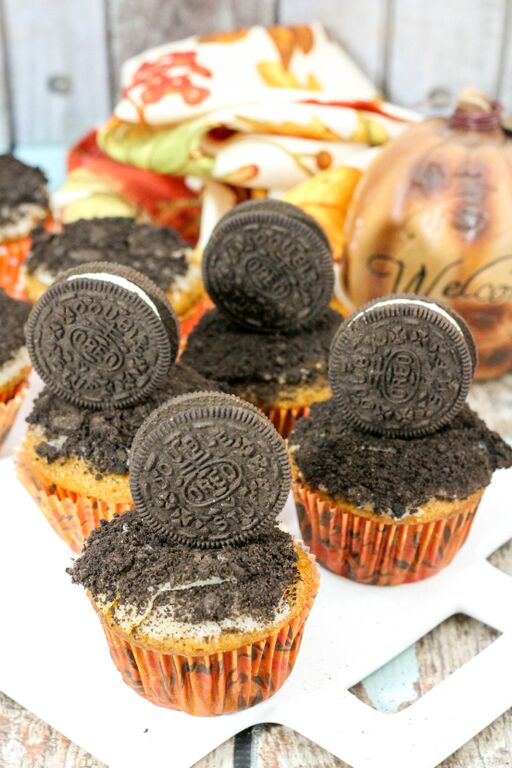 Ingredients:
3 C flour
1 1/2 TBSP Pumpkin Pie Spice
2 tsp baking soda
1 1/2 tsp salt
3 C sugar
15 oz of Pure Pumpkin
4 eggs
1/2 C coconut oil
1/2 C water
Directions:
-Preheat oven to 350 degrees. Line cupcake tins with paper liners.
Whisk together the flour, pumpkin pie spice, baking soda, and salt.
Mix sugar, pumpkin, eggs, oil and water in a large mixing bowl. Mix just until just blended.
Add the dry ingredients into the wet ingredients stirring until just moistened.
Scoop batter into paper lined  cupcake tins until they are filled 3/4′ s of the way to the top.
Bake at 350 degrees for 25-30 minutes or until an inserted toothpick comes out clean.
Allow to cool in cupcake tin for 10 minutes.
Remove from cupcake pan and place on a wire rack until completely cooled.
Glaze
Glaze Ingredients:
3 TBSP melted butter
1 C powdered sugar
3/4 tsp vanilla
2 TBSP hot water
Glaze Directions:
Combine all ingredients in a bowl starting with the melted butter. whisk until all ingredients are mixed well.
* Dip muffins into glaze. Keep muffins warm to allow the crushed Oreo's to stick on it.
Oreo Topping
Ingredients:
1 package of original  Oreo cookies
Directions: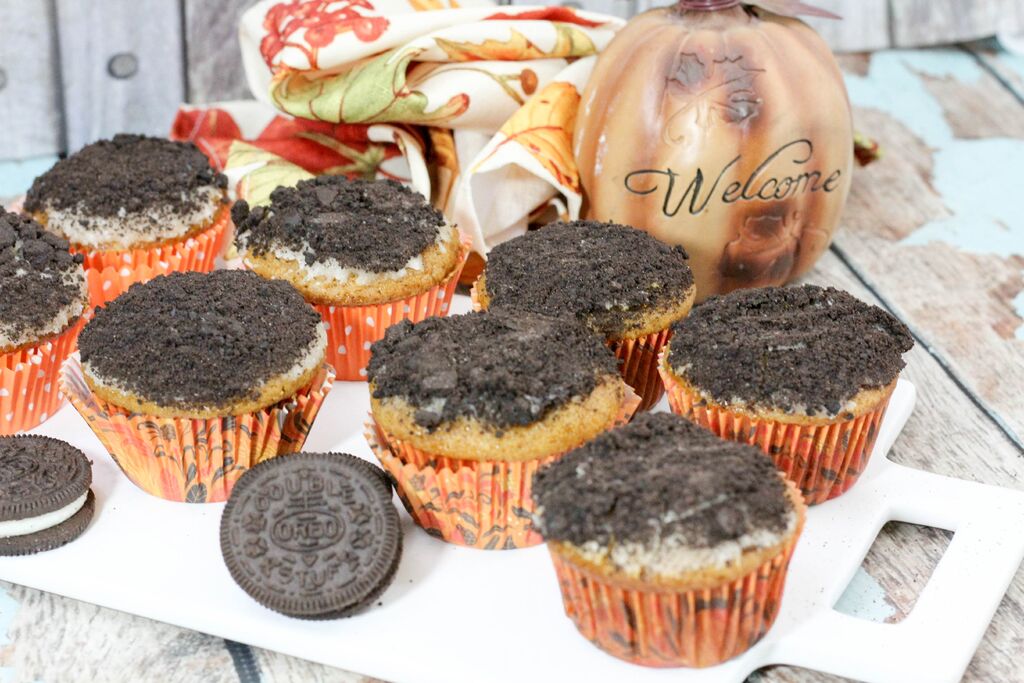 Split the cookies in half, remove the filling, put the cookie part in a blender under blend to crush them into fine crumbs. Pour the crumbs into a bowl so you can dip the muffin in it.
*Immediately after dipping the muffins into the glaze dip them into the cookie crumbs.
Don't they look yummy & festive? Perfect for all your Halloween parties, hanging out with friends or just for when you want a pumpkin-y snack!
What is your favorite way to celebrate Pumpkin Spice season? Tell us in the comments!