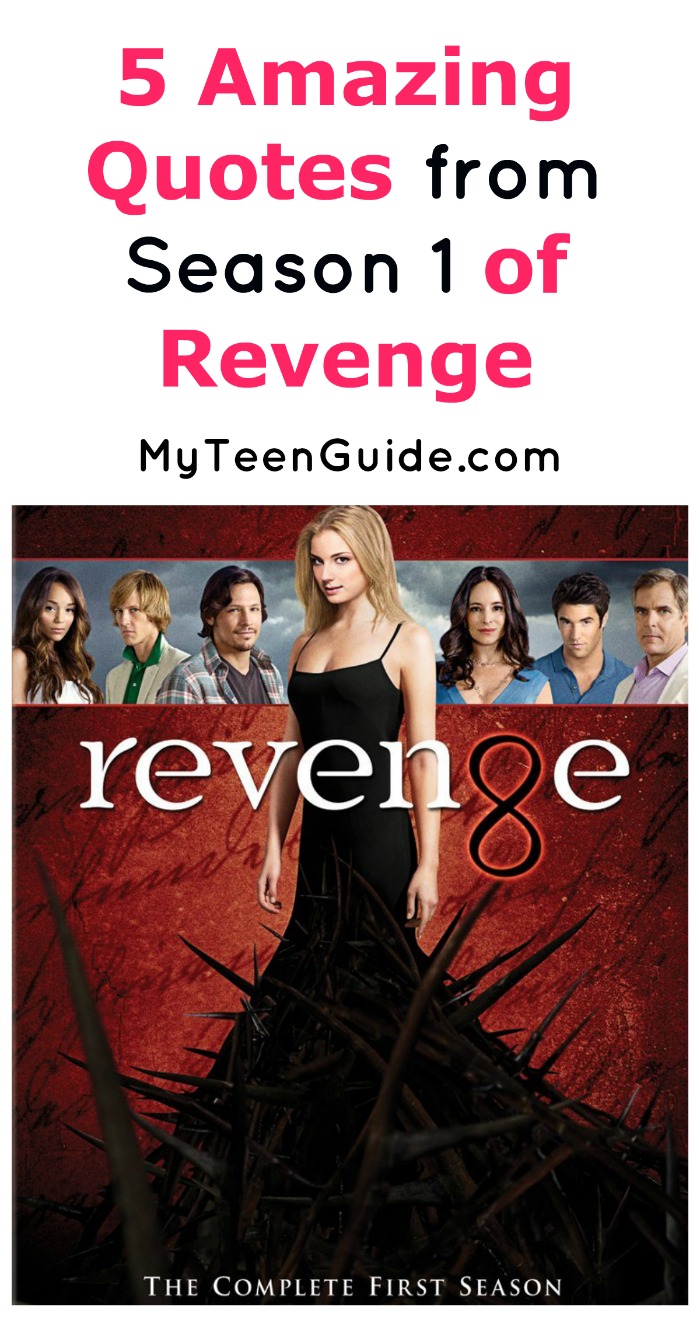 Let's talk Revenge season 1 quotes because let's be honest,  some of the best lines on television came from that first season of the hit ABC show. I remember binge-watching it the summer before the 3rd season started.  I think I watched the first two seasons in just about two weeks! It was one of my favorite shows, and I was so sad to see it go after just four seasons. Although, again if we're honest, I think that it was one of those shows where it had to end sooner than later so it didn't drag out. Here are a few of my favorite Revenge season 1 quotes!
Revenge Season 1 Quotes
Affiliate links included below.
Revenge is a soap opera, drama television series that aired on ABC for 4 seasons, from September 21, 2011, and May 10, 2015. The series centered on Emily Thorne, whose real name is Amanda Clarke. Emily heads to the Hamptons with the intention of avenging her father's death. The series was inspired by the 1844 book titled The Count of Monte Cristo by Alexandre Dumas. Revenge stars Emily Van Camp as Emily Thorne/Amanda Clarke. Here are some quotes from season 1 of Revenge, which aired from September 21, 2011, to May 25, 2012.
Episode 1- Pilot
Emily Thorne (in a voiceover):
Emily- "When I was a little girl, my understanding of revenge was as simple as the Sunday school proverbs it hid behind. Neat little morality slogans like, "do unto others" and "two wrongs don't make a right." But two wrongs can never make a right… because two wrongs can never equal each other. For the truly wronged, real satisfaction can only be found in one of two places, absolute forgiveness or mortal vindication. This is not a story about forgiveness."
Emily Thorne moves to the Hamptons with the mission of enacting revenge on those who wronged her father, especially Victoria Grayson, who had an affair with her father and later betrayed him.
Episode 6- Intrigue
A conversation between Emily Thorne and Ashley Davenport, as Ashley is planning the Grayson's annual 4th of July party:
Emily- "Ashley, this looks fantastic. Very festive."
Ashley- "Thanks, although I have to admit it is slightly humiliating having to plan a party celebrating the defeat of England. I don't do well with rejection."
Emily- "Obviously. That was over two hundred years ago."
Ashley Davenport was formerly an escort, but then became the Grayson family party planner/associate and later their spokesperson.
Episode 9- Suspicion
A conversation between Emily Thorne and Satoshi Takeda:
Emily- "I fear I am losing control."
Satoshi- "As you were warned, Revenge is a stony path. Remember, inside the viper's nest, you must be a viper, too. How can I be of service?"
Satoshi is the powerful CEO of Takeda Industries. He also mentors Emily on her plan for revenge.
Episode 16- Scandal
Emily Thorne, talking about her father, David Clarke:
Emily- "My father's false imprisonment taught me that in a crisis, you quickly find out who your real friends are. Tragedy and scandal, it seems, have a unique way of clarifying people's priorities."
David Clarke was framed for a terrorist attack that brought down a plane, by Conrad and Victoria Grayson and Frank Stevens, head of security for Grayson Global.
Episode 21- Grief
Emily Thorne, talking about Gordon Murphy:
Emily- "They say grief occurs in five stages. First, there is denial, followed by anger. Then comes bargaining, and depression. For most, the final stage of grief is acceptance. But for me, grief is a life sentence without clemency. I will never accept, and I will never forgive, not even after the man who killed my father lies dead at my feet."
Gordon Murphy, an American Initiative operative, who was accused of killing David Clarke in prison. It is later revealed that Murphy is actually Emily's step-father, having been married to her mother, Kara Wallace Clarke.
Do you have any favorite Revenge season 1 quotes? Tell us in the comments!