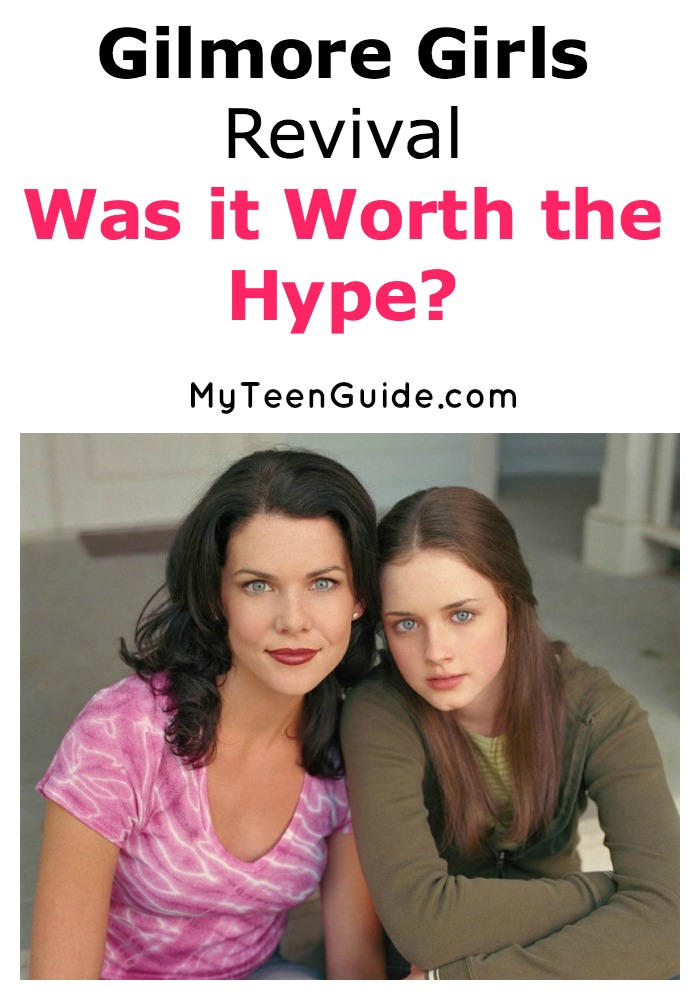 Gilmore Girls is back!  A Year in the Life made its debut on Netflix on November 25, 2016. And oh my!! The ending kept me on my toes! Gilmore Girls: A Year in the Life featured four episodes that are each 90 minutes long. The episodes are titled: Winter, Spring, Summer, and Fall. So, what happened? Well, here is a summary and review of the four episodes, plus the ending everyone is talking about.
Related –> The Most Interesting Quotes From Gilmore Girls
Gilmore Girls: A Year in the Life Main Characters!
Before getting to our juicy review of Gilmore Girls mini-series, let's check on the main characters! The series is a continuation of the comedy-drama television series, Gilmore Girls, which aired on The WB and The CW, for 8 seasons, from October 5, 2000, to May 20, 2007. Many of the main character from the television series starred in the revival, including:
Lauren Graham- Lorelai Gilmore
Alexis Bledel- Rory Gilmore
Scott Patterson- Luke Danes
Kelly Bishop- Emily Gilmore
Melissa McCarthy- Sookie St. James
Keiko Agena- Lane Kim
Yanic Truesdale- Michel Gerard
Liza Weil- Paris Geller
Sean Gunn- Kirk Gleason
Gilmore Girls: A Year in the Life Review!
First, let's check the official trailer:
Winter-
Winter, I think, was the best of the four episodes of Gilmore Girls: A Year in The Life. Rory is currently living in London with Logan Huntzberger, after letting go of her apartment because of the amount of travel she does for her job as a freelance journalist. Logan is currently engaged, and Rory is dating a guy named Paul. However, that doesn't stop Logan or Rory from having a friends-with-benefits relationship.
Rory is fired by Naomi Shropshire, whom she was writing a book for. Lorelai Gilmore and Luke Danes are living together. (I must say it is about time since they have been dating for like 10 years now). The episode pays tribute to the death of Richard Gilmore, Lorelai's father, and Emily's husband. (Edward Herrmann, who played the role of Richard Gilmore, passed away at the age of 71, on December 31, 2014, from brain cancer).
Spring-
(Not much happened during this episode. I think they probably could have added it to the other episodes and done away with this episode entirely). Lorelai and her mother, Emily Gilmore, attend therapy to try and repair their damaged relationship but things don't work out well there. Rory gets a new story as a journalist with Conde Nast and moves back in with her mother.
Summer-
Rory starts working full-time for the local newspaper, The Gazette, as their editor. While working at the newspaper office, Rory's ex, Jess Mariano, comes to the office. After complaining to him about her messed up life, he suggests she write a book of her own about her life with Lorelai. However, Lorelai didn't want her secrets exposed in a book.
Fall-
In this Gilmore Girl's episode, Lorelai decides to go on a long hike after a fight with Luke. However, her hiker's permit was buried in the bottom of her backpack, so she decides to call her mom to make amends. Lorelai and Luke make up upon her return and got engaged as well. After one last night together, Rory and Logan said their final goodbyes.
However, Rory and her dad, Christopher Hayden, finally got closure after her dad told her that his lack of involvement in her life was for the best.
Also in the episode, Lorelai expands the Dragonfly Inn, Emily sells her home and moves to Nantucket to start her life anew; Lorelai gave Rory permission to write her book after all, and Rory and Paul end their relationship.
Oh, and the best part? The episode ends with just three words from Rory to Lorelai- "Mom, I'm pregnant!"
Now, I didn't include every little detail in here because you are just going to have to watch the show, but I highlighted the important stuff. Overall, I loved this little mini-series of sorts and am hoping the ending means more episodes are coming!
So, who has watched Gilmore Girls: A year In The Life series? If you have, what did you think? If you haven't seen it, it was certainly filled with laughs, romance, and surprises!
Image Source: Wikia