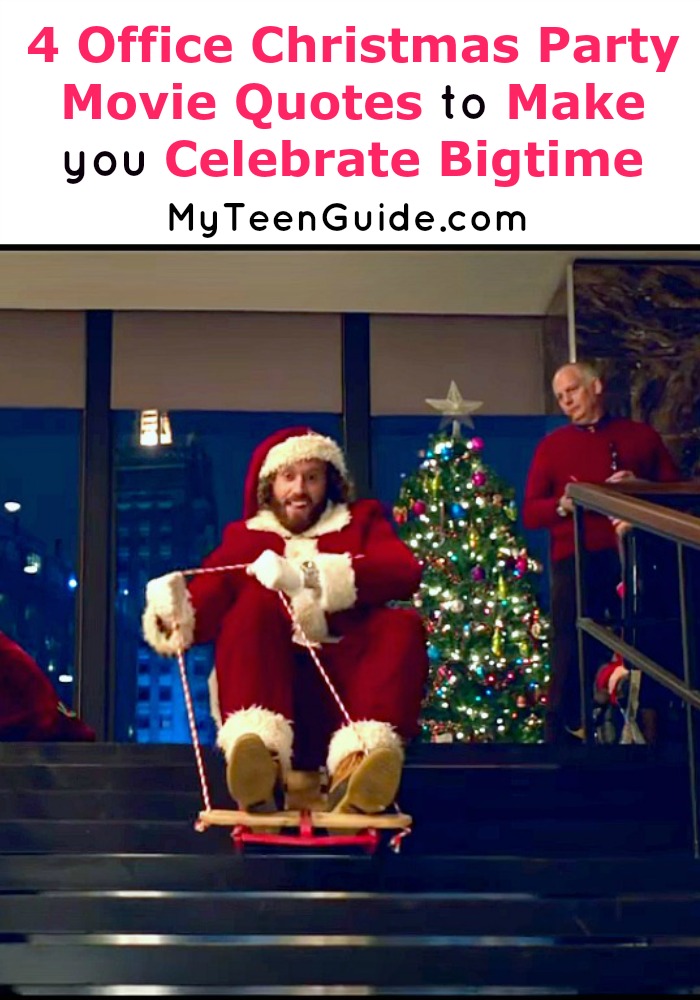 Grab your cup of cocoa and settle in for all the Office Party movie quotes you don't want to miss. This new moving coming out just in time for the holidays looks like it's going to be hilarious. What does happen when the boss doesn't like parties? Only the craziest party ever get's thrown! Expect this is going to be the type of comedy you go to unwind with and just laugh. This movie has a star-studded cast full off really talented actors and actresses, it's bound to be comedy gold. Check out some trivia about the film, followed by movie quotes too!
4 Office Christmas Party Movie Quotes To Make You Celebrate Bigtime
Office Christmas Party is an upcoming Christmas comedy movie that will hit theaters on December 9, 2016. The movie is about Clay Vanstone, a branch manager whose sister and company CEO, Carol Vanstone, is attempting to shut down the branch where her brother works. So, how does Clay react? He throws an epic office Christmas party to impress a major client and save everyone's jobs. Office Christmas Party stars TJ Miller as Clay and Jennifer Aniston as Carol. Here are some interesting trivia and quotes from the film.
Related–> The 10 Best Christmas Movies Of All Time
Office Christmas Party Movie Trivia
Jason Bateman (Josh) and Jennifer Aniston (Carol Vanstone), have starred in 4 other movies together. In the 2014 Horrible Bosses 2 and the 2011 Horrible Bosses, Bateman played the role of Nick Hendricks while Aniston played the role of Doctor Julia Harris. In the 2010 The Switch, Bateman played the role of Wally Mars while Aniston played the role of Kassie Larson. And in the 2006 The Break-Up, Bateman played the role of Mark Riggleman while Aniston played the role of Brooke Meyers.
Matt Walsh (Ezra), Sam Richardson (Joel) and Randall Park (Fred) have all appeared on the television series Veep. Walsh has played the role of Mike McLintock since 2012, Richardson has played the role of Richard Splett since 2014 and Park played the role of Governor Danny Chung from 2012 to 2015.
Kate McKinnon (Mary) and Vanessa Bayer (Allison) have both been cast members on Saturday Night Live. McKinnon has been a cast member since 2012 while Bayer has been a cast member since 2010.
Directors on Office Christmas Party are Josh Gordon and Will Speck. The pair also directed the 2007 movie Blades of Glory and the 2010 movie The Switch.
Office Christmas Party Movie Quotes
1- Voiceover from Josh, in the movie trailer:
Josh- "It's Christmas, we should celebrate they say, just a little get together for the employees. Have a few drinks, blow off a little steam, nothing crazy."
2- Conversation between Mary, Carol Vanstone and Clay Vanstone:
Mary- "This is a sample cheeseboard for our holiday mixer tonight."
Carol- "I'm sorry, you're having a Christmas party tonight? It's not happening."
Clay- "All right, it's canceled."
3- Trina, talking to Clay Vanstone, who is dressed up as Santa Claus:
Trina- "Hey, Santa, want to party?"
4- Conversation between Walter and Josh, as Walter swings on some lights, landing on an office cabinet instead of the dance floor:
Walter- "I love this company!"
Josh- "I think he meant to swing there."
So are you ready to see Office Christmas Party Movie and did you have a favorite quote? Tell me if you're going to see this one down in the comments.