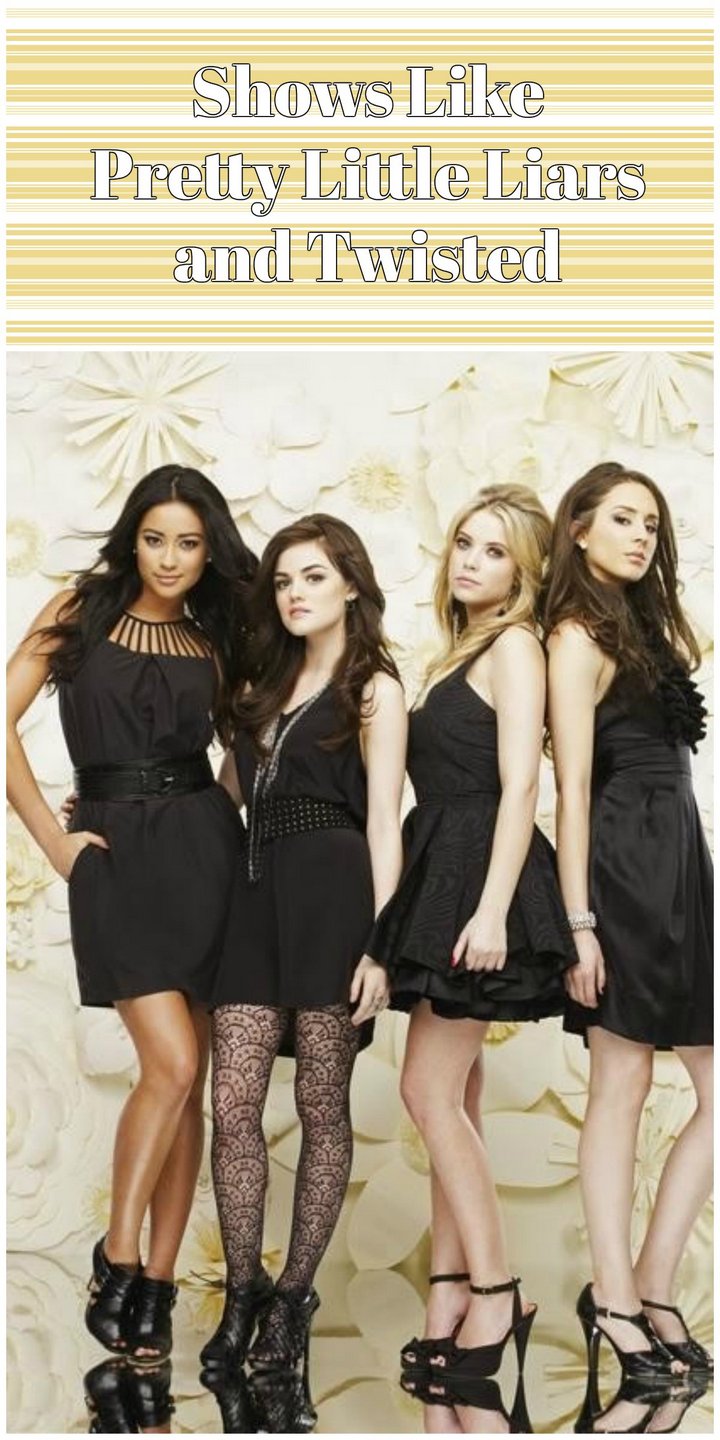 I don't know about you, but I am so bummed now that Pretty Little Liars is on hiatus for a bit! I mean, come on! HUGE A reveal, then "so long, see you later!" Much later, as it turns out. Did you see that massive time jump at the end of the season 6 summer finale? Wow. I have a secret (and unlike the girls of Rosewood, I can't keep it): I actually binged on PLL over this summer. I watched every episode from 1 through 100+ in less than three weeks. Now I'm addicted and bored out of my skull.
If you're feeling the letdown from the break and love shows like Pretty Little Liars and Twisted (I never saw that one, hmmm, I have to check it out!), we have you covered. Check out these similar shows that will fill the void!
Related: Awards and Nominations for Pretty Little Liars
Shows Like Pretty Little Liars and Twisted
Teen Wolf– Head over to MTV (which, by the way, used to actually have music videos on it, go figure) and check out the show centering on the life of- what else- a teen boy bitten by a werewolf! It's in its 5th season, so if you haven't seen it, you may need to find it on Netflix or something to get caught up.  The show stars Tyler Posey, Dylan O' Brien, Crystal Reed, Holland Roden and Tyler Hoechlin. Our teen wolf enjoys the luxuries of being a werewolf, like popularity as well as being stronger and faster. However, he finds it hard to control his anger. He needs to keep from being killed by the werewolf that bit him, do what he can so his love interest doesn't learn the truth about him and discover how to control his new abilities.
The Lying Game- The Lying Game appeared on the channel ABC Family for two seasons from 2011-2013. The show starred Alexandra Chando, Allie Gonino, Blair Redford, Andy Buckley, Helen Slater and Charisma Carpenter (aka Cordelia from Buffy & Angel). The show follows the lives of twins that were separated at birth. Sutton was adopted by a rich family while Emma was bounced from one foster home to another. When they are teenagers, the twins reunite and while Sutton searches for the truth, Emma takes over her life and discovers more lies and secrets than she ever imagined.
Revenge– One of my faves! Revenge was on ABC network for a total of four seasons from 2011-2015, although it felt longer. The show starred Madeleine Stowe, Emily VanCamp, Gabriel Mann, Nick Wechsler, Josh Bowman and Christa B. Allen. When Emily arrives in the Hamptons, she inserts herself into the elite social circle of Conrad Grayson and his wife, Victoria. Emily's real name is Amanda Clarke, who lost her dad at the young age of nine. Amanda's father was the fund manager for the same company Mr. Grayson is the CEO of. He was wrongfully accused of providing funds to a terrorist organization. Amanda assumes the identity of Emily as she seeks out revenge on those who are responsible for the death of her father.
Ravenswood– Ravenswood appeared on the ABC Family channel for one season from 2013-2014. It is a spinoff of Pretty Little Liars that starred Nicole Gale Anderson, PLL star Tyler Blackburn, Merritt Patterson, Brett Dier and Britne Oldford. There is a horrible curse that has plagued the town of Ravenswood for many generations. Now, five complete strangers' lives have become entangled by the curse and they work together to find out the town's sordid past in order to solve the curse. Alas, the show, like the town, was cursed and ended rather quickly. Still, if you want to know what happened to Caleb during the time he was missing, it's worth checking out.
Related: Who's Who in the Cast of Pretty Little Liars Season 1
Veronica Mars– One of the best. shows. ever! Seriously, if you haven't seen it, you NEED to watch this! Veronica Mars appeared on the UPN and The CW networks for three seasons from 2004-2007. It starred Kristen Bell as Veronica Mars as well as Teddy Dunn, Jason Dohring (SOO cute!), Percy Daggs III, Francis Capra, Enrico Colantoni and Sydney Tamia Poitier. Veronica Mars lost her best friend Lily when she was brutally murdered in high school. Veronica's father was the sheriff in town before he was kicked out the job because he made some accusations regarding Lily's family that were not accepted by the community. The sheriff decided to start his own private investigator company with Veronica as his assistant.
These shows like Pretty Little Liars and Twisted will get you through the slump until we find out what happens in the time jump (rhyming totally not intended). My top pick? Veronica Mars. Watch all the eps, then grab the movie for a wrap-up. Trust me, that movie gives you a lot of closure. You're lucky you can get it now, I had to wait years!
What shows like Pretty Little Liars and Twisted are you watching? Give me some other ideas! I'm in need!