If you're like most kids, sleepovers are the best! Not only do you get to sleep in a different bed, but you also get to eat all of your favorite snacks. If you're looking for some ideas for sleepover snacks, look no further. In this post, we talk about some of the best snacks to bring to your next sleepover. Whether you're into sweet or salty snacks, we have something for everyone. So what are you waiting for? Start planning your sleepover menu now!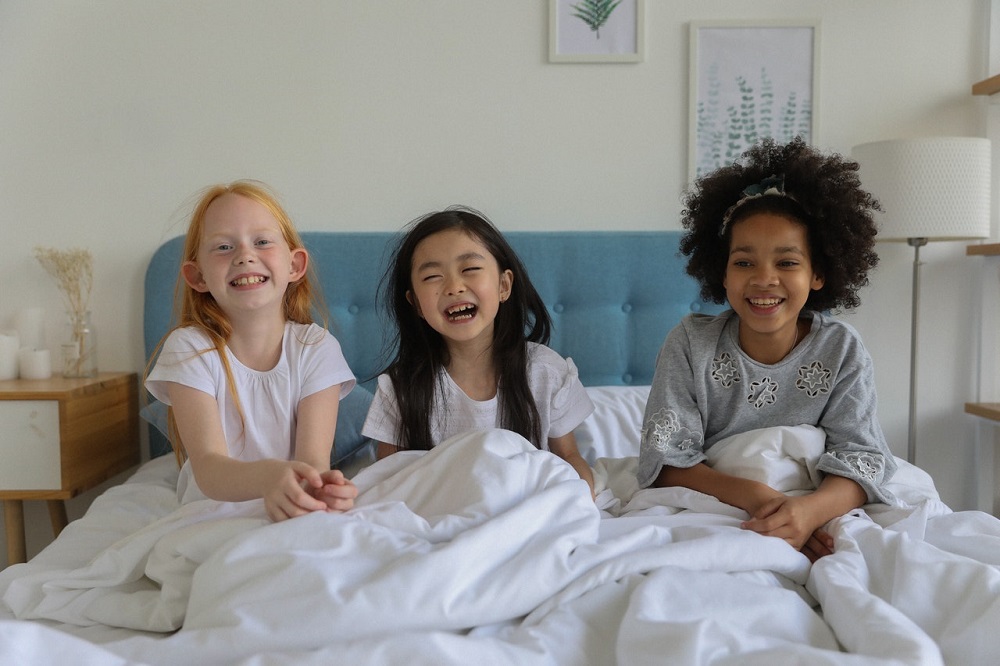 Why Snacks Are So Important for Your Sleepover
Sleepovers are all about fun, and what's more fun than a midnight snack? Not only do snacks help keep you energized, but they can also add to the overall slumber party experience. For example, if you're watching a movie, having some popcorn will make it even better. Or if you're playing games, eating some chips and salsa can make the game more exciting.
The Best Sleepover Snacks
There are endless possibilities for sleepover snacks, but we wanted to share some of our favorites. Here are some of the best sleepover snacks:
Popcorn
Chips and salsa
Fruit platter
Veggie platter
Pizza
Ice cream
Brownies
Popcorn
Popcorn is a great option for a sleepover because it's both sweet and salty. Plus, it's easy to eat and doesn't take up a lot of space. There are a few other fun ways to prepare your popcorn beyond just microwaving it and eating it right out of the bag. You could try adding some melted butter and salt, chocolate and sprinkles, or set up a popcorn bar and let all the party guests add their own fun toppings. Whatever way you choose to prepare your popcorn, we guarantee that you and your friends will love it!
Chips and Salsa
If you're looking for something that will get your taste buds excited, look no further than chips and salsa. This classic combo is a hit with kids and adults alike, and it's a great slumber party food. There are a few salsas you might want to experiment with as well, including mango salsa, black bean salsa, and even pineapple salsa. And don't forget the chips! You can never go wrong with a classic tortilla chip, but you could also try some of the newer varieties, like blue corn chips or multigrain chips.
Fruit Platter
A fruit platter is a great option for sleepover treats because it's healthy and delicious, the perfect slumber party food. Plus, you can customize it to include your favorite fruits. Some of our favorites include strawberries, grapes, pineapple, and watermelon. Not only is this snack healthy, but it's also beautiful to look at.
Veggie Platter
A veggie platter is another great option for sleepover party snacks that aren't junk food. It's healthy, filling, and perfect for those who don't like to eat a lot of sweets. You can customize your veggie platter with your favorite veggies, or you can try something new. Some of our favorites include carrots, celery, cucumbers, and tomatoes
Pizza
Who doesn't love pizza? This classic sleepover snack is always a hit. You can either order a pizza or make your own. If you're making your own pizza, you can choose from lots of different toppings, including pepperoni, sausage, ham, mushrooms, and onions.
Ice Cream
Another classic sleepover snack is ice cream. You can either buy a pre-made ice cream or make your own. If you're making your own ice cream, you can choose from lots of different flavors, including chocolate, strawberry, vanilla, and pistachio.
Brownies
Last but not least, brownies are always a hit at sleepovers. You can either buy a box of brownies or make your own. If you're making your own brownies, the smell of chocolate will definitely add to the sleepover experience. We recommend using a brownie mix for ease and convenience.
Sleepover Snacks and Allergies
One thing to consider when choosing snacks for a sleepover is food allergies. For example, if someone has a nut allergy, you'll want to avoid snacks that contain nuts.
Alternative Food Choices
Some people don't eat dairy or gluten, which can be a barrier to your sleepover snacks and create a lot of complications, especially if it's just one of your friends that has the issue. Here are a few ideas for gluten and dairy-free snacks that you can add to your list:
Fruit
Veggies
Hummus and carrots
Peanut butter and jelly sandwich
Rice cake with peanut butter or Nutella
Fruits and vegetables are a safe bet for anyone with a dietary restriction. They're also a great way to get some vitamins and minerals in your diet. Hummus is a classic, easy-to-eat sleepover snack. It's perfect for dipping veggies into, and it's also a great source of protein. Peanut butter and jelly is another classic sleepover snack that everyone will love. Rice cakes are a good option if you're looking for something light and easy to eat. They come in lots of different flavors, so you're sure to find one that you like.
Sleepover Snacks on a Budget
If you're looking for affordable sleepover snacks, look no further than fruits and veggies. They're both healthy and affordable, making them the perfect sleepover snack choice. You can also get creative with your fruit and veggie platter by using different fruits and veggies than you normally would.
To make them more interesting, try cutting them into different shapes or trying out different dipping sauces. Some of the best dips to pair with your carrots or celery could be ranch dressing, hummus, or peanut butter.
Pot-Luck
Is all of this snack preparation making you feel overwhelmed? Why not try a potluck? This sleepover snack option is perfect for those who want to try a little bit of everything. Everyone brings their favorite sleepover snacks, and you can all enjoy them together. This is also a great way to get everyone involved in the sleepover planning process.
To organize a potluck for your sleepover, send out a group text or Facebook message to your friends and ask them what their favorite sleepover snacks are. Once you have an idea of what everyone is bringing, create a grocery list and head to the store. Then, all you have to do is cook and enjoy!