Looking for pajama party games for tween & teen girls?
We got you covered with these fun sleepover games for 10, 12 and even 15 year old.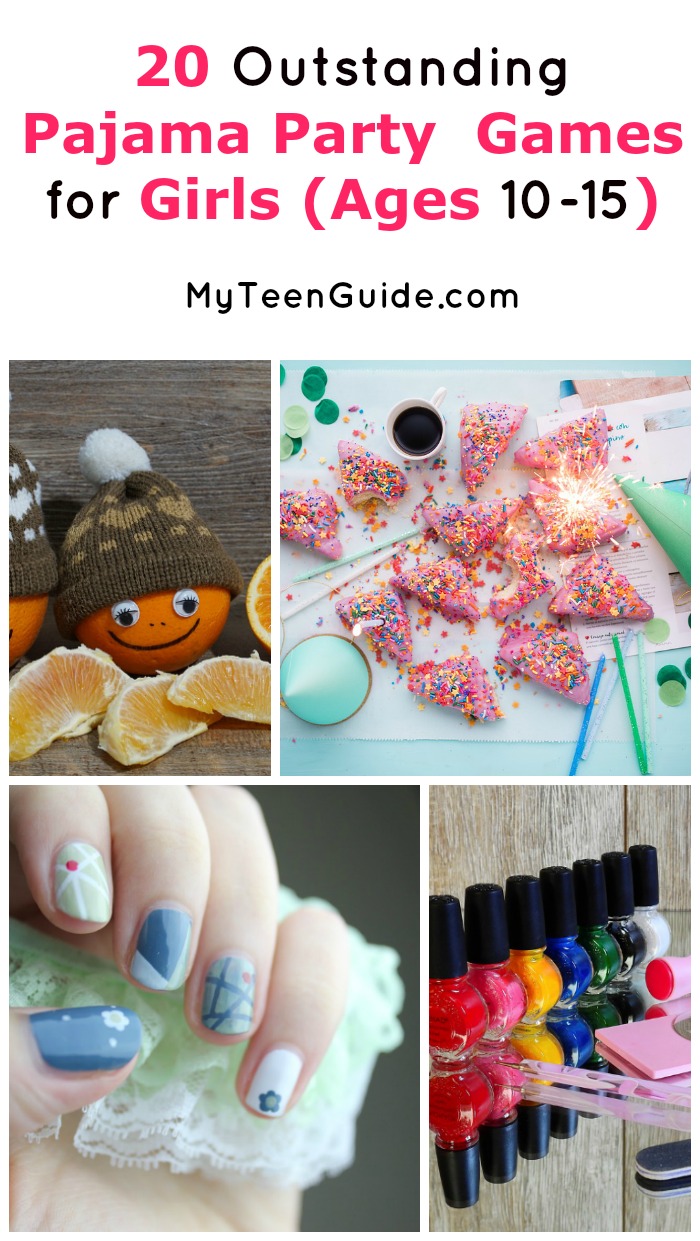 If you have a little girl who wants to have all of her friends over for a fun pajama party, then these Pajama Party Games are sure to come in handy.
Not only will the kids be thrilled to hang out and play, these are super easy and fun for mom too!
Gather a few supplies, earplugs to drown out all the giggles and get ready for a long but fun night with giggling girls.
Pajama Party Games for Girls from 10-15 Years Old
This post contains affiliate links. We earn a small commission if you make a purchase.
Fun Sleepover Games for 10-Year-Old
1. Pass the Orange
Divide the party guests into 2 teams.
All players need to put their hands behind their backs.
One player from each team puts an orange under their chin and then must pass the orange to the next player, without using their hands.
The team to successfully pass the orange without dropping it wins the game.
Here's a video that does a good job of demonstrating!
2. Telephone
Girls love talking on the phone, so why not make a game of it.
Have the girls sit in a line.
The first player thinks of a phrase and whispers it to the girl next to her.
The phrase continues to travel until it reaches the last girl in line, who repeats what she's heard.
3. Musical Sleeping Bags
Musical Sleeping Bags is just like Musical Chairs but using sleeping bags instead of chairs.
Fun Sleepover Games for 11-Year-Old
4. Nail Polish Song
[amazon fields="B00AVP37G8″ value="thumb" image_size="large" image_alt="Karaoke Machine – Singsation All-In-One Karaoke System & Party Machine – Performer Speaker w/Bluetooth Microphone Sing Stand – No CDs! – Kids or Adults. YouTube your Favorite Karaoke Videos & Songs"]
Have all the party girls sit in a circle and give the birthday girl a colorful bottle of nail polish.
While the girls sing the Nail Polish song, pass the nail polish bottle around.
When one verse is complete, the girl holding the bottle paints one of her nails.
Then, start singing the song and passing around the nail polish bottle again.
The winner of the game is the girl with all of her nails painted.
Here are the lyrics to the Nail Polish song.
5. Kiss the Poster
Place a poster of a famous celebrity, like Harry Styles, Jaden Smith or Justin Bieber, on the wall.
You'll also need a blindfold and some bright lipstick colors.
Have the girls put some lipstick on.
One at a time, blindfold each player and then they need to kiss the poster.
The girl who gets closest to the celebrity's lips is the game winner.
6. Sleeping Beauty
One party guest lies down on the floor and pretends she is sleeping.
The other party guests try to make her smile, laugh or open her eyes, without touching her.
7. Toilet Paper Wedding Dress
One of the most popular bridal shower games is also perfect for tweens!
Use that cheap toilet paper you got on sale and let the girls design their own fun toilet paper dresses.
Not only can you have them get creative, you can let them do this after the makeover to have a fun mini pageant.
Love movies? CHECK THESE Awesome Movies For Your Next Sleepover Party
https://www.youtube.com/watch?v=AkjjkyScrzk
►►Love mystery? Play these mystery games.
Fun Sleepover Games for 12-Year-Old
8. Makeovers
Bring out the makeup and setup makeover stations.
Let girls play with blush, eyeshadow and lipsticks of all kinds.
You can grab tons of great fun colors for only $1 each at your local dollar stores or get a whole makeup kit from Amazon!
 Include the curling irons, flat irons, hot rollers and fun clips, bows, barrettes and pins for a fun hair and makeup makeover.
[amazon box="B006LT7A7U,B000F5AG5E, B06XSVMZMH, B007S69QAY" template="list"]
9. Pillow Fights
Grab a bunch of old soft pillows and let them have a classic pillow fight amongst themselves.
10. Cucumber Face Race
For this game, you'll need one cucumber slice for each player.
Each player places a cucumber slice on their forehead.
The object of the game is to get the cucumber slice into your mouth, using only facial expressions. The first player to do so wins the game.
When you're done, treat the tweens to some cucumber facials!
11. M&M Challenge
Place a large bag of M&M's into a bowl.
Have the party guests sit in a circle, then have them close their eyes and choose 2 M&M's.
If a player gets 2 of the same color, they keep them and if not, they put them back in the bowl.
The game keeps going until 5 minutes have passed.
The one with the most M&M matches wins the game.
LOVE DIY? TRY These: 26 DIYs To Help You Throw the Best Slumber Party Ever
Fun Sleepover Games for 13-Year-Old
12. Mani/Pedi
[amazon fields="B0086LC47M" value="thumb" image_size="large" image_alt="nail glitter"]
Grab some shallow plastic totes or pans and fill with warm water and Epsom salts.
Drop in a bit of essential oils so they smell great.
Set out several nail polishes and pretty nail glitter to choose from and nail files, lotion, cuticle gels.
Let the girls give each other manicures and pedicures.
Be careful with actually trimming nails since kids don't really know how to properly do so.
Make this a paint and massage only.
13. Karaoke
[amazon fields="B009Q106MQ" value="thumb" image_size="large" image_alt="Karaoke Machine – Singsation All-In-One Karaoke System & Party Machine – Performer Speaker w/Bluetooth Microphone Sing Stand – No CDs! – Kids or Adults. YouTube your Favorite Karaoke Videos & Songs"]
Load up your CD player or karaoke machine with the latest kid-friendly hits.
Use your computer to create lyric sheets they can hold or hook up to the TV to display the lyrics.
Listen and laugh as they take turns belting out their favorite songs.
Don't forget to run song choices by parents ahead of time, just in case some kids can't listen to certain types or artists.
14. Charades
How do you play Charades? Find out here.
15. Dress Up Divas
For this game, you'll need a bunch of formal dresses.
Place the dresses into a large garbage bag.
Then, blindfold the girls and let them choose one dress each.
Once everyone has chosen a dress, they can then put on a fashion show.
Don't forget about Truth & Dare ►►The Most Fun Truth Or Dare Questions : Party Games You Have To Play
Fun Sleepover Games for 14-Year-Old
16. Name That Popstar
On pieces of paper, write down the names of famous pop stars, like Justin Bieber, Katy Perry, Lady Gaga and Taylor Swift.
Then, fold the pieces of paper and place them in a bowl.
Next, party guests take turns choosing a piece of paper.
Then, they must sing a verse to a song of the name they chose, while the other guests try to guess the name of the pop star.
17. Skittles & Straws
Place a large bag of Skittles into a bowl.
Then, give each girl a straw and a small paper cup.
The object of the game is to suck the candies into the straws and transfer them to the cup, within an allotted amount of time.
18. Burglar Alarm
For this game, you'll need an alarm clock/kitchen timer.
Set the alarm clock/kitchen timer for 2 minutes and then hide it somewhere it can be heard, but it is not visible.
The object is to find the alarm clock/kitchen timer before it goes off.
Fun Sleepover Games for 15-Year-Old
19. Secret Index Card Game
Have each party guest write a secret about themselves on a piece of paper, without writing their name.
Then, fold the paper pieces and place them in a bowl.
One player at a time then takes a piece of paper and reads the secret, while the other players try to guess who the secret belongs to.
20. Foot Volleyball
Instead of a volleyball, a balloon is used for this game. If you don't have a volleyball net to use for the game, you can use a streamer, ribbon or rope instead, placing it 4 feet off the ground.
Divide the girls into 2 teams.
Lying on their backs and barefoot, players use their feet to play the game.
Hosting a pajama party for your girls can be a ton of fun.
Not only will it bring back fond childhood memories for you, these pajama party games will help your daughter bond with her friends just like you did with yours.
Tons of laughter, a few too many chips or pieces of chocolate and a mess to clean up after is well worth it to see the joy and excitement on their faces.
Do you have any favorite pajama party games? Share your tips for throwing an amazing sleepover party below!