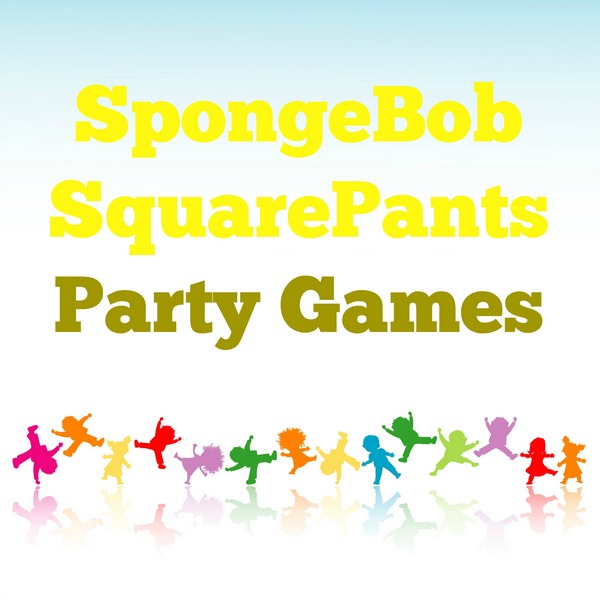 So your child wants to have a SpongeBob Squarepants party and you are stumped on games to have to entertain the kids?  Look no further!  Well, look a little further, because below is a starter list of games to have at the party to keep your small guests entertained!  From an updated version to Pin-the-tail-on-the donkey to crab walking, keep reading for some ideas on SpongeBob SquarePants party games.
 SpongeBob SquarePants Party Games
Pin-The-Tie-On-Spongebob: Draw a giant SpongeBob on large paper, color him and tape him to the wall.  Draw as many red ties as you have party guests.  Blind fold them, spin them around and point them in the direction of the SpongeBob on the wall!  See who comes the closest to placing his tie in the right spot!

SpongeBob Party Games for Undersea Fun!
Bubble Blowing: Nothing can be more entertaining than a bubble blowing contest to see who can get the biggest bubble and which one lasts the longest before popping!  You can purchase a bunch of bubbles of you can make your own with this simple recipe.  All you need is 1 cup of water and 1 tablespoon of dishwashing liquid.  You can use a dish, cup or bottle to mix it to together, and stick the wand in (you can use a wire coat hanger molded into a circle or oval for large bubbles).
Guess the Fish:  Put a bunch (and I mean a lot!) of goldfish crackers in a jar and place a piece of paper in front of it asking the guests to guess the number of fish in the jar.  You can also make this anonymous by having small scraps of paper and a jar with a slit in the top for them to place their guesses in.  Make sure they write their names!  The winner gets a prize of your choosing!

Crab Walk Races:  Do you remember walking like a crab as a kid?  It's fun and difficult at the same time!  You can break the kids up into teams and have them relay down the hall or across the room.  They can go two by two, crab walking as fast as they can to the end and tag their friend.  Or, for added craziness, have them all crab walk across the room at the same time and the first one to get to the end first without falling wins!

There are so many fun options to SpongeBob Squarepants party games.  You could even add some water elements if your party is in the summer and able to be held outside!
Have you hosted a SpongeBob party before?  Have some SpongeBob Squarepants party games ideas to share?  Write them below in the comments and share your ideas!