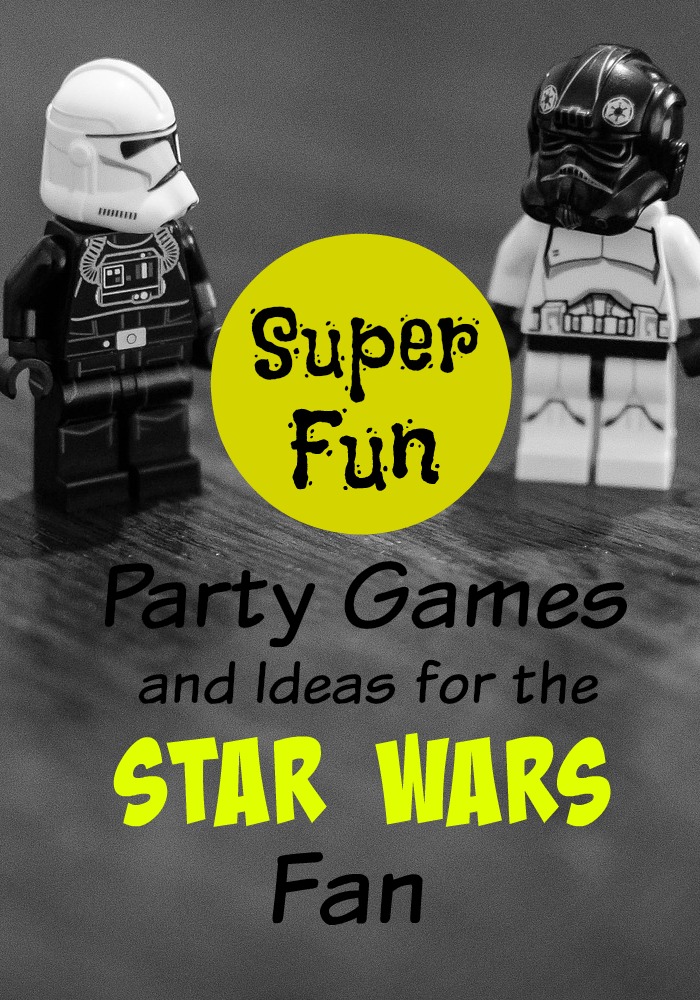 If you have been looking for super fun Star Wars party games and ideas, you have found what you have been looking for!  Everyone knows of the Star Wars movies, whether you have seen them all or not.  It is hard to avoid the hype!  You've decided on your theme, now what can you do to make it a super fun party?  Check out our Star Wars party games you have to try at your next party!
Star Wars Party Games And Ideas
*Some affiliate links follow
Bubbles and Lightsabers
https://www.instagram.com/p/klJyMehawt
You have seen those tubes of bubbles that come in fun colors.  You probably have a few in your house; they sell them at the dollar store.  Anyways, don't they look just like lightsabers?!  Just add some electrical tape to the handle and voila!  Instant lightsaber action!  They make fun party favors and also (because I love photos) great props for photos.  And who doesn't love bubbles?
Who am I?
Before the party, write out on different pieces of paper all the characters of the movies.   Place them in a bowl.  As your guests arrive, they pick a paper from the bowl (without looking, that defeats the purpose) and then pin it to the back of their shirt.  Throughout the party, everyone can only ask yes or no questions to figure out who they are!  There is no real winner, but it is a fun game to play.
Photo Backdrop
https://www.instagram.com/p/-5i7_Cy5fs/
I am a big fan of photos and taking them at parties.  This is uber simple.  You need a black background.  You can use a sheet, or a curtain or a roll of black paper.  Then you need to cut out bright yellow stars and attach them to the background.  You should have some fun Star Wars gear, like a Darth Vader mask or a few light sabers.  Use these as props!  It will only take a few seconds for each of you to get dressed up and take some pics.  And then once you do, get a fun group shot!.
Testing Your Jedi Senses
Have you ever done that thing where you stick your hand through a hole in a box, and you have to guess what it is?  (Those things freak me out by the way).  Same idea!  You can create boxes if you like, but if you are short on time (or boxes), you can simply place different objects on plates and cover them with a small towel.  You probably want to blindfold your guests just to be sure they don't cheat.  Number them and have your guests write their guesses on paper and when everyone is done, see who got them right.
Free The Figurines!
For this Star Wars game, you need a bunch of Star Wars small figurines. Place them in an icecube tray filled with water (you will have to prepare for this the night before) and freeze.  You will need a water gun for each guest.  When the time is right, place the ice cubed figures in a bowl of individual bowls (it might be fairer that way).  Give each party guest a water gun filled with warm water (warm is key!)  The idea is that the first person to free their figurine from the frozen trap first wins!  You might want to have a refill bowl of warm water on hand should anyone run out of water. Bonus points if you can get your hands on an ice mold shaped The Death Star.
https://www.instagram.com/p/7sddj4wl54
There are so many (I mean probably unlimited) Star Wars party games you can play.  No matter what you choose, as long as it is Star Wars themed, you are going to throw a memorable party!  Even if some of your guests are not Star Wars fans, they will definitely have fun and appreciate your party!
Have you thrown a Star Wars party before?  What sort of Star Wars Party games did you play?  For the love of Star Wars, share with us below in the comment section!