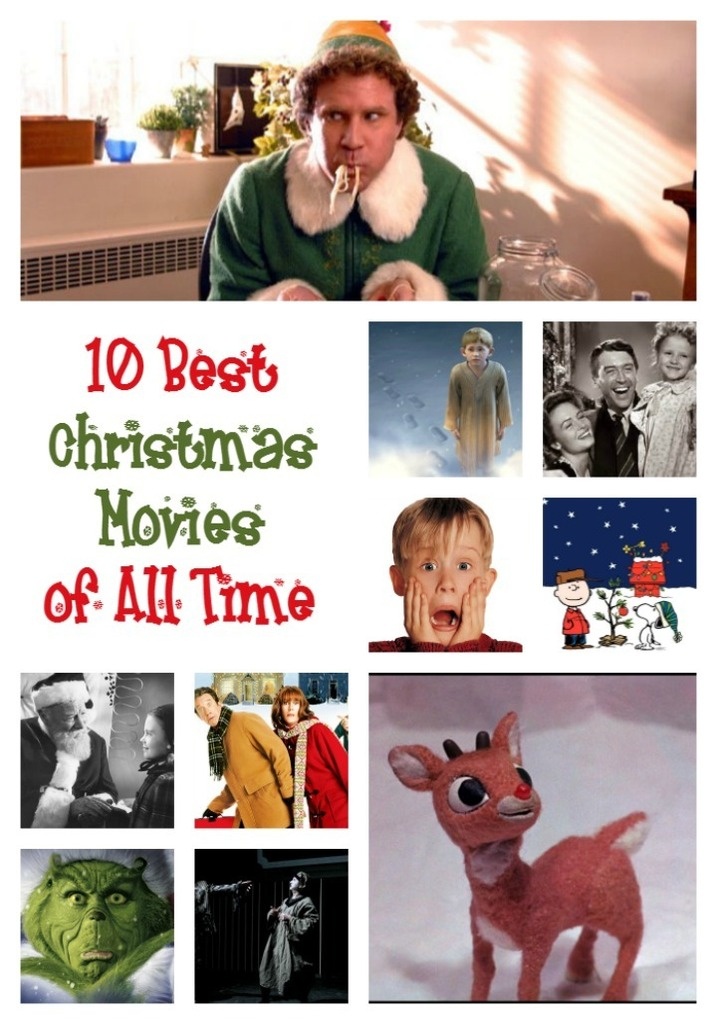 Grab some popcorn and sugar cookies and settle in for a Christmas movie night next to the fireplace.
The living room is always so cozy when the lights and Christmas tree are up.
It creates the perfect atmosphere for a winter movie night with your friends and family.
Check out our list of the ten best Christmas movies of all time.
Related: Best Christmas Movies on Netflix…Aside from a Christmas Story!
The 10 Best Christmas Movies Of All Time
1) It's a Wonderful Life (1946) –
This is one of the best Christmas movies ever made, and it continues to be enjoyed by many today.
This black and white classic illustrates the real meaning of Christmas and family. We love George Bailey's story in Bedford Falls.
2) Miracle on 34th Street (1947) –
Another true Christmas classic. This movie with definitely put you into the Christmas spirit.
We're all suckers for a heart-warming film.
3) A Christmas Carol (1951) –
Black and white Christmas classics are so magical.
Don't discount some of the older Christmas movies because they're a excellent choice for your movie night.
You can't go wrong with an adaptation of a Dickens' classic.
https://www.youtube.com/watch?v=SpbthuKFuFA
4) Home Alone (1990) –
This is such a great film because who doesn't like following an 8-year-old boy on his adventures through New York.
5) Elf (2003) –
Will Ferrell is hilarious in this feel good movie. You'll be laughing and tearing up at the same with this film.
6) A Charlie Brown Christmas (1965) –
The Peanuts comic strip by Charles M. Schulz has been a family favourite for decades.
Don't miss this awesome cartoon classic this holiday season.
7) The Polar Express (2004) –
This film takes animation to a whole new level. It's incredible. Truly a magical film for the entire family.
8) Rudolph, the Red-Nosed Reindeer (1964) –
Everyone loves Rudolph's story. It's a great feel-good movie for the whole family. Sip on some hot cocoa and curl up with this beautiful film.
9) Christmas with the Kranks (2004) –
This movie is not a classic per say, but it's a funny one! You'll be giggling while watching this film for sure. It's a great movie for the holidays.
10) How the Grinch Stole Christmas (2000) –
Jim Carey is always a family favourite! This is an excellent and entertaining film for everyone.
It's officially movie time! Snuggle up with your family and enjoy one of these classic Christmas films. Whether you want to laugh or cry, there's a feel-good movie in this list for everyone. Enjoy!
Which Christmas movie will you watch first? Do you have a favourite film in our list? Are there any films that should be added to the list? We love hearing from you! Happy Holidays!