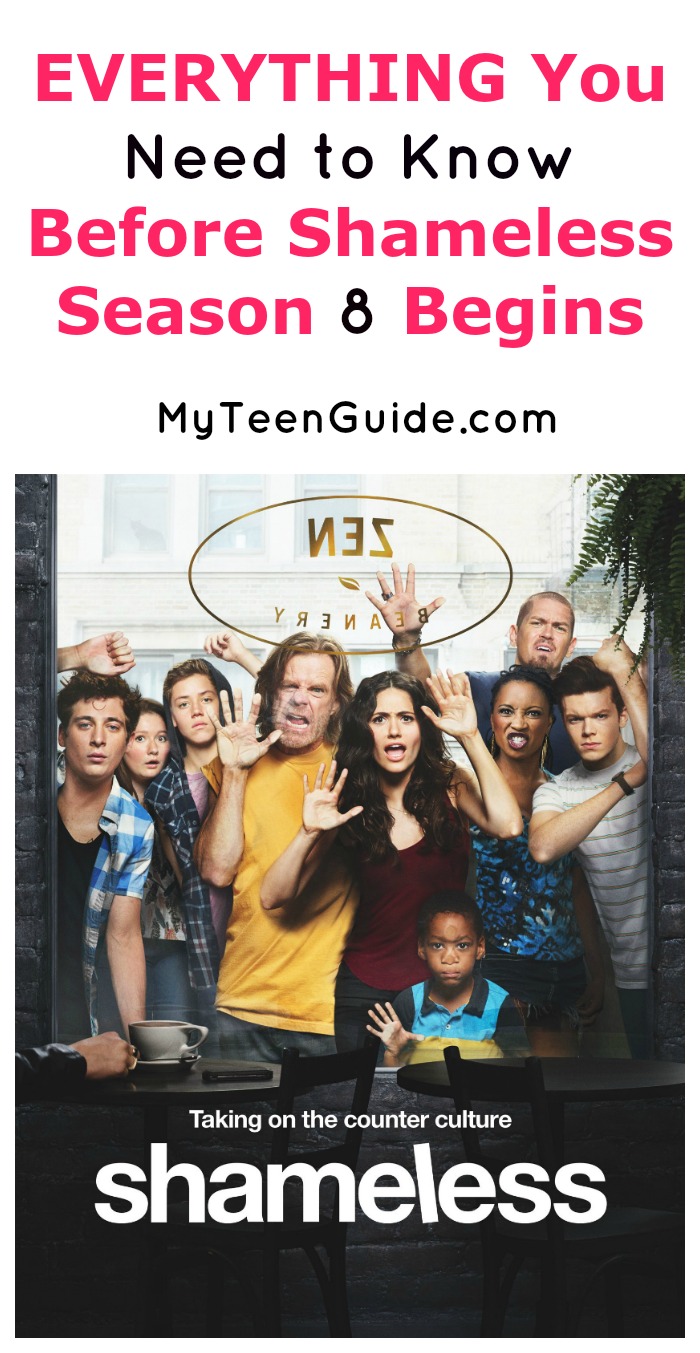 Whether you're a long-time fan of the show or just getting caught up, there are a few things you need to know before Shameless season 8 begins. No, I still don't know the exact date for the premiere. The latest rumor still says it's going to happen in October. Hopefully, someone at Showtime will confirm that soon! Speaking of rumors, once you get all caught up with what happened in Shameless season 7, head over to check out my predictions for what we can expect in season 8! I recapped a few things that I thought you needed to know, but let's expand on that, shall we?
UPDATE: FINALLY! Showtime confirmed that Shameless Season 8 will premiere on November 5th!
What you need to know before Shameless Season 8 Begins
Affiliate links included below. Thanks for your support!
It goes without saying that this post contains MAJOR SPOILERS. If you're not caught up and plan to watch season 7, stop reading here. If you want to refresh your memory or plan to skip ahead to season 8 (don't do that, you'll miss SO much), then keep reading. You've been warned! I'm going to start spoiling things right now. Last chance to look away if you landed here by accident. I think the easiest thing to do is summarize and recap by character.
FRANK
If you recall the end of Shameless Season 7, Frank's family threw him off a bridge into the water after he ruined Fiona's almost-wedding to Sean. Granted, his epic reveal about Sean's heroin habit did save Fiona a lot of misery down the road (and honestly, I never really liked the guy that much), but still. Season 7 begins with Frank waking up in a hospital after being in a coma for a month. When he finds out that no one missed him, looked for him or cares what he does or where he goes, he heads to a homeless shelter.  He disowns his family (except for Liam) and recreates them with new people.
When the shelter is in danger of closing down, Frank starts his own homeless shelter.  He even managed to get funding for it, and donations started rolling in. Of course, Frank being Frank, he makes the other people living in the shelter do all the work and takes a huge cut from their panhandling money. When they find out, Frank gets chucked from the shelter.
https://www.instagram.com/p/BP3sKtqjLPb/?taken-by=shameless
Frank does show a renewed dedication to being a decent father to Liam. Sort of. It's Frank, so you know that even his best is kind of messed up. Still, he manages to get Liam into a posh charter school and even volunteers at the school.
When Monica returns, Frank avoids her for as long as he can. He knows she'll wreck him like she always does. I think it shows a bit of growth on his part that he at least tried to stay away from that disaster. That is, of course, until he found out that Monica was dying. When he realized that he was going to really lose her forever, he kind of threw himself into her crazy plans.
Frank's discovery of Monica's dead body towards the end of the season was probably the most heartbreaking moment on Shameless ever. I bawled. Yes, they were a truly messed up couple, but she was his "true love." It will be interesting to see where Frank goes from here.
MONICA
Monica, Frank's wife and mother of his children, is dead.  She died at the end of Shameless Season 7 . That's really all you NEED to know. Oh, and that she left behind a ton of meth as an "inheritance" for her kids. I believe it was $70,000 worth.
FIONA
Like Frank, this was a big season for Fiona. After the mess of her almost-wedding to Sean, she decided to take a break from relationships. Instead, she works her way through one night stands on Tinder. Sean takes off and is nowhere to be found, so Fiona starts running Patsy's Pies
. Now, I always thought that Sean owned the place, but either he was just the manager or he sold it because Fiona reports to a larger corporation. There, she learns that her big boss is a woman who came from nothing, just like her and worked her way up into being a high-powered corporate millionaire.
Fiona learns that in order to keep Patsy's open, she needs to bring in more money. She turns the diner into a speakeasy, throwing epic after hours parties to draw in the bar crowd. Later, she decides to buy the failing laundromat across the street and turn it into something a little hipper. She promises the elderly woman living there that she can stay in her apartment. After buying the place, Fiona learns that it's a wreck. Kev gets everyone to pitch in and help fix it up. Still, she's not making much of a profit. When high-powered corporate lady offers to buy it, Fiona turns her down a few times. Then she's offered double what she paid for it and she accepts.
https://www.instagram.com/p/BQli4fHgVUU/?taken-by=shameless
Fiona is at odds with just about everyone this season. She and V aren't talking. Lip is mad at her for wasting a ton of money on the laundromat (although he apologizes when she sells it for a huge profit). Debbie is still mad at Fiona for trying to get her to abort her baby. Even Liam seems more attached to just about everyone else but her. Then again, she did say that they were all on their own because she was all about bettering herself now.
When Monica dies, Fiona is pretty much indifferent. Monica was never really a mom to her anyway. She doesn't want her "inheritance," doesn't want to throw a big funeral. She does get up and say a few words at the funeral, but they're full of indifference as well.
In the end of the season, Fiona buys an apartment building.
LIP
The struggle is very real for Lip in season 7. He finishes rehab and seems to be doing okay during the early episodes. Yes, he's still drinking, but he's devised some sort of system to keep himself from binging, and it actually seems to work for him. When Fiona gives Lip a job, he meets Sierra and starts "casually" dating her. She has a son and he's not looking for a serious relationship. At least that's what he tells himself. The thing is, Lip doesn't really do any other sort of relationship. He is all in, all the time. Remember Karen? Remember the professor? Even Mandie, who was more in than him, became more like a wife than a girlfriend while they were together. Still, he does TRY to keep it casual.
Lip's mentor, Professor Youens, (the one who took him to rehab) gets him an internship with an internet company that ends up being an illegal gambling enterprise (I think, I was never really clear on what the company did, but it was definitely illegal). He tries to hack them and take their money, but they end up getting shut down completely by the FBI.
https://www.instagram.com/p/BQoi3yZgpqZ/?taken-by=shameless
Youens gets Lip a hearing with the college to get them to allow him back in, or at the very least expunge his record. Ian speaks on his behalf, and everyone seems touched. One student on the board, though, says that she doesn't feel safe with him on campus. He loses the appeal and spirals back into the bottle.
Lip does eventually start going to regular AA meetings after he gets into a fight with Sierra's ex (her son's father). He meets a guy there who seems like he will be a positive influence. In the end of Season 7, he does say he's going to give college another try. We'll see.
IAN
In the beginning of the 7th season of Shameless, Ian is doing pretty well. He's dating firefighter Caleb, who seems like a pretty together guy, and working as an EMT. By the end of the first episode, though, he finds out that Caleb is cheating on him…with a woman. He confronts him in the next episode and they break up, which briefly sends Ian into a manic state when he stops taking his meds.
https://www.instagram.com/p/BNzymzxhHku/?taken-by=shameless
Don't worry, Ian doesn't completely spiral out of control. He meets Trevor by the 4th episode. When he discovers that Trevor is transgender, Ian kind of freaks out at first, but ultimately he learns a lot more about himself. The two seem like a good fit…until Mickey escapes from jail. Oh Mickey, he's such a train wreck, but I've always kind of liked him. The way he cared for Ian when Ian first showed signs of being bipolar, it was quite touching. Mickey wants Ian to run away with him to Mexico and it looks like Ian is going to do it. At the border, though, Ian hands Mickey his life savings and lets him go. In the end, he goes back to Trevor and tells him about Mickey, leaving it unclear if they're going to work things out.
CARL
Carl makes some major life changes during Shameless Season 7. In fact, if you skipped this season and went right into season 8, you probably wouldn't recognize him! The season begins with Carl making one particularly painful change: he gets circumcised! He does it for his girlfriend. You know, the one with the scary dad? Well, turns out she was cheating on him anyway. Carl becomes close to scary cop dad, though, and decides he wants to be a cop, too.
https://www.instagram.com/p/BNfAHd6BbrT/?taken-by=shameless
Sergeant Winslow helps Carl get into military school. Yep, military school. Carl. Never saw that coming when you started watching Shameless, did you? Anyway, we don't see a whole lot of Carl after that since he's away. He does come back at the end, when Monica dies, and helps Frank on his mission to retrieve their inheritance. He's grown into a responsible guy, though. He even buys groceries for the house. I'm assuming he'll be heading back to military school, so I don't know how much we'll see of him in Season 8, either.
https://www.instagram.com/p/BOBE5S6BQd2/?taken-by=shameless
DEBBIE
Debbie starts off Shameless Season 7 facing the challenges of teen motherhood. She's doing school from home, not sleeping enough and just a mess trying to do it all on her own. One day, at the park, she discovers how easy it is to steal from the upper class moms. She snags a crazy-expensive stroller and sells it on Craigs List. So begins a life of crime for Debs. She's stealing and selling enough to pay a night nurse to help her raise Frannie…until she's busted at a posh baby shop.
Fiona covers for her by saying that she's mentally challenged, and Debbie has to find new ways to make money. One of her brilliant ideas: panhandling. When her baby daddy's sis in law sees and films her fighting with another panhandler over the corner space, she ends up on child protective services' radar. She tries to make nice with baby daddy's family, but they STEAL FRANNIE! Like actually baby nap her! Debs hangs out on their lawn trying to get her baby back, but ultimately it's Monica who gets her back by smashing the living daylights out of their house.
https://www.instagram.com/p/BMM08djhd3J/?taken-by=shameless
Debbie also meets Neil, Lip's girlfriend's brother who is wheelchair bound and filterless after a brain injury. He basically says whatever comes to mind, even if it's totally inappropriate. The two work well together, though. Debbie kind of uses him to make a home for Frannie, but I think they really do love each other in their own weird way. She also ends up getting her GED, and at the end of the season we see her in some sort of welding workshop.
LIAM
Liam is pretty much just there, not a whole lot happens with him. He's only, what, like 6 now? The main things you need to know are this: he bonds with Frank, who gets him into an upscale charter school after his local public school gets closed down due to lack of funding.
https://www.instagram.com/p/BLjPW8th2hs/?taken-by=shameless
VERONICA AND KEV
V and Kev start off Shameless Season 7 continuing their thrupple relationship with Svetlana, who V married to help keep her in the country. They seem to be making it work, until Svetlana's "father" shows up. Turns out he's not her dad, though, but her husband! Also turns out Svetlana wasn't exactly looking out for Kev and V's best interest. She steals the bar right out from under them. Kev ends up working in the bar that Ian worked at in Season 6, dancing on bar tops and selling his body to the highest bidder. Throughout the season, V and Fiona aren't talking. At the end, though, they make up when Fiona finds out what happened.
I think that about sums up everything you really need to know before Shameless Season 8 begins! I'm sure there are a few small details here and there that I missed, but honestly, you should watch season 7 anyway. Since it'll be at least October before we get our Gallagher fix, you have plenty of time!
Can you think of anything important that I missed on Shameless Season 7? Share below!