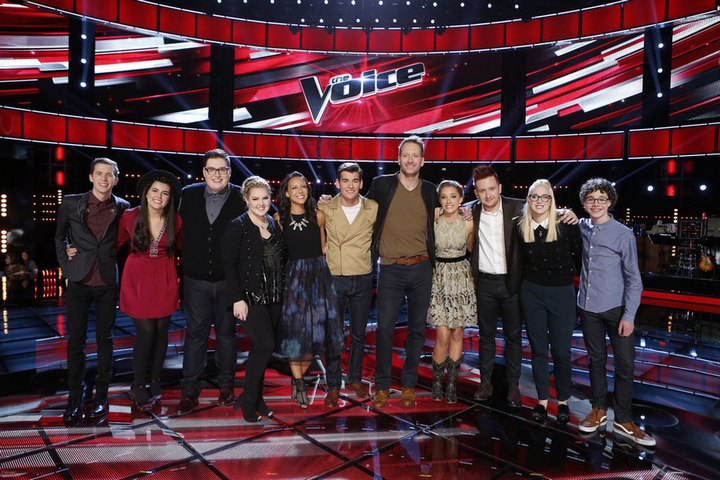 So, we are down to the top 12 (of The Voice Season 9) who all performed Monday and Tuesday one contestant is eliminated. So, let's get started with last night's performances and tonight's elimination at The Voice Season 9.
Related: Standing Ovation At The Voice Season 9: Who? 
The Voice Season 9 Top 12 Performances and Elimination Recap
The Voice Season 9 Performances
Braiden- Team Gwen- Renegade by Styx
Gwen reminds him that as a rocker, he needs to work on his body confidence. He looks different tonight since he isn't wearing his glasses, a look I really like as it makes him look more mature. I like his voice, I think he sings really well but in reality, he is only 15 and in my opinion, not ready to win this competition. The song choice was his and I think it was a good choice for him.
Amy- Team Adam- Hotline Bling by Drake
Adam chose this song for her since it isn't a song she would have thought of performing. She is playing the electric guitar on stage and it really fits her well. I really like her voice, but I think she made this song boring and dull.
Mark- Team Pharrell- Against all Odds by Phil Collins
Pharrell suggests that he perform this song as an English hymn and not a gospel song. I am not sure about that Pharrell. I think that may be changing the song way too much and it won't do well as an English hymn. And what do you know? Mark has a great voice but would have been better off singing a more upbeat song. His performance is just plain blah, not to mention that he is pitchy here and there.
Emily- Team Blake- Blame it on Your Heart by Patty Loveless
Blake tells Emily that saving her was a no-brainer since he is sure she will be a star. He chose this song for Emily so that everyone could see some attitude. She definitely has an attitude here along with some sass too. Blake did a great job picking this song for her, kudos to Blake! I do think she is holding back a bit though as I think there is more she could deliver here.
Korin- Team Gwen- Titanium by David Guetta featuring Sia
Korin is so glad that Gwen has believed in her every step of the way. Gwen thinks that Korin should dye her hair blond in order to boost her confidence. She looks okay as a blond but while it may help her confidence, it won't do much for her vocals, unfortunately. She has pitch issues all over the place here and her vocals are almost strained. I do like her performance this week as compared to last week, though.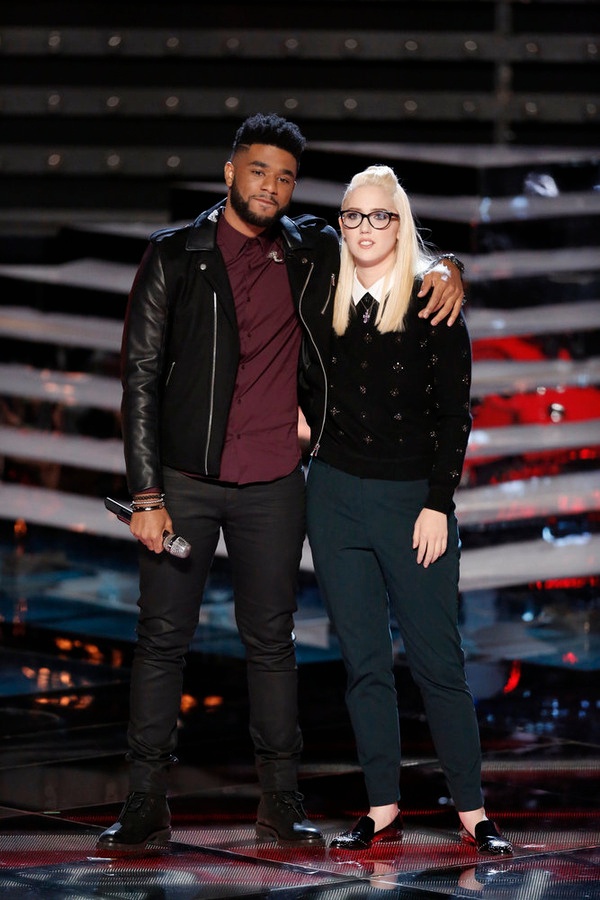 Barrett- Team Blake- Right Here by Richard Marx
Blake and Barrett make the choice to put some country in this song. I really like this performance and I think they both made the right choice add a country twist to this song. He puts a lot of emotion in this song, I am liking it.
Madi- Team Pharrell- Who Will Save Your Soul by Jewel
Pharrell is letting Madi take charge and choose her own song. She knows exactly who she is vocally so she knows what songs are right for her. She makes an excellent song choice here and she does an amazing job of putting her own spin on the song. Her voice is incredible, her rhythm is amazing and she just has great stage presence.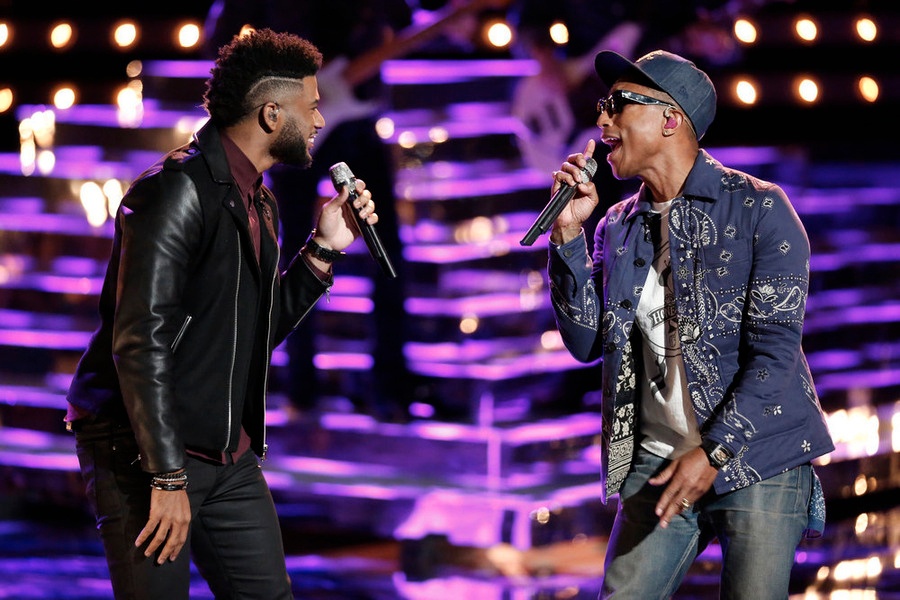 Jeffrey- Team Gwen- Let it Go by James Bay
Jeffrey really can relate to this song as he himself has a tough time of letting go, as a result of losing his dad when he was just 9 years old. Wow, wow and wow again. I have to say this so far tonight, this is definitely the best performance. He is giving it all he has, including emotions and stage presence.
The Voice Season 9 Playoffs Part 1, Part 2 and Winner Announcements
Shelby- Team Adam- In Color by Jamey Johnson
Shelby is young and sensitive and that shows through during rehearsals when Adam says that she needs to get out of her head, causing her to start crying. That young girl shines through on stage though as she is belting out this song with all she has. Her voice is big and she can bang out those high notes.
Evan- Team Pharrell- That Is It by Kenny Loggins
Evan says that he wasn't comfortable singing last week (He sang Overjoyed) so he wants to loosen up this week. However, Pharrell didn't really do him any favors with this song choice. Pharrell should have given him a totally different music genre song. While his vocals are totally solid, this song is just so old and so outdated.
Jordan- Team Adam- Great Is Thy Faithfulness by Selah
Jordan enjoyed singing in the church choir and decided that he wasn't going to sing with the band as he wanted to showcase his true voice. I think he does really well this song due to the fact that is a tenor voice is so clear and pure.
Zach- Team Blake- My Love by Easton Corbin
Blake compares Zach with Elvis, as he has previously done as well. Blake must see something that I don't because I don't think he is anywhere close to Elvis. This performance is not what it should be at this point in the competition. It just seems too sleepy to me.
The Voice Season 9 Elimination
Well, it is elimination night at The Voice season 9, so that means one person will go home, leaving us with 11 contestants. The Voice is handling eliminations different this season than they have in the past. For five weeks, one person will be eliminated each week. Then, will come the semi-final round, which will feature nine contestants, sending five home that week. Last, is the finale where the final four will compete to see who wins The Voice.
The show starts out with the 12 contestants on the stage. The host, Carson Daly, does a little Q&A with the contestants before we get to some results. Of course, we all know that they will announce the saves we all know are obvious first. And lo and behold, that is exactly what they do.
So, America first saves Jordan from Team Adam and Jeffrey from Team Gwen. Well, those are pretty obvious I think. I don't think anyone expected either of them to is eliminated tonight. Now, we have 10 remaining contestants and it is announced that America has saved Emily from Team Blake and Madi from Team Pharrell. I am glad by those choices as they both deserve to move forward. With 8 contestants remaining, America saves Braiden from Team Gwen and Amy from Team Adam. Now, we are down to five remaining contestants. Three will be saved and the bottom two will have to sing for the Insta-Save. The three that America saved are Evan from Team Pharrell, Shelby from Team Adam and Zach from Team Blake. This means that Korin from Team Gwen and Mark from Team Pharrell are the bottom two.
Mark- Team Pharrell- Signed Sealed and Delivered by Stevie Wonder
Mark is definitely doing what he needs to as far as stage presence. He is showing that he wants this and will put everything he has on the table. He is always so entertaining and this performance is no different.
Korin- Team Gwen- I Don't Know Why by Norah Jones
Korin is doing better with this song that I thought she would. She doesn't appear nervous and is working the audience very well. I do have to say that I do like her performance better than I did Mark's.
When the results are revealed…Korin has been saved, meaning Mark is eliminated!
The Voice Season 9 Top 11
Jordan- Team Adam
Jeffrey- Team Gwen
Emily- Team Blake
Madi- Team Pharrell
Braiden- Team Gwen
Barrett- Team Blake
Amy- Team Adam
Evan- Team Pharrell
Shelby- Team Adam
Zach- Team Blake
Korin- Team Gwen
Did you catch up on The Voice Season 9 this week? Were you surprised by the elimination? Tell me.
Photos courtesy of NBC.