Looking for a fun dance game for kids? Check out ThinkFun's Move & Groove! We received a complimentary game in exchange for an honest review. All opinions are our own.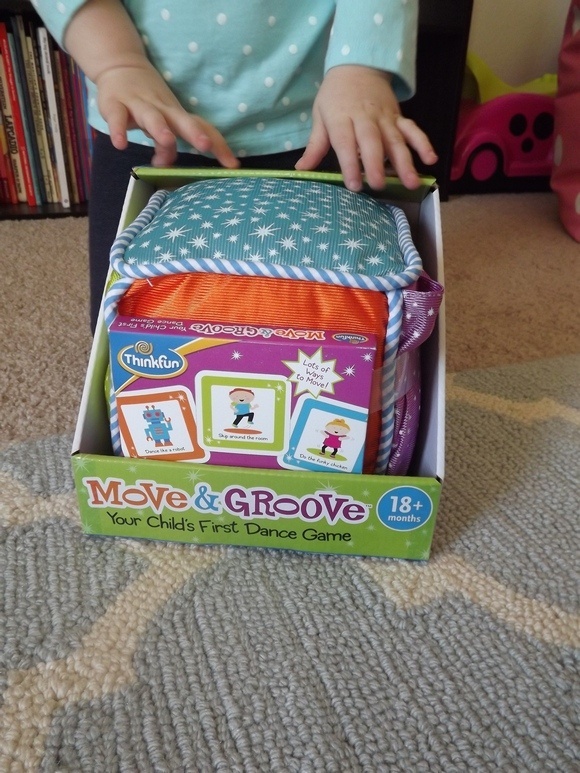 You may have checked out my previous review of a fun little game called Hoppers that is developed by ThinkFun. To refresh your memory a little bit, ThinkFun has developed a variety of games for people of all ages that, as they state, ignite the mind.  Their focus is to build reasoning and creative thinking skills through play.  Originally founded by a husband and wife team 25 years ago, the company has continued to develop and provide games that have received numerous awards and exceed safety requirements.
Move & Groove: A Great First Dance Game for Kids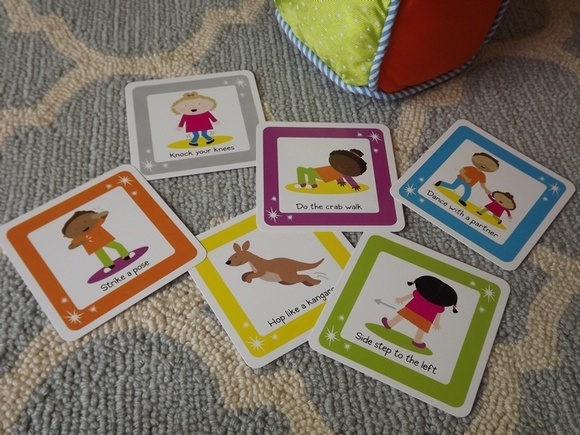 Move & Groove™ Your Child's First Dance Game is another one of ThinkFun's creations and is focused towards toddlers 18 months and up.  This game comes with a large plush game cube that has 6 colorful sides.  Each side of the cube represents a card category, and there are 48 cards included that are separated by their color.  The six card colors each represent a different type of dance. They include: Let's Pretend, Classics, Silliness, Movement, Body Parts, and Workout. You can see by these categories that this game will get your little dance partners moving! By taking turns, each player rolls the cube and sees where it lands. Once they identify the color they pick a card from the coordinating stack and dance away.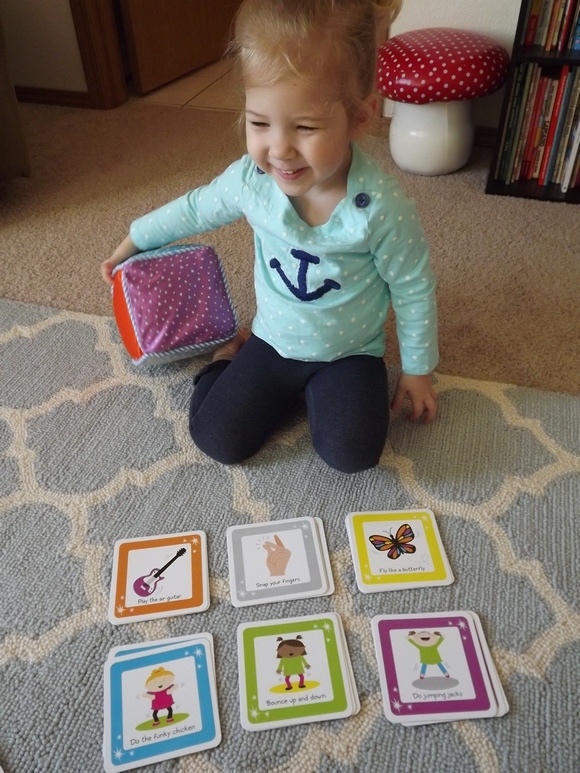 My two-year-old daughter is quite the little dancer these days so I thought it would be perfectly fitting to have her give this game a try.  The game pamphlet suggested turning on some music while playing Move & Groove™, so I turned on some fun tunes and introduced her to the game.  I got started by explaining the directions to her and showed her some of the dance cards.  She went first by rolling the cube and landing on yellow.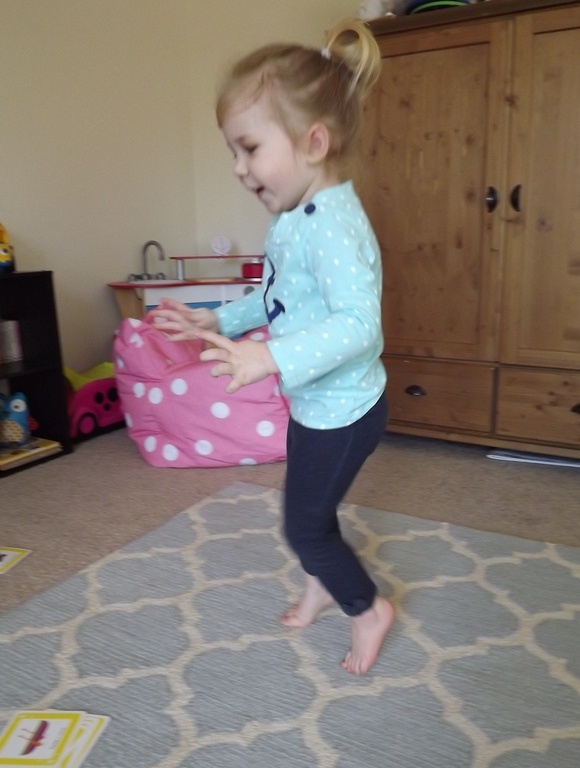 Her first card was "Hop like a kangaroo".  Before I knew it she was hopping away in circles around the room! She was roaring in laughter by time my turn came around and I picked the disco dancing card. I really liked how the game got both of us moving.  At times she wanted me to explain to her what dance move the card was referring to, other times she made her own assumptions and started dancing away.  Among other benefits of the game, an enclosed pamphlet highlights Learning Through Movement and Self Expression, and these were clearly witnessed throughout our time playing.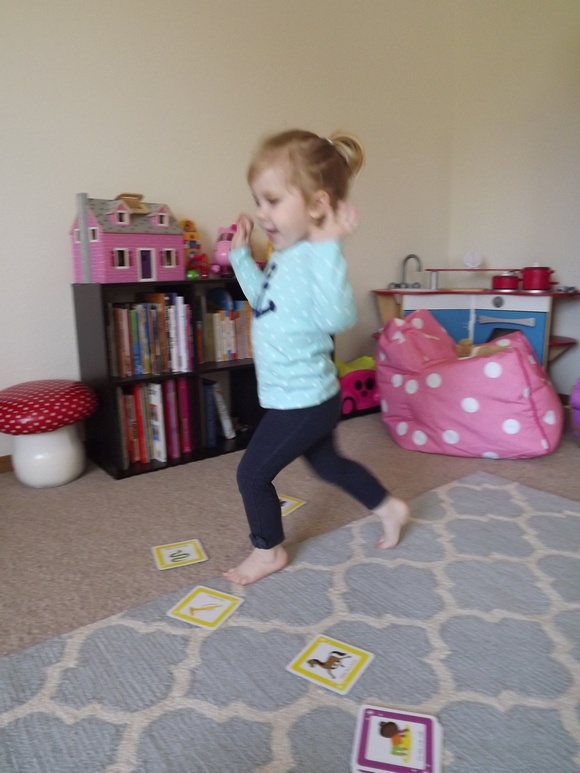 When it was time to put the game away my daughter helped me stack the cards and slip them into the storage sleeve on the side of the cube. This made for easy clean up as well as easy storage.  I loved that the game elicited a lot of giggles and roaring laughter by both of us.  I could easily see the benefits of this game on many levels and anticipate my daughter pulling it out quite a bit in the future.
Move & Groove™ Your Child's First Dance Game retails for $19.99 on the ThinkFun website.  There you can also check out more on the history and mission of ThinkFun and see a wide variety of additional games they offer. Are you a teacher or a therapist? ThinkFun also has game bundles and resources for teachers, and several games specifically recommended by therapists to aid children with special needs.
Don't forget to check our previous Think Fun Games for kids! and Have fun!