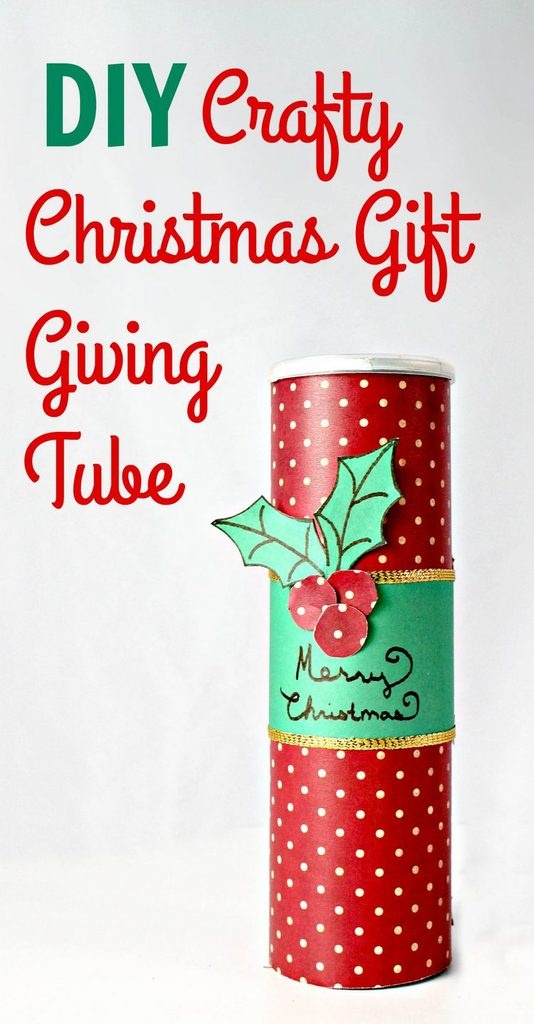 Want a cute and easy personalized gift idea for Christmas? Why don't you make this Tube that you can fill with your BFF'S favorite things? It is cheap as it uses supplies you may have already on hand. I used an empty Pringles can for this one, but you can use any tube-shaped container that you like. So let's see how you can make this cute and original gift idea for Christmas.
Upcycled DIY Christmas Gift Giving Tube Teen Gift Idea
Material needed for this handmade Christmas gift idea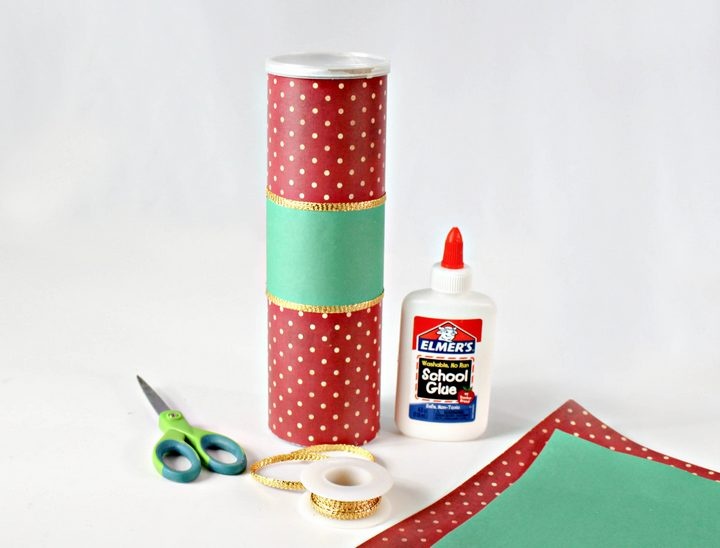 empty, clean cylinder shaped container (Pringles can show)
scissors
glue (white glue, craft glue or glue gun)
two coordinating pieces of holiday paper (red and green shown)
a coordinating trim (gold ribbon shown)
permanent marker
How to Make this teen gift idea
Step 1: Make sure that your container is clean and dry. Wrap it with red paper lining up the edge of the paper with the top of the can.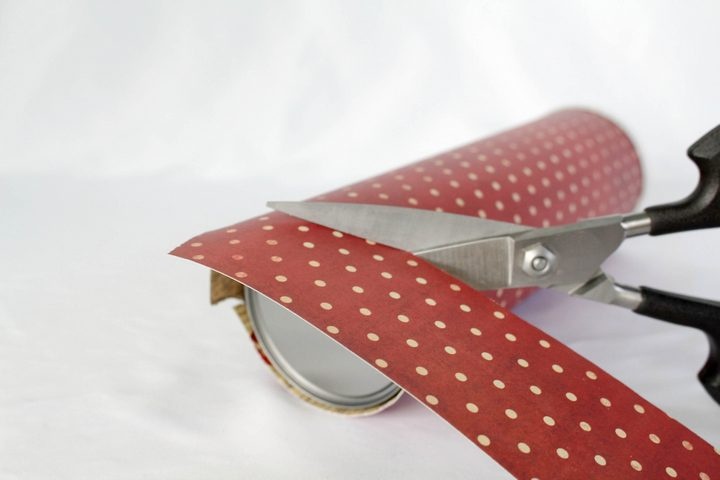 Step 2: Trim the excess paper off the bottom if it is too long.
Step 3: Use glue to secure the paper tightly to the cylinder container.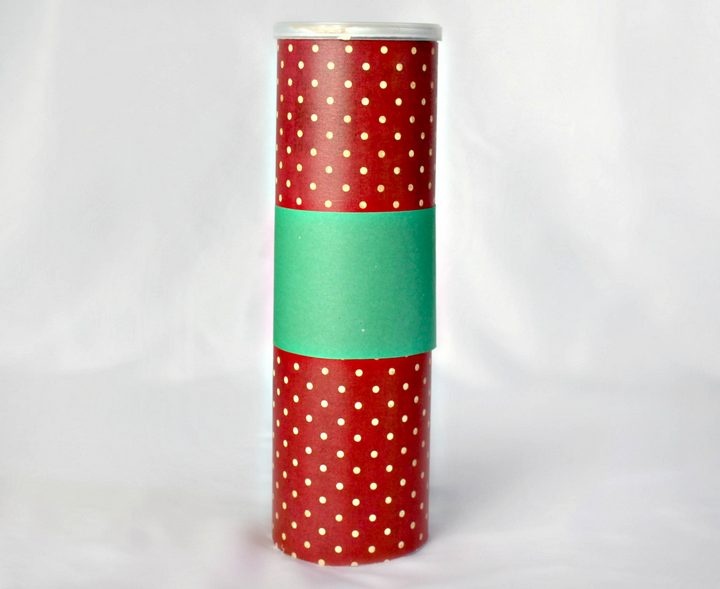 Step 4: Cut a strip of green paper to wrap around the center of the cylinder and glue it into place.
Step 5:  Glue the trim right at the seam where the green paper meets the red paper so you have clean looking edges.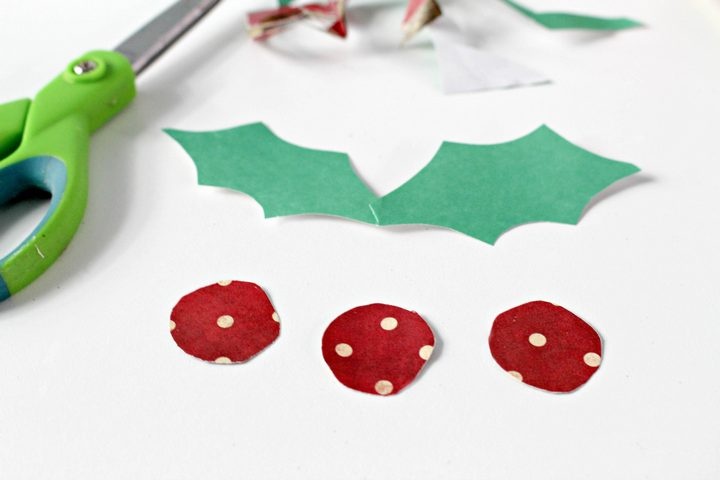 Step 6: From the green leftover paper cut out two holly leaves as shown. Form the red paper cut three holly berries as shown.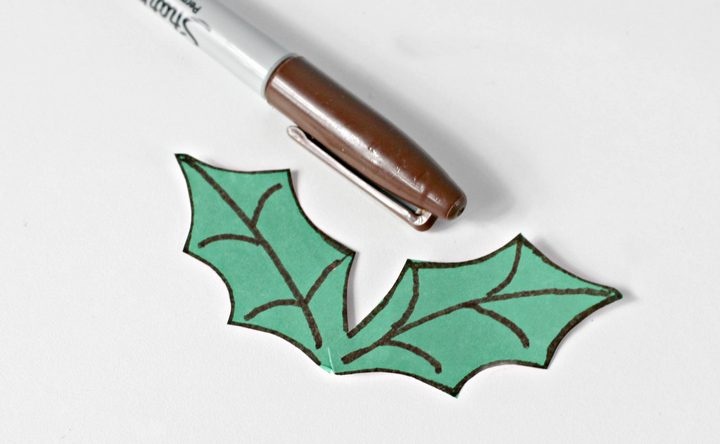 Step 7: Use the marker to add detail to the leaves if desired.
Step 8: Glue the holly leaves and berries to the can partially on the green and partially on the red so it creates a nice contrast.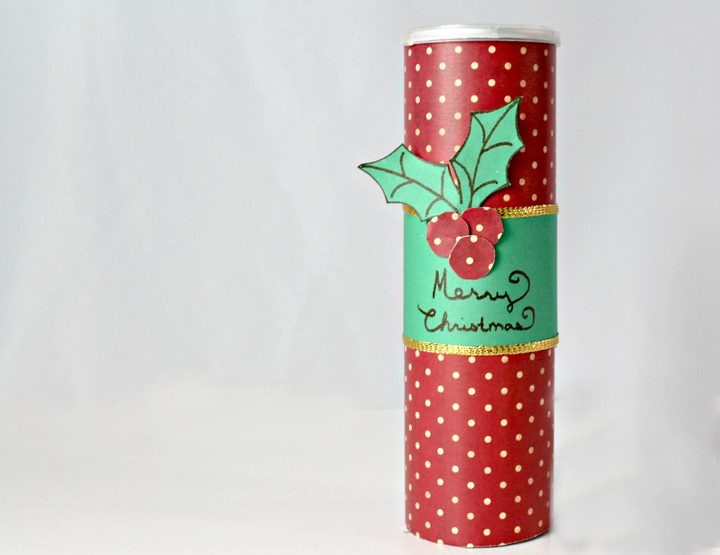 Step 9: Write a Holiday message on the front and don't forget to write your TO: and FROM: as well.
Step 10: Use some of the leftover paper to cut a circle that fits on top of the lid and glue that down.
Step 11: Fill with any sorts of gifts for the holidays along with festive tissue paper, shredded paper, confetti or whatever you find fun.
 As easy as that! You can fill it with this homemade Christmas gift ideas with coffee cups, candies or whatever the recipient loves the most. Want another easy homemade gift idea? How about making
this cute jewelry box
! You will love making it and giving it. Take a look at the instructions.
What would you put in this DIY Christmas Gift Giving Tube? Tell us in the comments!