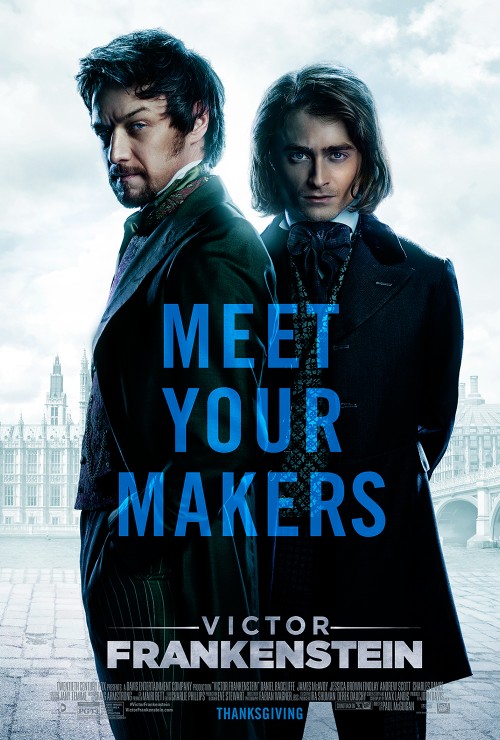 Halloween may be over, the Hollywood still has treats to offer! Victor Frankenstein is an upcoming horror movie that is set to hit theaters on November 25, 2015, Thanksgiving Day. With a cast like this, I'm feeling pretty darn thankful! The movie is based on contemporary adaptations of the 1818 book, (affiliate link) Frankenstein by Mary Shelley, which just happens to be a favorite of mine! Victor Frankenstein is directed by Paul McGuigan, written by Max Landis and set to be released in theaters by 20th Century Fox.
Victor Frankenstein Movie Cast:
Daniel Radcliffe as Igor
James McAvoy as Victor Frankenstein
Jessica Brown Findlay as Lorelei
Andrew Scott as Roderick Turpin
Mark Gatiss as Dettweiler
Callum Turner as Alistair
Daniel Mays as Barnaby
Victor Frankenstein has a rating of PG-13 because of macabre images, violence, and destruction sequence and has a runtime of 1 hour and 49 minutes. This movie is about Victor Frankenstein, a radical scientist along with Igor Strausman, Victor's smart protégé. In the movie, the pair has a vision of helping humanity face immortality, devising an amazing plan through tireless research. However, Victor's plans go way too far, and his obsession leaves him facing nasty consequences. The only one that can save him from the brink of madness is his friend and protégé, Igor.
Victor Frankenstein Movie Trivia:
Daniel Radcliffe wore hair extensions for his role as Igor since he didn't want to wear a wig and to grow out his natural hair would have taken too long.
The BBC television crime drama series, Sherlock, has three cast members that also take part in Victor Frankenstein. Andrew Scott plays Jim Moriarty; Mark Gatiss plays the role of Mycroft Holmes, and Louise Brealey plays Molly Hooper. Mark Gatiss also is the co-creator of Sherlock. Victor Frankenstein has a bit of a twist when compared to the classic novel. This movie is narrated through the eyes of Igor, but Igor wasn't even in the classic novel.  Dr. Clive is one of the characters of Victor Frankenstein. In the original Frankenstein from 1931, Dr. Frankenstein is played by actor Colin Clive.
Victor Frankenstein Movie Trailer:
https://www.youtube.com/watch?v=A8o3WIisPXw
If you are a horror movie fan, this one is for you! Make sure to grab your ticks and invite your friends for a theater night.