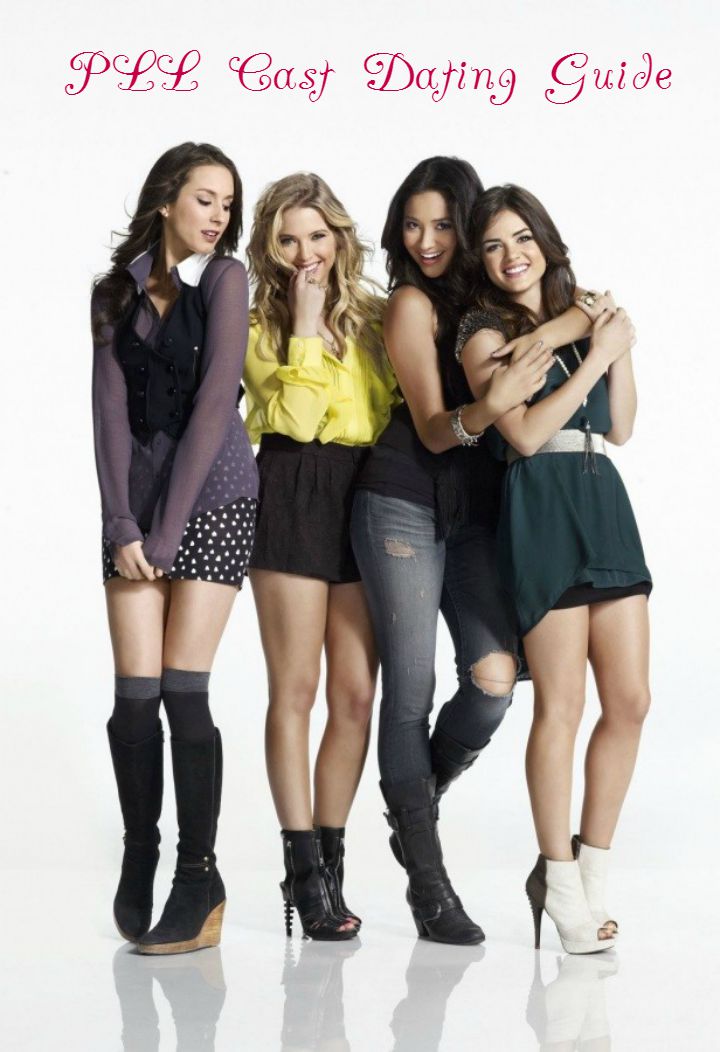 Are you a huge fan of Pretty Little Liars like we are? Do you often wonder if any of the on-screen romances make their way off the screen into the real world? Or maybe you're just curious about who is dating who when they're off the job? Here is your guide to who is dating and who isn't when it comes to Pretty Little Liars!
Related: Who's Who in the First Season of Pretty Little Liars
Cast of Pretty Little Liars Dating
Troian Bellisario (Spencer) Born 10/28/1985- Troian began dating Suits actor Patrick J. Adams. The two met when she made a guest appearance on Suits and he has worked with her on Pretty Little Liars. The couple became engaged on 02/14/2014.
Ashley Benson (Hanna) Born 12/18/1989- Ashley is currently single but she has dated a couple of guys in the past. She dated Justin Thorne from 2008-2009 and Ryan Good from 2011-2014. She also briefly dated her Pretty Little Liars co-star Tyler Blackburn in 2013.
Lucy Hale (Aria) Born 06/14/1989- Lucy has an extensive dating history. She is currently dating Anthony Kalabretta as of 2015. She dated David Henrie from 2007-2009, Alex Marshall from 2010-2011, Chris Zylka from 2012-2013, Graham Rogers in 2013, Joel Crouse in 2014 and Adam Pitts from 2014-2015.
Shay Mitchell (Emily) Born 04/10/1987- The only person that is confirmed to have dated Shay is Ryan Silverstein, whom she dated from 2013-2014.
Sasha Pieterse (Alison) Born 02/17/1996- Sasha has only known to have dated Hudson Sheaffer from 2014 to present.
Ian Harding (Ezra) Born 09/16/1986- Ian has been romantically linked to Candy Crowns from 2010 to present.
Related: Pretty Little Liars: The Boys of Rosewood
Laura Leighton (Ashley) Born 07/24/1968- Laura married her Melrose Place co-star Doug Savant in 1998. The couple has two kids together: Jack was born in 2000 and Lucy was born in 2005.
Holly Marie Combs (Ella) Born 12/03/1973- Holly is currently dating Josh Hallbauer from the band Radical Something. Previously, she was married to actor Bryan Travis Smith from 1993-1997. She was also married to actor David Donoho from 2004-2011. Holly and David have three sons together: Finley was born in 2004, Riley was born in 2006 and Kelley was born in 2009.
Chad Lowe (Byron) Born 01/15/1968- Chad started dating producer Kim Painter in 2007 and were married in 2010. Their first daughter Mabel was born in 2009 and second daughter Fiona was born in 2012. Previously, Chad was married to actress Hilary Swank from 1997-2006.
Janel Parrish (Mona) Born 10/30/1988- The only relationship Janel has on record is with boyfriend Payson Lewis, whom she dated for a year and a half in 2013 and 2014.
Tyler Blackburn (Caleb) Born 10/12/1986- Tyler briefly dated his Pretty Little Liars co-star Ashley Benson in 2013. He is currently dating his new girlfriend Lauren Hoover.
Bianca Lawson (Maya) Born 03/20/1979- Bianca is currently not dating anyone but she did have a relationship with Lloyd Ness Mathis from 2005-2009.
Who would you love to see match up in real life on the cast of Pretty Little Liars?