If you love TV shows like Salvation, you're in for a real treat today!
I love apocalyptic movies and TV shows, and one of my favorite new shows about a dreary, dreadful and imminent end of the world is Salvation.
For those unfamiliar with this amazing TV show, Salvation is like Melancholy on steroids.
Instead of dealing with people's emotions as they accept that the world is about to end like Von Trier does in his masterpiece, Salvation follows the fight of government officials to try and avoid the world-ending disaster.
Of course, Salvation is not the first nor the last show to deal with apocalyptic events. Here are my top choices of TV shows like Salvation that you may want to check out.
Related: 80+ TV Shows Like the One You Just Finished Binging! (Plus Free PDF)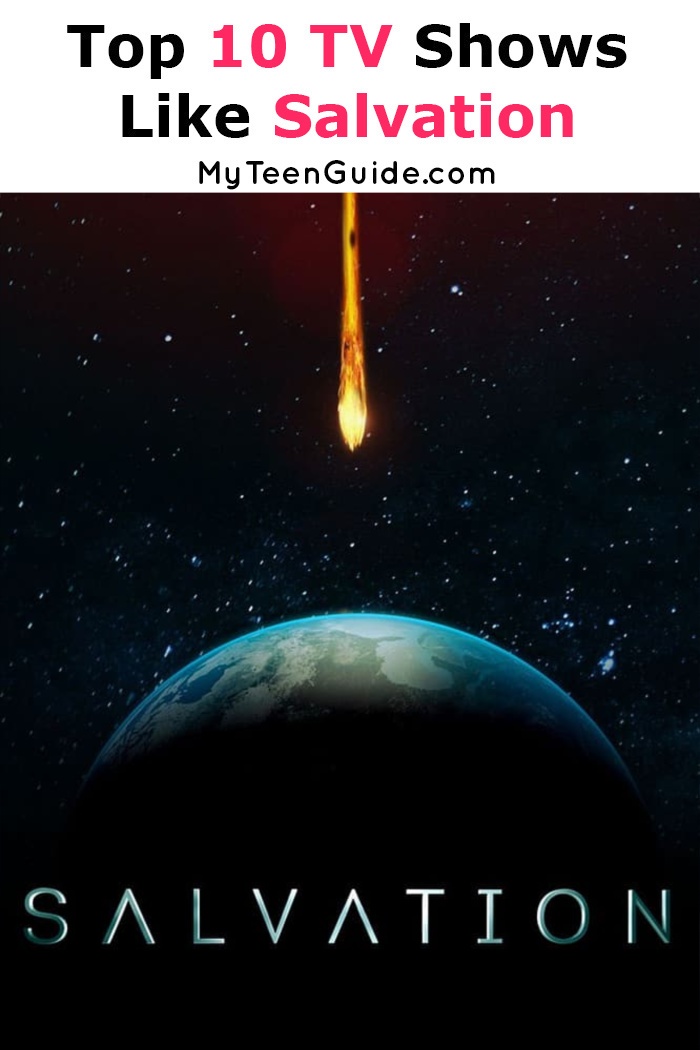 10 Apocalyptic TV Shows Like Salvation
This post contains affiliate links. If you make a purchase through these links, we earn a small commission at no extra charge to you.
1. You, Me and the Apocalypse
Let's ease into it, shall we? This unique apocalyptic comedy is actually a mini-series, with just one hilarious season.
The story is about a group of ordinary people and their funny and heartwarming reactions to the upcoming end of the world.
With adorable Jenna Fischer (Pam from Office) as a convicted felon and permanently young Rob Lowe (Chris from Parks and Recreation) as a quirky Catholic priest leading the way, this show will certainly make you laugh hysterically more than a few times.

2. The Last Man on Earth
https://www.youtube.com/watch?v=7WD7LywZ9JQ
This is another memorable comedy with an apocalyptic theme that keeps the end of the world in a light view.
The Last Man on Earth follows the adventures of, well, the last man on Earth. Will Forte plays Phil, the guy who somehow survived a deadly virus that wiped out the Earth's entire population.
Well, almost entire, as Phil quickly learns at the very beginning of the series.

3. The 100
Ok, no more giggles, time to get serious.
The 100 is a TV show that depicts the aftermath of a nuclear war that destroyed civilization.
However, not all of humanity is dead. Some of them left the Earth on a spaceship that happens to be failing after nearly 100 years.
Their solution? Send 100 teen delinquents down to find out if it's safe for the rest of the survivors. Talk about parenting at its finest!

4. Jericho
What if you went home to a family you left behind years ago, only to arrive just in time to witness a nuclear explosion?
When people from a small Kansas town see a mushroom cloud over the nearby Denver, they are left on their own to figure out what happened and what they need to do to survive.
Jericho is a mystery drama that has that familiar Lost vibe but it also carries a certain apocalyptic threat because, well, the mushroom cloud is one undeniable sign of a nuclear war.
One thing I love about this show: even though it's an apocalyptic show, it tries very hard to be as realistic as possible.

5. The Tribe
This show is a bit different from the rest on my list because it puts romance as one of its main motifs.
However, the sci-fi and drama aspects are also present since the story follows lives of children and teenagers struggling to keep the society afloat in a world where all adult humans have been killed by a deadly virus.
It's kind of a "Lord of the Flies in a post-apocalyptic world" teen drama.

6. Falling Skies
Falling Skies, which ended in 2015, was one of the most popular "alien apocalypse" shows for a good reason: it's an incredible show about hope, survival, and family ties.
When an alien attack leaves the Earth in shambles and most of its population dead, the survivors must learn how to fight back to preserve humanity from the apocalyptic end.
With Noah Wyle in the leading role, this TV show brings a lot of action and adventure to its respective audience.

7. 12 Monkeys
Those of you who saw the famous movie with Bruce Willis in the main role will certainly love this TV show as well.
The plot itself is pretty much the same – it follows a time traveler who comes back to past from an apocalyptic future to try and prevent the deadly virus from spreading and destroying the humanity as we know it.
His only lead is a virologist who knows how it all starts, even if she doesn't realize that she holds the power to save the future.

8. Travelers
This is another time-traveling saga on my list and it is definitely one of the best shows that deal with that topic.
It follows a group of people from centuries in the future and their discovery of a way to send consciousness back into the past.
Thanks to this, they can try to alter the destiny of humanity.

9. Colony
Once again the aliens are the main threat to humankind.
Colony is a great drama that follows one particular family and their moral dilemmas as they try to decide whether to join the resistance or do anything that is required of them in order to save their lost son, check out actionac.net.
Stars Josh Holloway, who is best known for his role as Sawyer in the hit show, Lost.

10. The Walking Dead
This list would not be complete without at least one good zombie apocalypse. The Walking Dead is such a popular show that you probably already watch it, but in case that you missed it, now is as good time as any to start watching it.
A former police officer Rick Grimes (Andrew Lincoln) and his family lead a group of survivors as they look for a safe home where they can rebuild the society.
A truly gritty drama which explores the depths of human desire to live and moral issues that arise when life is on the line.

I hope that you liked my choices and that you will check out some of these amazing TV shows that are pretty similar to
Salvation
. If you have any other suggestions you would like to share with us, don't hesitate to leave a comment!
What are your favorite "end of the world" TV shows like Salvation? Share below!