Finding great vampire romance anime is a bit tricky. Sure, there are plenty of vampire-themed anime, and even a good amount of romantic anime, but put the two together and it gets a little more difficult! I'm always up for a challenge, though!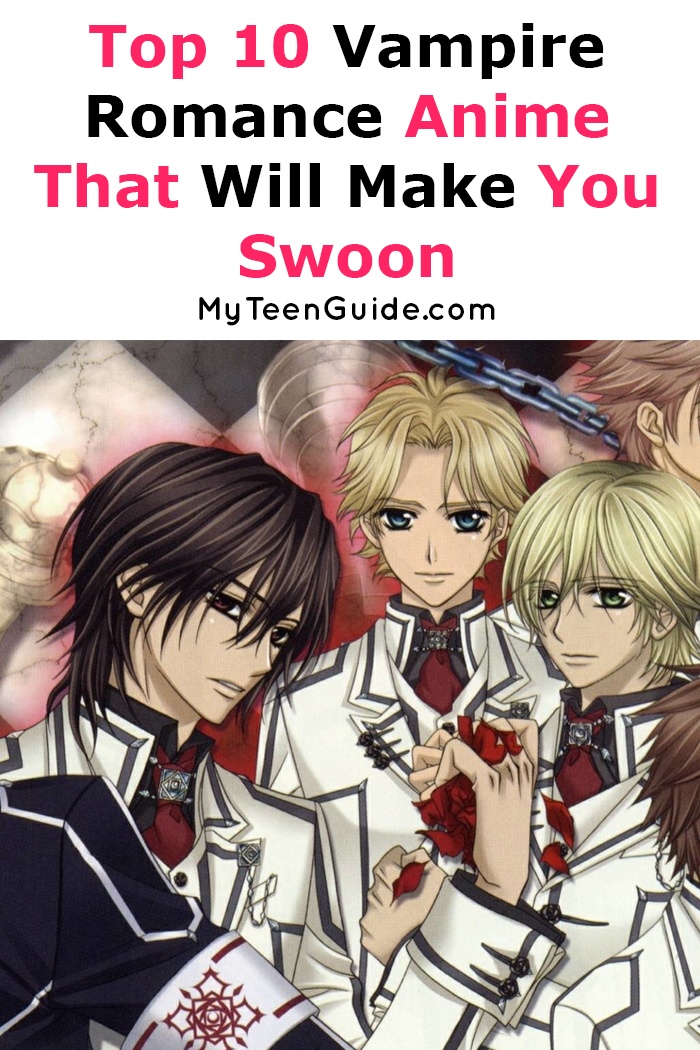 If you're in the mood for the anime version of Twilight (no, there isn't actually one…that I know of), read on for some great picks!
I also recommend checking out our top 10 favorite fantasy romance anime when you're done!
What is Vampire Romance Anime
This post contains affiliate links. If you make a purchase through these links, we earn a small commission at no extra charge to you.
I usually start out here by defining the genre, as I did in supernatural anime, but really, what is there to define about vampire romance? It's romantic anime involving vampires! Or, if you prefer, vampires with romance. See, pretty self-explanatory, right?
I've been a fan of the whole "vampires in love" genre ever since I read books like The Vampire Diaries and Dracula
(which is, at its heart, a love story)  a long, long time ago. It's a popular theme across just about all forms of pop culture, and across generations, including anime!
Let's check out my top ten picks for the best vampire romance anime, shall we?
Top 10 Best Vampire Romance Anime
Before we begin, let's talk ratings, because they are a little different in anime.
PG-13 means pretty much the same thing as in the States, it's appropriate for teens and up, but requires "parental guidance" for kids under 13.
R in anime, an R rating is given for gore and language.
R+ is higher than a regular R, this one usually means there is mild nudity (as well as potential gore and language). In the States, this would still be a regular R to possibly an NC-17.
Rx for hentai (explicit sex and nudity…basically, it's anime porn). This would be a definite NC-17 rating in the US.  I didn't include any of these.
I noted the rating for each one, and tried to stick to PG-13 and regular R, but there are a couple of R+ on this list. It's not my place to censor your viewing, so you'll need to decide for yourself if you are comfortable watching certain levels of R!
1. Vampire Knight
One of the most popular vampire romance anime of all time, Vampire Knight has a very "Twilight" feel to it (without all the sparkling, of course).
At Cross Academy, classes are separated by day and night. Humans attend the Day Class and vamps the Night Class.
For the most part, it works out fine…except for during the transition between the two! During those hectic moments, it's up to Yuuki Cross and Zero Kiryuu to keep order, and make sure the Day Class never finds out about the exact nature of their Night Class counterparts!
Yuuki was saved from a vampire attack by another vamp, and she's harbored a secret crush on him ever since. At the same time, she can't deny that she has feelings for Zero! This, of course, makes for the perfect love triangle.
Rated PG-13, so it may have some mild "adult themes," but nothing to racy.

2. Vampire Knight Guilty
I don't usually include sequels on lists like this because it feels like cheating, but Vampire Knight: Guilty deserves its own spot in the vampire romance anime category.
While Vampire Knight: Guilty is a continuation of the first show, things are quite different for our two heroes. Zero, who spent the first season hating vampires, now has to face the fact that he may BE one.
He is also on the Supreme Vampire Council's most wanted list for the crime of killing a pureblood.
Kaname, who saved Yuuki many years ago, intervenes on Zero's behalf…but his motives may not be as pure as his blood!
Rated PG-13
RELATED: Anime Inspired Hoodies You Want To Wear

3. Dance in the Vampire Bund
Akira Kaburagi doesn't believe in vampires. In fact, he doesn't even want to talk about them…although he's not sure why the topic bothers him so much. Mina Tepes knows for a fact that they're real…as she's the ruler of them all!
One day, Mina tells the whole world about her species' existence, and states that she plans to build a sanctuary, called the Vampire Bund, right in Japan.
Akira and Mina meet, and she triggers lost memories in him that helps him learn why he hates vampires.
See, he's a werewolf, sworn to protect the queen at all costs, and soon we'll find out just how deeply that bond runs.
Rated R+ for mild nudity

4. Rosario + Vampire
At Youkai Academy, monsters spend their day in human form, taking human classes, and basically learning how to get along in a world full of humans. Other than that, it's just your average boarding school! However, the school has one very strict rule: all humans found on campus must be executed right away.
Tsukune Aono is just an average boy with one big problem: his grades stink, making it hard for him to get into high school.
His parents enroll him in Youkai Academy, not realizing that it's a school for monsters.
Tsukune meets and falls for Moka, but he doesn't know that beneath her stunning human veneer lies a menacing vampire.
Although it sounds like the making of a horror, Rosario + Vampire (also called Rosario to Vampire) is actually a fun romantic supernatural comedy anime.
Rated R+ for mild nudity.

5. Karin
In a world of the strange and supernatural, Karin Maaka is even weirder than weird. See, she's a vampire with a big problem: she sometimes makes too much blood. Now, you'd think that wouldn't be an issue for vamps, who need blood to survive, but the more she makes, the more anemic and dizzy she gets.
Karin has just one solution: force random strangers to take her extra blood! These victims actually become happier than they were before!
With the help of her family, Karin usually has no trouble keeping her secret…until the day Kenta Usui enters her school and her life.
Kenta finds her behavior strange, and he wants to know what's up. To make things worse, Karin's blood goes even crazier when he's around.
Karin is another great pick if you prefer a funny vampire romance anime.
Rated PG-13

6. Kurozuka
Based on the Takashi Noguchi manga, Kurozuka is a fabulous supernatural historical vampire romance anime (sort of).
Kurou heads to the mountains after losing his brother, who happened to be the first Shogun to rule Japan.
To the rest of the world, Kurou committed suicide in those mountains…but that's not the real story.
Kurou meets a beautiful woman named Kuromitsu and falls in love with her, only to discover her secret: she's immortal.
He discovers that now he, too, is unable to die, and over thousands of years he witnesses Japan's evolution.
Rated R for violence and language

7. Dance with Devils
Another vampire romance anime that takes place in a school setting, Dance with Devils follows the story of Ritsuka Tachibana.
Ritsuka is shocked when she's called before the student council and accused of being a trouble maker, especially since she's always been a good student.
It quickly becomes clear that the council, led by the gorgeous Rem Kaginuki, has ulterior motives.
When Ritsuka's mother gets kidnapped, she's drawn into the dark world of devils and vamps, both of whom are searching for the forbidden Grimoire.
Ritsuka doesn't know who can she trust, even as Ren tries to get her attention.
Rated R for violence and language

8. Blood Lad
Staz Charlie Blood has a reputation for being one of the fiercest, most bloodthirsty vampires in the demon world, but as anyone on the receiving end of gossip can tell you, sometimes a reputation is a complete lie. See, Staz has zero interest in human blood! He'd rather lay around all day watching anime, reading manga, and playing video games.
When Fuyumi Yanagi accidentally strolls through a portal into his world, Staz is ecstatic. Too bad she winds up dead!
Staz vows to find a way to bring her back, and reopen the portal so that he can travel to the human world (especially to Japan, his obsession).
Together, along with a magician and a half-werewolf, Staz and Fuyumi travel the demon world trying to find the magic that can resurrect humans.
Rated PG-13

9. Blood+
Saya seems like a normal girl living with an adoptive family, aside from her anemia and complete inability to recall anything that happened to her beyond the last year. However, just because you forget something doesn't mean it didn't happen!
Saya's past comes back with a vengeance when she's attacked by a vampire.
Just when she thinks all hope is lost, the mysterious Haji appears and rescues her…for now.
However, her rescuer forces her to drink his blood, and Saya suddenly has the ability to slay the monster.
When Saya learns of a group called Red Shield dedicated to defeating monsters, she and Haji team up to unlock the secrets of her past and safe the future from the hell beasts.
Rated R for violence and language

10. Itsuka Tenma no Kuro Usagi
Taito can't seem to stay awake lately, and when he's lost in his dream world, he sees a vampire who keeps saying that she has given him her poison. Sometimes, Taito even hears her voice when he's awake.
After he survives an accident that should have been fatal, his world completely turns upside-down.
Taito finds out that his dreams weren't quite dreams after all, and that he's not even the high school boy that he thought he was!
Suddenly, his memories awaken and he just has to find the girl of his "dreams."
Rated R+ for mild nudity.

I'll be honest, it's really hard to find great vampire romance anime like Vampire Knight, especially if your definition of the genre is along the lines of Twilight. Still, all of the anime on this list have their share of romantic elements!
Can you think of any other great vampire romance anime that I missed? Tell me below!
RELATED: Best Anime Drawing Books