These 10 movies on Netflix are just impossible to stop talking about! Check them out and get in on the conversation! Which is your favorite?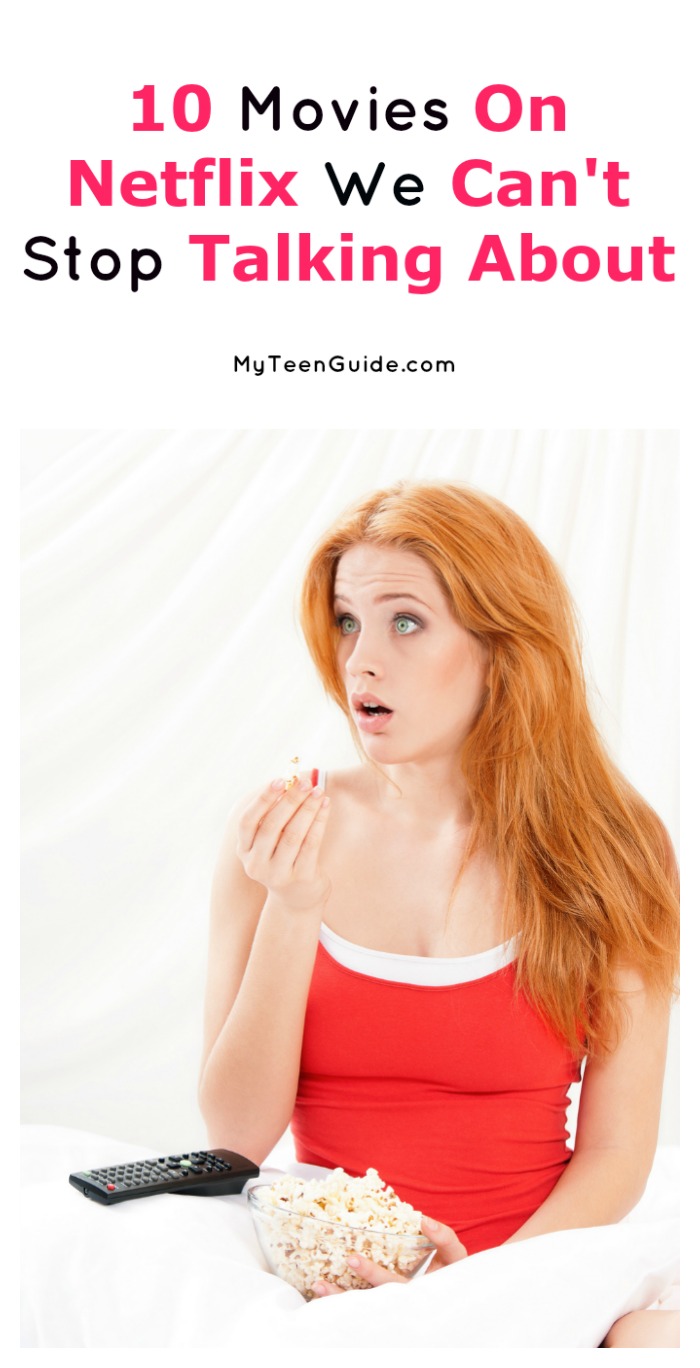 Ever watch a movie that left you with such crazy deep thoughts that you just had to tell everyone you met about it? For me, that movie was Donnie Darko. It's just one of those bizarre yet profound flicks that beg to be discussed…over and over again. Have you seen it? What did you think? Did you "get" it? Of course Donnie Darko is far from the only deep movie out there (and sadly, it's not on Netflix streaming). If you're looking for flicks to watch that inspire deep conversation, check out 10  movies on Netflix that we just can't stop talking about!
Deep Movies on Netflix You Can't Stop Talking About
Affiliate links included below. Thanks for your support!
1- The Shawshank Redemption
One of the most profound Stephen King-based movies of all time, The Shawshank Redemption is a 1994 drama movie that was adapted from the 1982 book- Rita Hayworth and Shawshank Redemption
. The movie focuses on the bond formed by Andy Dufresne and Ellis Boyd "Red" Redding, two inmates at the Shawshank State Penitentiary, both serving life sentences. The Shawshank Redemption stars Tim Robbins and Morgan Freeman. The movie invokes discussions about everything from hope and freedom to finding inner peace.
2- American Beauty
American Beauty is a 1997 drama movie that won the Academy Award for Best Picture in 2000. Lester Burnham, an advertising executive, who hates his job and is unhappily married to Carolyn Burnham, who develops an infatuation with Angela Hayes, the teenage best friend of his daughter, Jane Burnham. The movie stars Kevin Spacey, Annette Bening, Mena Suvari and Thora Birch. It's been called an "insightful critique" of life in America. Definitely something to discuss!
3- Chicago
Chicago is a 2002 musical, crime, comedy movie that is based on the 1975 musical of the same name. It focuses on celebrity, corruption and scandal in Chicago, Illinois during the 1920's Jazz Age. Chicago stars Catherine Zeta-Jones, Renee Zellweger and Richard Gere. This one makes the list not so much for the subject matter (which definitely does inspire discussion) but for the stunning costumes and beautifully choreographed musical numbers.
4- V for Vendetta
That came from V for Vendetta, a 2005 dystopian political thriller movie that is based on the 1988 limited comic series from DC Comics. V, a masked vigilante who plans to takeover Britain, with the help of Evey Hammond, a television network employee. The movie stars Hugo Weaving and Natalie Portman. Remember, remember, the 5th of November! (If you've seen the movie, you get that reference).
https://youtu.be/LF1951pENdk
5-Into the Wild
Into the Wild is a 2007 biographical, drama, survival movie that is adapted from the 1996 book, of the same name, by Jon Krakauer. It centers on Christopher McCandless, who set off to Alaska, to live off the land in 1990, after he graduated from college. Into the Wild stars Emile Hirsch. I think this one is hard to stop talking about because of how the main character begins his journey- by giving away all of his money- as well as what he goes through out in the wild to survive.
6-No Country for Old Men
No Country for Old Men is a 2007 neo-noir, neo-western, thriller movie that is based on the 2005 book, of the same name, by Cormac McCarthy. The movie won the Academy Award for Best Picture in 2008. The movie deals with Llewelyn Moss, who flees with $2 million that he finds in a field, the result of a drug deal gone wrong; Anton Chigurh, a hitman hired to find the $2 million and Ed Bell, a sheriff who is out to find both men. The movie stars Josh Brolin, Javier Barden and Tommy Lee Jones.
7-Dear Zachary: A Letter to a Son About His Father
Dear Zachary: A Letter to a Son About His Father is a 2008 documentary that was created, produced and written by Kurt Kuenne. Kurt's best friend, Andrew Bagby, was murdered in 2001, by his ex-girlfriend, Shirley Turner. Soon afterwards, Shirley found out she was pregnant with Andrew's child and later gives birth to their son, Zachary in 2002. Kurt decides to make a documentary for Zachary, about the father he never got to meet. Unfortunately, Shirley and Zachary died in 2003, the result of a murder-suicide.
8-Food, Inc.
Food, Inc. is a 2008 documentary that was narrated by authors/journalists Michael Pollan and Eric Schlosser. The movie focuses on the controversial corporate farming in the United States. It definitely makes you really think about what you're eating!
9-The Girl with the Dragon Tattoo
The Girl with the Dragon Tattoo is a 2011 psychological thriller movie that is based on the 2005 book, of the same name, by Stieg Larsson. The movie centers on Mikael Blomkvist, a Swedish journalist and Lisbeth Salander, an eccentric computer hacker, who work together to investigate the disappearance of a woman, 40 years prior. The movie stars Daniel Craig and Rooney Mara.
10-Blackfish
Blackfish is a 2013 documentary that focuses on the captivity of killer whales, specifically Tilikum, a killer whale at Sea World in Orlando, Florida. The movie sparked tons of backlash against Sea World, prompting them to respond with their own rebuttal commercials that aired on television for months. It opened up dialogue not just about the whales, but about all large animals in captivity.
Of course, this is just a small sample of the many deep and profound movies on Netflix that we can't stop talking about! So many movies leave plenty of room for discussion. Even wildly hilarious comedies and terrifying horror movies can become a conversation piece if you just look deep enough!
What are some of your favorite movies on Netflix that you can't stop talking about? Share below!