These 10 epic Avengers: Infinity War quotes prove that this is one of the most spectacular super hero movies of the year!
Don't believe me? Let's check them out and I bet you'll agree!
Affiliate link: Free* Avengers: Infinity War Poster plus 10% discount on Marvel merch, w/ purchase or rental of select Marvel Studios titles on FandangoNOW!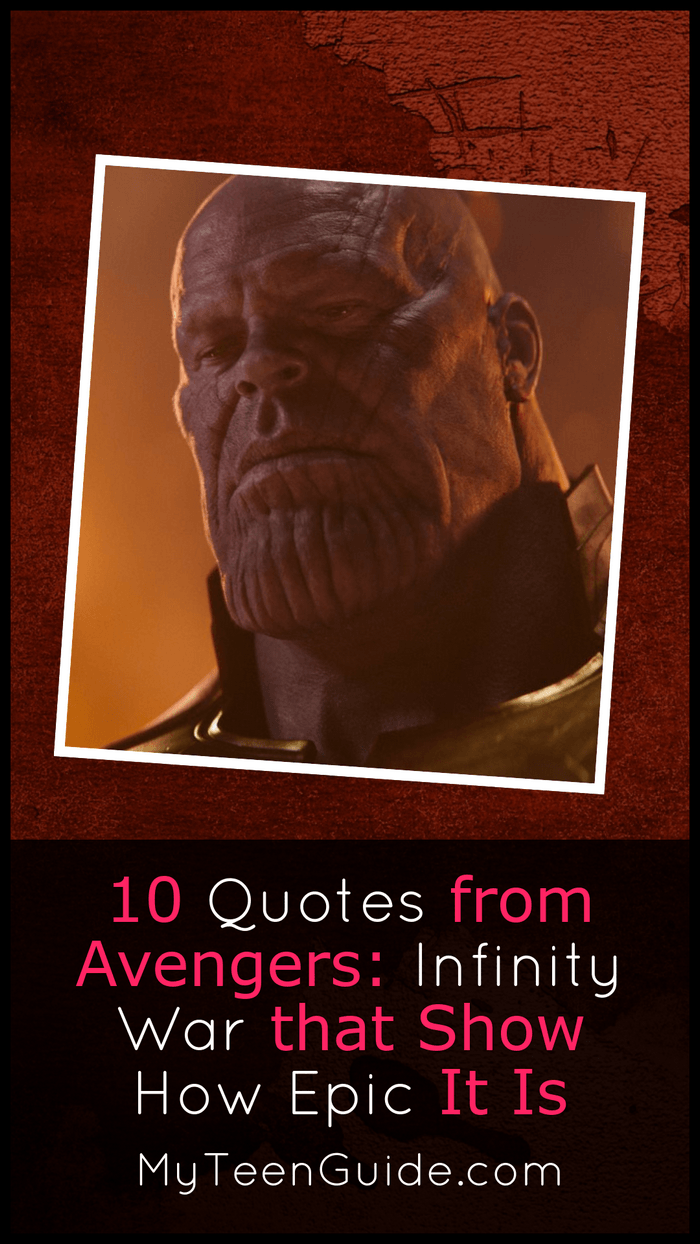 Avengers: Infinity War Quotes that Prove This Movie is EPIC
Well, the long-awaited moment is getting near.
With Avengers: Infinity War, we begin the conclusion of Marvel's phase 3, which will definitely be finished next year with the still unnamed Avengers movie previously titled Avengers: Infinity War – Part 2.
For all of us who watched all movies building up to this one, expectations are high and the first impressions from the trailers definitely feed those expectations.
Welcome to the World of Thanos
After getting a glimpse of him in some of the previous films, like the Guardians of the Galaxy and especially his infamous smirk at the camera at the end of the Avengers, we should finally see Thanos in all his might in the Infinity War.
Quote 1:
Thanos: In time you will know what it's like to lose. To feel so desperately that you're right, that to fail all the same. Dread it. Run from it. Destiny still arrives.
Thanos, played by Josh Brolin, is Marvel's answer to ongoing critiques about the lack of powerful villains in their movies.
Even though Thanos is already powerful enough as it was hinted from his previous short appearances, in Infinity War his power is supposed to go beyond imaginable when he collects all of the Infinity Stones in an attempt to obliterate half of the Universe in order to bring back the "balance", which is basically the plot of the entire movie.
Quote 2:
Thanos: The end is near. When I'm done, half of humanity will still exist. Perfectly balanced, as all things should be.
The Endless Ensemble
If you saw previous movies from the Marvel's universe, you have seen how powerful some of the Infinity Stones are.
Put all of them together, and you get the unstoppable force. So, the Avengers are simply not enough. In what threatens to become the most epic crossover in movie history, Infinity War will feature almost all of the superheroes we saw in the Marvel Universe until this point, so don't be surprised by conversations like this one:
Quote 3:
Peter Parker: I'm Peter, by the way.
Dr. Stephen Strange: I'm Dr. Strange.
Peter Parker: Oh, we're using our made-up names? In that case, I am Spider-Man.
Or this one:
Quote 4:
Thor: [sees the Guardians for the first time] Who the hell are you?
Or, this one, my favorite:
Quote 5:
Peter Quill: Let's talk about this plan of yours. I think it's good, except it sucks. So let me do the plan and that way it might be really good.
Tony Stark: Wow.
Of course, the Avengers will be in the center of attention, right after Thanos.
The original group is here in its entirety, with Iron Man (Robert Downey Jr.), Captain America (Chris Evans), Thor (Chris Hemsworth), The Hulk (Mark Ruffalo), Black Widow (Scarlett Johansson) and Hawkeye (Jeremy Renner) representing the only hope for the salvation of the universe.
Right next to the titular group of superheroes, to the aid come the Guardians of the Galaxy, including Peter Quill (Chris Pratt), Gamora (Zoe Saldana), Drax (Dave Bautista), Rocket (Bradley Cooper), Nebula (Karen Gillian), Mantis (Pom Klementieff), and of course, the lovely Groot (Vin Diesel).
Quote 6:
Mantis: We are arriving.
Peter Quill: Alright, Guardians, don't forget this might be dangerous, so let's put on our mean faces.
The heroes from the latest and possibly the biggest Marvel's hit, The Black Panther, will also join in the fight against the dreaded Thanos. We will see the Black Panther himself (Chadwick Boseman), Okoye (Danai Gurira), Shuri (Letitia Wright), Ramonda (Angela Bassett) and M'baku (Winston Duke), to name the most important ones.
Quote 7:
T'Challa: Evacuate the city. Engage all defenses and get this man a shield.
[he points to Steve, who walk in from the shadows]
In addition to all these characters, the cast is also made of other notable superheroes and villains, like Scarlet Witch (Elizabeth Olsen), White Wolf (Sebastian Stan), Dr. Stephen Strange (Benedict Cumberbatch), Spider-Man (Tom Holland), Heimdall (Idris Elba), Ant-Man (Paul Rudd), The Collector (Benicio Del Toro), Vision (Paul Bettany), Happy Hogan (Jon Favreau), Pepper Potts (Gwyneth Paltrow), Wong (Benedict Wong), War Machine (Don Cheadle), and, of course, the all-popular Loki (Tom Hiddleston).
The movie is directed by Anthony and Joe Russo.
Quote 8:
Steve Rogers: Together.
Tony Stark: We'll lose.
Steve Rogers: Then we'll do that together too.
The End Is Near
The story that began with one great idea…
Quote 9:
Nick Fury: There was an idea…
Tony Stark: To bring together a group of remarkable people…
Vision: To see if we could become something more…
Thor: So when they needed us we could fight the battles…
Natasha Romanoff: That they never could.
Is coming close to its end.
Quote 10:
Tony Stark: So this is it. It's all been leading to this.
And it is going to be truly epic. Get ready!
Have you heard any other epic Avengers: Infinity War quotes? Share below!