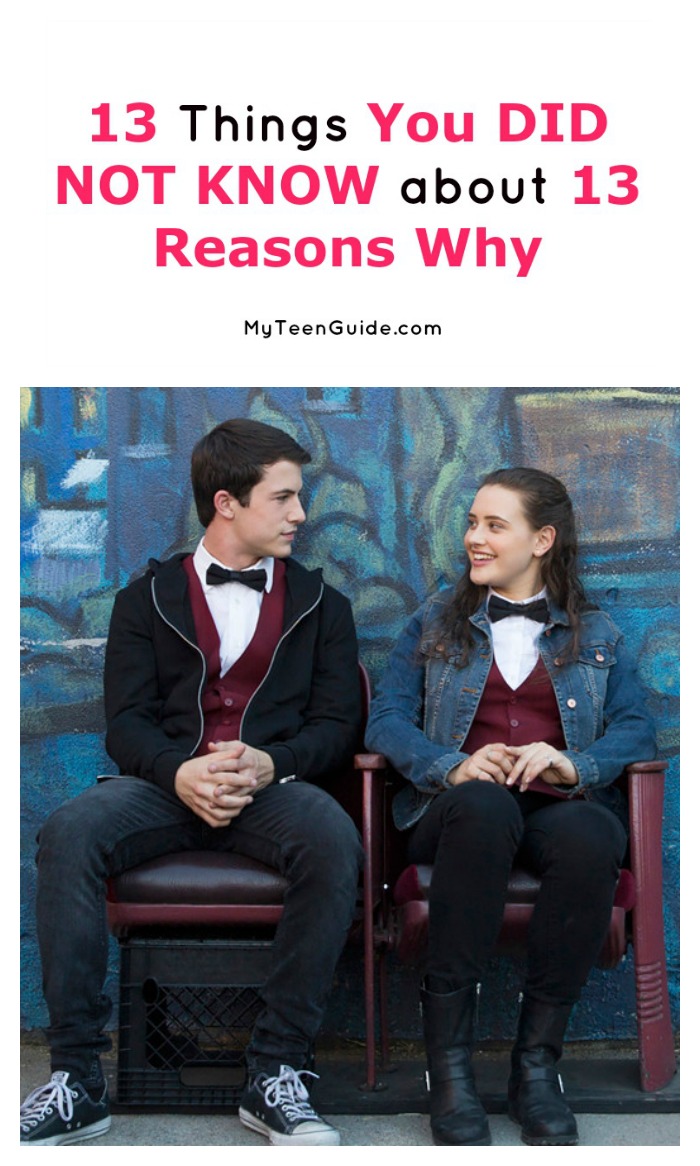 By now, I bet you think you know all the 13 Reasons Why trivia you could ever need to know. It's probably the most popular (or perhaps notorious) Netflix original to stream across our TVs in a long time. With news stories popping up every day about everything from hidden messages in the music to psychologists warning teens to stay away from the show, you can't get online without hearing something about it. Still, I bet there are a few things you still don't know about 13 Reasons Why! Check out 13 things I think may be on that list!
This post contains affiliate links. Thanks for the support.
13 Reasons Why Trivia
1. Jay Asher wasn't just inspired to write the book by a family member's suicide attempt, he did a crazy amount of research to find out what sort of issues plague teen girls. He talked to his wife and friends, asking them to relate stories about things they had a hard time getting over in high school.
https://www.youtube.com/watch?v=JebwYGn5Z3E
2. Since shooting such an emotionally charged series can be really hard on the psyche, producers brought in therapy dogs to help the actors and crew get through it.
3. Notice the difference in colors from the "before" and "after" scenes? That was intentional. The scenes before Hannah's suicide are in a warmer tone, while those after have a cooler blue cast to them.
https://www.instagram.com/p/BShKCI2hQbr/?taken-by=13reasonswhy
4. Hannah is an imperfect person, and Asher thinks that's okay. One of the biggest controversies surrounding the film is about how Hannah pretty much set everyone up to fail her, especially her guidance counselor, Mr. Porter. In a behind the scenes interview with Cosmo, Asher explains it is okay to recognize that she didn't do everything she could to help herself.
5. Despite the fact that psychological professionals are speaking out against the series, the cast actually spent a lot of time with these types of pros to better understand their characters feelings and motivations.
6. Tony's cross tattoo includes a semicolon, a symbol of strength, especially in the face of mental illness. After the show production wrapped, Selena Gomez and other members of the production crew all got matching semicolon tats as well. There's actually a whole movement about it.
https://www.instagram.com/p/5p8xF3GNgm/?taken-by=semicolontattooproject
7. You're not seeing things if you thought "hey, Ms. Bradley looks an awful lot like Lane from Gilmore Girls!" That really is Kieko Agena. During the Gilmore Girls years, she was closer to Lorelei's age on the show than she was to Rory's age. She was 27 when she started playing Lane!
8. You won't find many articles about other movies starring the cast of 13 Reasons Why. Aside from a few adults, most of the cast is filled with relative newcomers. Katherine Langford (Hannah) starred in a short film called Daughter, but this was her first major role.
https://www.instagram.com/p/BSsMGxND1nJ/?taken-by=sosiebacon
9. What about Sosie Bacon, though? I mean, come on, she looks SO familiar! Okay, so she actually does have a few film credits under her belt. Most notably, she played Rachel in Scream: The TV Series. That's probably not why you recognize her, though. She's the daughter of Kevin Bacon and Kyra Sedgwick. Take another look. You can see it, right?
https://www.instagram.com/p/BTm30pkFxKB/?taken-by=13reasonswhy
10. Another teen cast member you might recognize is Miles Heizer, aka Alex. It took me a long time to figure out where I've seen him. He played Drew in Parenthood! I think I was on the 8th episode before I realized that.
11. One of the first songs that Tony plays in his car (and one of the first in the series) is by Joy Division. The post-modern punk band may sound kind of upbeat, but the lyrics are incredibly sad. Ian Curtis, the lead singer, took his own life back in 1980. He would have been 61 this year.
https://www.youtube.com/watch?v=En4KujlKpwQ
12. New Zealand was so concerned about the emotional impact of 13 Reasons Why that they created a whole new rating just for the show. It is  RP18, which basically means that no one under 18 can watch without adult supervision. Basically, translated into US rating system, it would be an R-rated show.
13. After all the controversy, Netflix has decided to add a new content warning to the show. Some episodes already have a specific content warning about graphic scenes, but now it will contain an overall warning.
With everyone on different sides of the 13 Reasons Why debate, it's hard to know who is right and who's wrong. I can't tell you that. I think it depends on your own emotional state. I spent most of my teen years in a state of clinical depression. I was suicidal. I was almost Hannah. I read a lot of books about other teens going through the same thing, and it really helped me. It could go the opposite way. I've said it before and I'll say it again (and a million more times, if it saves someone): please, if you are feeling suicidal, get help right away. It's never the answer.
Have you heard any other interesting or thought-provoking 13 Reasons Why trivia tidbits? Share below!